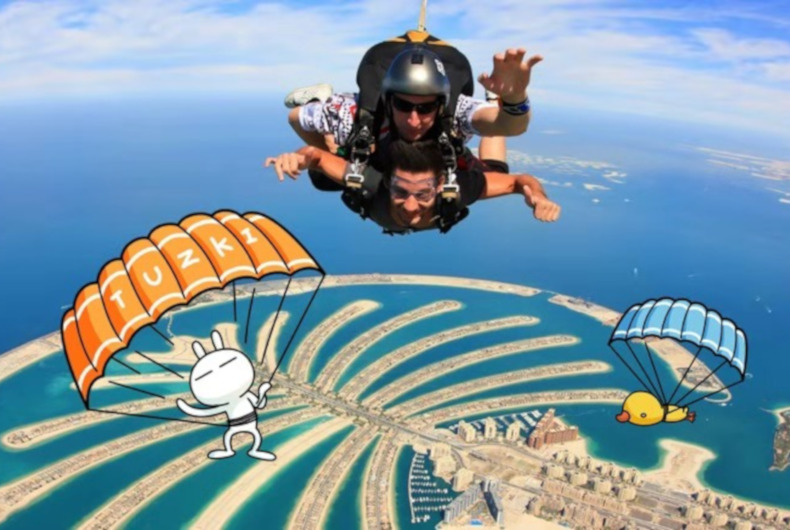 Dubai's Department of Tourism and Commerce Marketing (Dubai Tourism) and Turner Asia Pacific have created a digital campaign starring the popular Chinese emoticon 'Tuzki'. This is part of Dubai Tourism's efforts to increase tourist traffic to the emirate from China. Citing China as one of the top five source markets, the campaign aims to provide Chinese visitors with an interactive, engaging campaign leveraging the power of the iconic internet character 'Tuzki' to create a relatable link between Chinese netizens and Dubai.
The campaign will feature a series of short digital clips showcasing Tuzki's ultimate Dubai vacation to educate netizens about the emirate's key points of interest and experiences. Netizens can follow Tuzki's journey on DubaiTourism.cn, Weibo and WeChat. They can interact via a dynamic H5 platform, where they can 'virtually' play with Tuzki in Dubai for the chance to win one of four holiday packages. The prize includes roundtrip economy flights for two, airport transfers, four nights' accommodation and the opportunity to enjoy one premium experience.
The initiative comes just in time for the National Day Golden Week falling from October 1 – 7, 2019.
"China continues to be one of the top source markets for Dubai's tourism industry, and we are committed to engaging Chinese tourists all year round through innovative marketing activities. Our partnership with Turner highlights the importance of leveraging digital platforms to raise awareness levels in a creative way. Through Tuzki, we aim to capture the imagination of Chinese netizens to participate in the campaign via social and digital touchpoints, further highlighting our ongoing efforts to work with relevant industry partners to deliver initiatives that will highlight Dubai as a 'must-visit' destination," said Issam Kazim, CEO, Dubai Corporation for Tourism and Commerce Marketing (DCTCM).
"This digital rabbit is the perfect ambassador for Chinese tourists to Dubai, and will show them that this remarkable place has a unique personality and welcomes them with a sense of fun. Tuzki has found himself in many interesting places over the years – from the screens of millions of young Chinese mobile users to the Paris Fashion Week catwalk. But being the center of such an innovative project is certainly up there as one of the most epic," added Clement Schwebig, Turner's Managing Director of China and Asia Pacific CFO.
The campaign serves as an integral component of Dubai Tourism's marketing strategy which has the support of the department's stakeholder ecosystem to collectively evolve the value propositions in line with increasing demand for unique travel experiences.
The partnership with Turner Asia Pacific marks a new milestone in this endeavor, with the popular figure appearing in a destination campaign for the first time, to promote Dubai as the preferred destination of choice for Chinese visitors. As a campaign spinoff it would also help drive increased overnight visitor numbers via Dubai Tourism's partner platforms Ctrip and Tuniu.