Millennials are already the largest generation in the workforce, making up more than one-third of those employed today. By 2020, they'll grow to represent more than 50 percent of the workforce. Much has been written about this generation's defining traits: purpose-driven, digitally-savvy, and extremely well-connected. But how connected are they really?
To understand professional networking behaviors, LinkedIn conducted a survey among its members worldwide, including more than 7,000 millennials.
Following are the topline from the survey:
Stuck For Words
Millennials are unsure of how to reconnect, or what to say when they do. Like their parents and grandparents before them, millennials recognize the value of staying in touch with their professional network: 71 percent agree that it's an effective way to build and nurture relationships. Regardless, they find it more challenging than older generations to stay in touch: 43 percent of millennials find it difficult, compared to 31 percent of those older than 45.
What's holding millennials back? Data shows completely contrasting generational views. For all their perceived social prowess on and offline, their biggest challenges were not knowing what to say and uncertainty around how to get in touch. And despite living fast-paced lives, a lack of time was the least of millennials' worries, while their older counterparts said it was their biggest challenge.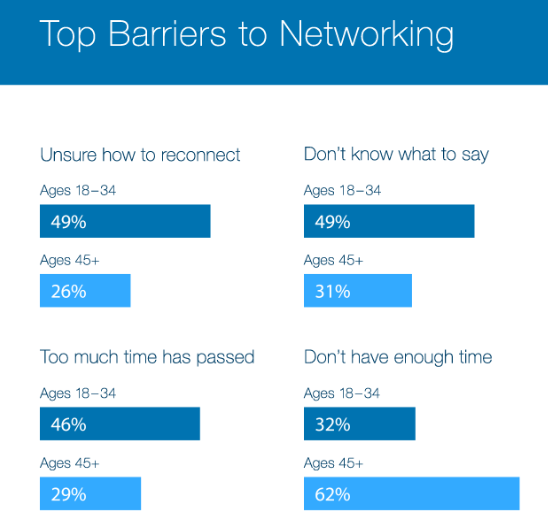 Use Your Network To Find Your Way
Despite the barriers, more than half (55 percent) of millennials reach out to their network when they're starting to think about their next opportunity. When they do tap their connections, many are rewarded: 56 percent of millennials were introduced to a new job through a casual conversation.