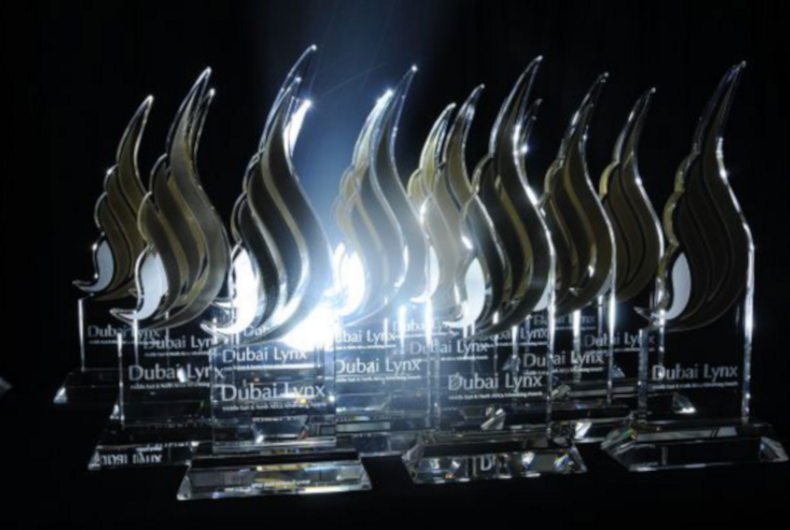 The Middle East & North Africa (MENA) region's adland ended last week with festivities, celebrating Dubai Lynx International Festival of Creativity's 2019 edition. Over 170 awards were handed out across 18 categories on the awards' night. These included 18 Grands Prix, 24 Golds, 44 Silvers and 84 Bronze Lynx.
Impact BBDO that was crowned Agency of the Year won 47 awards in all. These comprised 31 awards for the agency alone and another 16 in partnership with its sibling BBDO Lahore. Together the two walked away with eight Grands Prix — four for Impact BBDO alone and four in partnership with BBDO Lahore.
The massive wins not only make Truck Art Childfinder as one of the most celebrated works of the night, but also catapulted BBDO Lahore's position among top awarded agencies at the festival this year.
TBWA\Raad is the second highest scorer of the evening with a total of 30 wins under its belt. The three Grands Prix that it won included the coveted Creative Effectiveness Grand Prix.
FP7/MENA also forms part of the top three agencies in the region with 17 awards. These included a Grand Prix, one Gold Lynx, four Silvers and 11 Bronzes.
Making a comeback after a year long gap due to Publicis' global decision to abstain from awards, Leo Burnett this year places itself fourth with 16 wins including one Grand Prix, one Gold Lynx, five Silvers and nine Bronzes.
J Walter Thompson cornered 13 awards consisting of one Grand Prix, two Golds, four Silver and six Bronze Lynx.
The agency scoreboard for the awards is: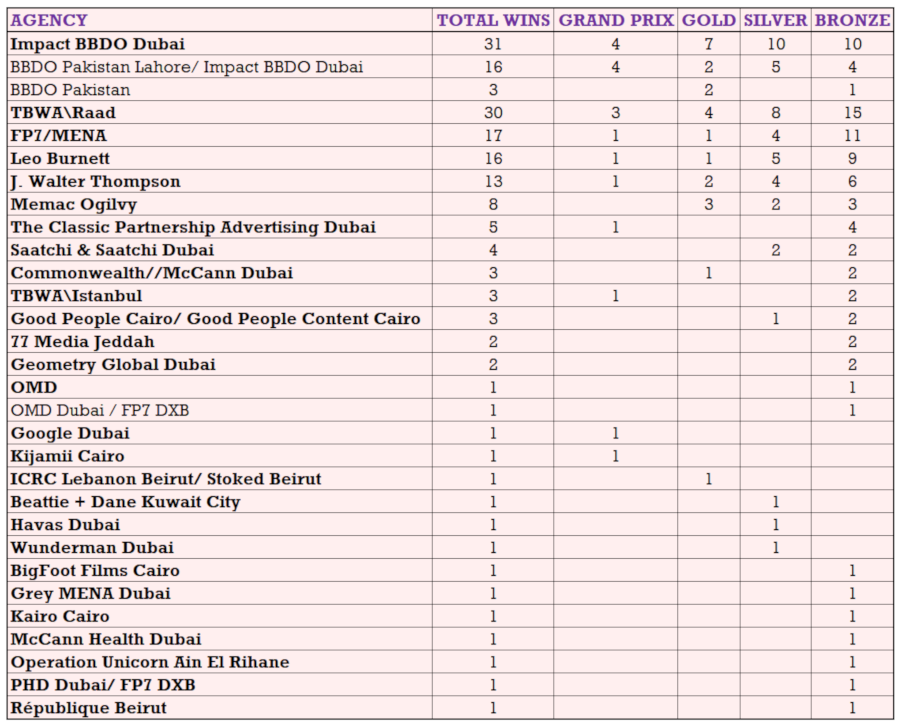 A detailed list of all the wins, agency wise, is as below:

| CATEGORY | TITLE | ADVERTISER | ENTRANT/ IDEA CREATION | COUNTRY | AWARD |
| --- | --- | --- | --- | --- | --- |
| Integrated | The Blank Edition | An-Nahar | Impact BBDO, Dubai | UAE | Grand Prix |
| PR | The Blank Edition | An-Nahar | Impact BBDO, Dubai | UAE | Grand Prix |
| Print & Publishing | The Blank Edition | An-Nahar | Impact BBDO, Dubai | UAE | Grand Prix |
| Grand Prix for Good | Zero Tolerance Ribbon | 28 Too Many | Impact BBDO, Dubai | UAE | Grand Prix for Good |
| Design | Zero Tolerance Ribbon | 28 Too Many | Impact BBDO, Dubai | UAE | Gold Lynx |
| Direct | Zero Tolerance Ribbon | 28 Too Many | Impact BBDO, Dubai | UAE | Gold Lynx |
| Healthcare | Zero Tolerance Ribbon | 28 Too Many | Impact BBDO, Dubai | UAE | Gold Lynx |
| Healthcare | The Toxic Flag | The Waste Management Coalition | Impact BBDO, Dubai | UAE | Gold Lynx |
| Healthcare | The Toxic Flag | The Waste Management Coalition | Impact BBDO, Dubai | UAE | Gold Lynx |
| Print & Outdoor Craft | Inhumane / Human; Pain/Dream; Despair/ Joy; Cruel/ Civilized, Shame/ Defiance | 28 Too Many | Impact BBDO, Dubai | UAE | Gold Lynx |
| Print & Outdoor Craft | Inhumane / Human; Pain/Dream; Despair/ Joy; Shame/ Defiance, Cut/ Condemn | 28 Too Many | Impact BBDO, Dubai | UAE | Gold Lynx |
| Digital | Twix Face Off | Mars | Impact BBDO, Dubai | UAE | Silver Lynx |
| Digital | Lucky Face | La Libanaise Des Jeux | Impact BBDO, Dubai | UAE | Silver Lynx |
| Healthcare | Inhumane / Human; Pain/Dream; Despair/ Joy; Cruel/ Civilized, Shame/ Defiance | 28 Too Many | Impact BBDO, Dubai | UAE | Silver Lynx |
| Healthcare | Zero Tolerance Ribbon | 28 Too Many | Impact BBDO, Dubai | UAE | Silver Lynx |
| Integrated | Zero Tolerance Ribbon | 28 Too Many | Impact BBDO, Dubai | UAE | Silver Lynx |
| Mobile | Lucky Face | La Libanaise Des Jeux | Impact BBDO, Dubai | UAE | Silver Lynx |
| PR | The Blank Edition | An-Nahar | Impact BBDO, Dubai | UAE | Silver Lynx |
| PR | Zero Tolerance Ribbon | 28 Too Many | Impact BBDO, Dubai | UAE | Silver Lynx |
| Print & Outdoor Craft | Zero Tolerance Ribbon | 28 Too Many | Impact BBDO, Dubai | UAE | Silver Lynx |
| Print & Outdoor Craft | Zero Tolerance Ribbon | 28 Too Many | Impact BBDO, Dubai | UAE | Silver Lynx |
| Brand Experience & Activation | Zero Tolerance Ribbon | 28 Too Many | Impact BBDO, Dubai | UAE | Bronze Lynx |
| Design | Zero Tolerance Ribbon | 28 Too Many | Impact BBDO, Dubai | UAE | Bronze Lynx |
| Digital | Twix Face Off | Mars | Impact BBDO, Dubai | UAE | Bronze Lynx |
| Digital | Twix Face Off | Mars | Impact BBDO, Dubai | UAE | Bronze Lynx |
| Direct | The Blank Edition | An-Nahar | Impact BBDO, Dubai | UAE | Bronze Lynx |
| Direct | Zero Tolerance Ribbon | 28 Too Many | Impact BBDO, Dubai | UAE | Bronze Lynx |
| Mobile | Twix Face Off | Mars | Impact BBDO, Dubai | UAE | Bronze Lynx |
| PR | The Toxic Flag | The Waste Management Coalition | Impact BBDO, Dubai | UAE | Bronze Lynx |
| PR | The Blank Edition | An-Nahar | Impact BBDO, Dubai | UAE | Bronze Lynx |
| Print & Publishing | Mutilated Words | 28 Too Many | Impact BBDO, Dubai | UAE | Bronze Lynx |
| Design | Truck Art Childfinder | Berger Paints | BBDO Pakistan, Lahore / Impact BBDO, Dubai | Pakistan | Grand Prix |
| Direct | Truck Art Childfinder | Berger Paints | BBDO Pakistan, Lahore / Impact BBDO, Dubai | Pakistan | Grand Prix |
| Outdoor | Truck Art Childfinder | Berger Paints | BBDO Pakistan, Lahore / Impact BBDO, Dubai | Pakistan | Grand Prix |
| Print & Outdoor Craft | Truck Art Childfinder | Berger Paints | BBDO Pakistan, Lahore / Impact BBDO, Dubai | Pakistan | Grand Prix |
| Creative Effectiveness | Remake The Boxer | PepsiCo | BBDO Pakistan, Lahore | Pakistan | Creative Effectiveness Lynx |
| Creative Effectiveness | The Bridal Uniform | UN Women | BBDO Pakistan, Lahore | Pakistan | Creative Effectiveness Lynx |
| Entertainment | Stop Dowrymongering | UN Women | BBDO Pakistan, Lahore / Impact BBDO, Dubai | Pakistan | Gold Lynx |
| Media | Truck Art Childfinder | Berger Paints | BBDO Pakistan, Lahore / Impact BBDO, Dubai | Pakistan | Gold Lynx |
| Design | Truck Art Childfinder | Berger Paints | BBDO Pakistan, Lahore / Impact BBDO, Dubai | Pakistan | Silver Lynx |
| Direct | Truck Art Childfinder | Berger Paints | BBDO Pakistan, Lahore / Impact BBDO, Dubai | Pakistan | Silver Lynx |
| Media | Truck Art Childfinder | Berger Paints | BBDO Pakistan, Lahore / Impact BBDO, Dubai | Pakistan | Silver Lynx |
| Outdoor | Truck Art Childfinder | Berger Paints | BBDO Pakistan, Lahore / Impact BBDO, Dubai | Pakistan | Silver Lynx |
| PR | Truck Art Childfinder | Berger Paints | BBDO Pakistan, Lahore / Impact BBDO, Dubai | Pakistan | Silver Lynx |
| Brand Experience & Activation | Truck Art Childfinder | Berger Paints | BBDO Pakistan, Lahore / Impact BBDO, Dubai | Pakistan | Bronze Lynx |
| Direct | Stop Dowrymongering | UN Women | BBDO Pakistan, Lahore / Impact BBDO, Dubai | Pakistan | Bronze Lynx |
| Outdoor | Truck Art Childfinder | Berger Paints | BBDO Pakistan, Lahore / Impact BBDO, Dubai | Pakistan | Bronze Lynx |
| PR | Truck Art Childfinder | Berger Paints | BBDO Pakistan, Lahore / Impact BBDO, Dubai | Pakistan | Bronze Lynx |
| Design | The Bulletproof Novel | Soc Outreach | BBDO Pakistan, Lahore | Pakistan | Bronze Lynx |
| Brand Experience & Activation | OMO Tag | Unilever Lebanon | TBWA\Raad, Dubai | UAE | Grand Prix |
| Radio & Audio | Predictive Radio Spots | AWR Arabian Automobile | TBWA\Raad, Dubai | UAE | Grand Prix |
| Creative Effectiveness | Slow Trends | Connect | TBWA\Raad, Dubai | UAE | Creative Effectiveness Grand Prix |
| Brand Experience & Activation | Highway Gallery | Louvre Abu Dhabi | TBWA\Raad, Dubai | UAE | Gold Lynx |
| Design | Highway Gallery | Louvre Abu Dhabi | TBWA\Raad, Dubai | UAE | Gold Lynx |
| Direct | Highway Gallery | Louvre Abu Dhabi | TBWA\Raad, Dubai | UAE | Gold Lynx |
| Outdoor | OMO Tag | Unilever Lebanon | TBWA\Raad, Dubai | UAE | Gold Lynx |
| Brand Experience & Activation | OMO Tag | Unilever Lebanon | TBWA\Raad, Dubai | UAE | Silver Lynx |
| Brand Experience & Activation | Highway Gallery | Louvre Abu Dhabi | TBWA\Raad, Dubai | UAE | Silver Lynx |
| Design | Highway Gallery | Louvre Abu Dhabi | TBWA\Raad, Dubai | UAE | Silver Lynx |
| Direct | Highway Gallery | Louvre Abu Dhabi | TBWA\Raad, Dubai | UAE | Silver Lynx |
| Film | The Abou Khalaf's | Connect | TBWA\Raad, Dubai | UAE | Silver Lynx |
| Media | Highway Gallery | Louvre Abu Dhabi | TBWA\Raad, Dubai | UAE | Silver Lynx |
| Media | Highway Gallery | Louvre Abu Dhabi | TBWA\Raad, Dubai | UAE | Silver Lynx |
| Outdoor | OMO Tag | Unilever Lebanon | TBWA\Raad, Dubai | UAE | Silver Lynx |
| Brand Experience & Activation | #Shedrives | Nissan KSA | TBWA\Raad, Dubai | UAE | Bronze Lynx |
| Brand Experience & Activation | #Shedrives | Nissan KSA | TBWA\Raad, Dubai | UAE | Bronze Lynx |
| Digital | Slow Face | Connect | TBWA\Raad, Dubai | UAE | Bronze Lynx |
| Digital | Highway Gallery | Louvre Abu Dhabi | TBWA\Raad, Dubai | UAE | Bronze Lynx |
| Digital | Highway Gallery | Louvre Abu Dhabi | TBWA\Raad, Dubai | UAE | Bronze Lynx |
| Direct | OMO Tag | Unilever Lebanon | TBWA\Raad, Dubai | UAE | Bronze Lynx |
| Entertainment | Highway Gallery | Louvre Abu Dhabi | TBWA\Raad, Dubai | UAE | Bronze Lynx |
| Healthcare | Clasico Dogs | K9 Central Dogs / Sniff Pet Adoption | TBWA\Raad, Dubai | UAE | Bronze Lynx |
| Integrated | Highway Gallery | Louvre Abu Dhabi | TBWA\Raad, Dubai | UAE | Bronze Lynx |
| Media | Highway Gallery | Louvre Abu Dhabi | TBWA\Raad, Dubai | UAE | Bronze Lynx |
| Outdoor | OMO Tag | Unilever Lebanon | TBWA\Raad, Dubai | UAE | Bronze Lynx |
| PR | Clasico Dogs | K9 Central Dogs / Sniff Pet Adoption | TBWA\Raad, Dubai | UAE | Bronze Lynx |
| PR | Highway Gallery | Louvre Abu Dhabi | TBWA\Raad, Dubai | UAE | Bronze Lynx |
| Print & Publishing | The Abou Khalaf's, The Al Mouwalled's | Connect | TBWA\Raad, Dubai | UAE | Bronze Lynx |
| Healthcare | The Sound Of Shisha | Aubmc | TBWA\Raad, Beirut | Lebanon | Bronze Lynx |
| Media | Al Umobuwah: Putting "Mum" Into "Parenthood" | Babyshop | FP7/Dxb, Dubai | UAE | Grand Prix |
| Brand Experience & Activation | Al Umobuwah: Putting "Mum" Into "Parenthood" | Babyshop | FP7/Dxb, Dubai | UAE | Gold Lynx |
| Entertainment | Hekaya Family | Etisalat Misr | FP7/Cai, Cairo | Egypt | Silver Lynx |
| Film | Never Take Your Jersey Off | Coca-Cola | FP7/Cai, Cairo / Good People Content, Cairo | Egypt | Silver Lynx |
| Media | Al Umobuwah: Putting "Mum" Into "Parenthood" | Babyshop | FP7/Dxb, Dubai | UAE | Silver Lynx |
| Media | The Right To Play | Omo | FP7/Dxb, Dubai | UAE | Silver Lynx |
| Media | The Official Sponsor Of Losers | McDonald's | FP7/Bey, Beirut | Lebanon | Bronze Lynx |
| Film Craft | Hekaya Family Hospital, Livingroom | Etisalat Misr | FP7/Cai, Cairo | Egypt | Bronze Lynx |
| Film Craft | Badya The Creative City | Palm Hills Developments | FP7/Cai, Cairo / Good People Content, Cairo | Egypt | Bronze Lynx |
| Film Craft | Never Take Your Jersey Off | Coca-Cola | FP7/Cai, Cairo / Good People Content, Cairo | Egypt | Bronze Lynx |
| Brand Experience & Activation | Al Umobuwah: Putting "Mum" Into "Parenthood" | Babyshop | FP7/Dxb, Dubai | UAE | Bronze Lynx |
| Design | Unseen Potential | Al Tayer Motors | FP7/Dxb, Dubai | UAE | Bronze Lynx |
| Digital | Al Umobuwah: Putting "Mum" Into "Parenthood" | Babyshop | FP7/Dxb, Dubai | UAE | Bronze Lynx |
| Integrated | Al Umobuwah: Putting "Mum" Into "Parenthood" | Babyshop | FP7/Dxb, Dubai | UAE | Bronze Lynx |
| Media | Every Step Counts | Emirates NBD | FP7/Dxb, Dubai | UAE | Bronze Lynx |
| PR | Al Umobuwah: Putting "Mum" Into "Parenthood" | Babyshop | FP7/Dxb, Dubai | UAE | Bronze Lynx |
| Radio & Audio | Listen... | Hearlife Clinic | FP7/Dxb, Dubai | UAE | Bronze Lynx |
| Film | Fire, Fall, Crash | du Telco | Leo Burnett Dubai | UAE | Grand Prix |
| Digital | Give In To Giving | ENBD | Leo Burnett Dubai | UAE | Gold Lynx |
| Design | #Shameonwho | Abaad | Leo Burnett Beirut | Lebanon | Silver Lynx |
| Brand Experience & Activation | Give In To Giving | ENBD | Leo Burnett Dubai | UAE | Silver Lynx |
| Digital | Give In To Giving | ENBD | Leo Burnett Dubai | UAE | Silver Lynx |
| Film Craft | Fire, Crash | du Telco | Leo Burnett Dubai | UAE | Silver Lynx |
| Film Craft | Give In To Giving | ENBD | Leo Burnett Dubai | UAE | Silver Lynx |
| PR | Rest After Fame | Ikea, Saudi Arabia | Leo Burnett , Jeddah | Saudi Arabia | Bronze Lynx |
| Film | Cake Chef | Dreem | Leo Burnett Cairo | Egypt | Bronze Lynx |
| Digital | Give In To Giving | ENBD | Leo Burnett Dubai | UAE | Bronze Lynx |
| Digital | Mccafé "Simple" | McDonald's | Leo Burnett Dubai | UAE | Bronze Lynx |
| Entertainment | Give In To Giving | ENBD | Leo Burnett Dubai | UAE | Bronze Lynx |
| Film | Give In To Giving | ENBD | Leo Burnett Dubai | UAE | Bronze Lynx |
| Media | Pee Palette | Al Ain | Leo Burnett Dubai | UAE | Bronze Lynx |
| Print & Publishing | Cappuccino, Macchiato, Moccachino | McDonald's | Leo Burnett Dubai | UAE | Bronze Lynx |
| Outdoor | The Fasting Pixels | Mcdonald's | Leo Burnett, Riyadh | Saudi Arabia | Bronze Lynx |
| Film Craft | What Are We Allowing? | Saudi Telecom Company | J. Walter Thompson , Riyadh | Saudi Arabia | Grand Prix |
| PR | 2019 Resolution: Time To Get In Touch... For Real | DHL | J. Walter Thompson Cairo | Egypt | Gold Lynx |
| PR | Akhou Nora | Saudi Telecom Company | J. Walter Thompson , Riyadh | Saudi Arabia | Gold Lynx |
| Entertainment | 2019 Resolution: Time To Get In Touch... For Real | DHL | J. Walter Thompson Cairo | Egypt | Silver Lynx |
| PR | 2019 Resolution: Time To Get In Touch... For Real | DHL | J. Walter Thompson Cairo | Egypt | Silver Lynx |
| Entertainment | The Unofficial Anthem | Tunisie Telecom | J. Walter Thompson Tunis | Tunisia | Silver Lynx |
| Print & Publishing | Office, Metro, Street, Factory | Nestlé Distribution | J. Walter Thompson, Casablanca | Morocco | Silver Lynx |
| Film Craft | Sarah. The Game Changer | Saudi Telecom Company | J. Walter Thompson , Riyadh | Saudi Arabia | Bronze Lynx |
| Film | Gate, Check In | Saudi Telecom Company | J. Walter Thompson , Riyadh | Saudi Arabia | Bronze Lynx |
| Media | The Big Shutdown | Saudi Telecom Company | J. Walter Thompson , Riyadh | Saudi Arabia | Bronze Lynx |
| Entertainment | Offside Studio | Coca-Cola | J. Walter Thompson Dubai | UAE | Bronze Lynx |
| Print & Outdoor Craft | Face S, Face G, Face Y | Zain Kuwait | J. Walter Thompson Dubai | UAE | Bronze Lynx |
| Print & Outdoor Craft | Face S, Face G, Face Y | Zain Kuwait | J. Walter Thompson Dubai | UAE | Bronze Lynx |
| Film Craft | Goodbye Son | Ikea Uae | Memac Ogilvy, Dubai | UAE | Gold Lynx |
| Film | That Cheater, Mama's Little Boy, Shower Mishap, Leftover Misery | Ikea Uae | Memac Ogilvy, Dubai | UAE | Gold Lynx |
| Media | The Kfc Scroll Thru | KFC UAE | Memac Ogilvy, Dubai | UAE | Gold Lynx |
| Media | The Kfc Scroll Thru | KFC UAE | Memac Ogilvy, Dubai | UAE | Silver Lynx |
| Outdoor | Bully A Plant | Ikea UAE | Memac Ogilvy, Dubai | UAE | Silver Lynx |
| Digital | 100 Simple Joys Of Driving | Volkswagen Middle East | Memac Ogilvy, Dubai | UAE | Bronze Lynx |
| Film Craft | Shower Mishap | Ikea Uae | Memac Ogilvy, Dubai | UAE | Bronze Lynx |
| PR | The Sun Flame Grilled Whopper | Burger King | Memac Ogilvy Kuwait, Kuwait City | Kuwait | Bronze Lynx |
| Healthcare | Rx Prescription Stickers | Dubai Health Authority | The Classic Partnership Advertising, Dubai | UAE | Grand Prix |
| Brand Experience & Activation | Rx Prescription Stickers | Dubai Health Authority | The Classic Partnership Advertising, Dubai | UAE | Bronze Lynx |
| Design | Rx Prescription Stickers | Dubai Health Authority | The Classic Partnership Advertising, Dubai | UAE | Bronze Lynx |
| Direct | Rx Prescription Stickers | Dubai Health Authority | The Classic Partnership Advertising, Dubai | UAE | Bronze Lynx |
| Healthcare | Stub Sugar | Aster Clinics | The Classic Partnership Advertising, Dubai | UAE | Bronze Lynx |
| Print & Outdoor Craft | Food Or Plastic | National Geographic | Saatchi & Saatchi Dubai | UAE | Silver Lynx |
| Print & Outdoor Craft | Food Or Plastic | National Geographic | Saatchi & Saatchi Dubai | UAE | Silver Lynx |
| Print & Outdoor Craft | Bond | Head & Shoulders | Saatchi & Saatchi Dubai | UAE | Bronze Lynx |
| Print & Outdoor Craft | Bond | Head & Shoulders | Saatchi & Saatchi Dubai | UAE | Bronze Lynx |
| Radio & Audio | Road Rage Radio | Chevrolet | Commonwealth//McCann, Dubai | UAE | Gold Lynx |
| Digital | Little Pony | Chevrolet | Commonwealth//McCann, Dubai | UAE | Bronze Lynx |
| Media | Road Rage Radio | Chevrolet | Commonwealth//McCann, Dubai | UAE | Bronze Lynx |
| Digital | Hailstorm In Istanbul | Ikea | TBWA\Istanbul | Turkey | Grand Prix |
| Design | Fear And Fantasy Festival | Fashion Film Festival Istanbul | TBWA\Istanbul | Turkey | Bronze Lynx |
| Media | Hailstorm In Istanbul | Ikea | TBWA\Istanbul | Turkey | Bronze Lynx |
| Film Craft | Elite | There's A Wafer | Horreia Food Industries | Good People, Cairo / Good People Content, Cairo | Egypt | Silver Lynx |
| Film Craft | Elite | There's A Wafer | Horreia Food Industries | Good People, Cairo / Good People Content, Cairo | Egypt | Bronze Lynx |
| Film Craft | Umniah | Speak For Yourself | Umniah Telecom | Good People, Cairo / TNA, Cairo | Egypt | Bronze Lynx |
| Digital | Cargo Passenger Class | Flyadeal | 77 Media, Jeddah | Saudi Arabia | Bronze Lynx |
| Direct | Cargo Passenger Class | Flyadeal | 77 Media, Jeddah | Saudi Arabia | Bronze Lynx |
| Digital | Elevator Tweets | Twitter | Geometry Global, Dubai | UAE | Bronze Lynx |
| Direct | Coke Mixed Fans | Coca-Cola | Geometry Global, Dubai | UAE | Bronze Lynx |
| Media | Infiniti: Dco | Infiniti | OMD, Dubai | UAE | Bronze Lynx |
| Media | Uber: Commute Made Easy | Uber | OMD, Dubai / FP7/DXB | UAE | Bronze Lynx |
| Mobile | Qibla Finder | Google | Google, Dubai | UAE | Grand Prix |
| Entertainment | The Sweet Revenge | President Cheese Egypt | Kijamii, Cairo | Egypt | Grand Prix |
| Film Craft | The Waiting | ICRC Lebanon | ICRC Lebanon, Beirut / Stoked, Beirut | Lebanon | Gold Lynx |
| Film Craft | Explained Take 2 | Rehlat | Beattie + Dane, Kuwait City | Kuwait | Silver Lynx |
| Healthcare | Reasons To Celebrate | Reckitt Benckiser | Havas , Dubai | UAE | Silver Lynx |
| Print & Publishing | Car, Trash | Lifebuoy | Wunderman Dubai | UAE | Silver Lynx |
| Entertainment | 3-Word Song | | Bigfoot Films, Cairo | Egypt | Bronze Lynx |
| Healthcare | 1k Marathon | Ministry Of Health & Prevention UAE | Grey MENA, Dubai | UAE | Bronze Lynx |
| Healthcare | Fisheye Wart, Undoubtedly. | Vezeeta.Com | Kairo, Cairo | Egypt | Bronze Lynx |
| Healthcare | Unspoken, Uae | The Lighthouse Centre For Wellbeing | McCann Health, Dubai | UAE | Bronze Lynx |
| Film Craft | Mezza - I Drink Whenever I Want. | Kassatly Chtaura | Operation Unicorn, Ain El Rihane | Lebanon | Bronze Lynx |
| Media | Puck Save The Cows | Arla Foods | PHD, Dubai / FP7/Dxb, Dubai | UAE | Bronze Lynx |
| Direct | Future Reina | Children's Cancer Center Of Lebanon | République, Beirut | Lebanon | Bronze Lynx |