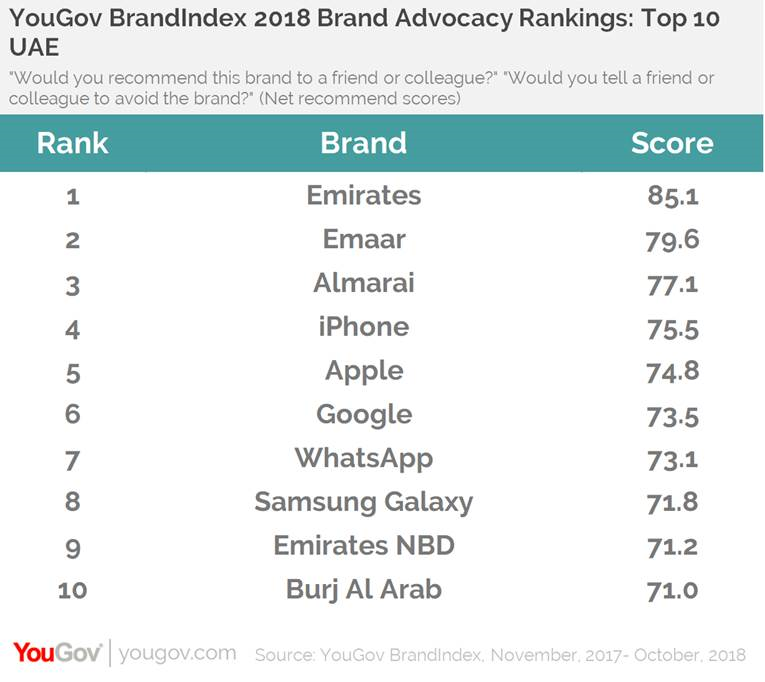 The UAE's flag carrier airline Emirates, real estate company Emaar and smartphone giant iPhone are the most recommended brands by consumers in the UAE, Saudi Arabia and Egypt, respectively.
While the rankings in the UAE and Egypt are dominated by digital and technology brands, Saudi's top 10 rankings showcase a mix of travel, real estate, consumer brands and financial services as per a YouGov study.
After Emirates, Emaar and Almarai are the most endorsed brands by consumers in the UAE, at number two and three, respectively. In Saudi Arabia, Emaar raced up to the top spot from the number five last year, and is now closely followed by Emirates and then Al Baik.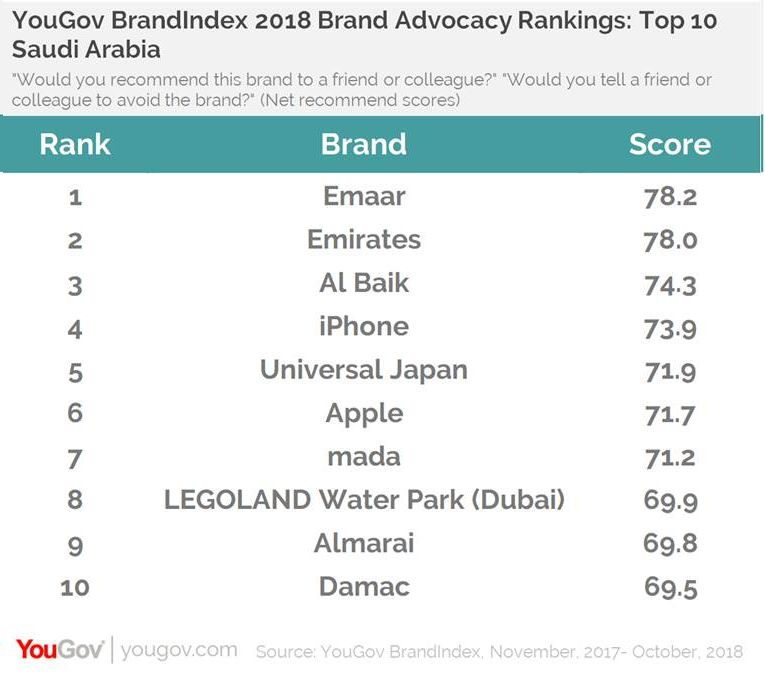 In Egypt, iPhone remains unchallenged at the top of the rankings, proving to be the worthiest of customer advocacy in the country. Netflix makes an impressive entry into the rankings at number two and Google has moved up to the third spot this year from number four last year.
The Advocacy Rankings, produced by YouGov's daily brand tracking tool BrandIndex, considered how much current and former customers endorsed brands over the past year by asking respondents, 'Would you recommend the brand to a friend or colleague?' or 'Would you tell a friend or colleague to avoid the brand?'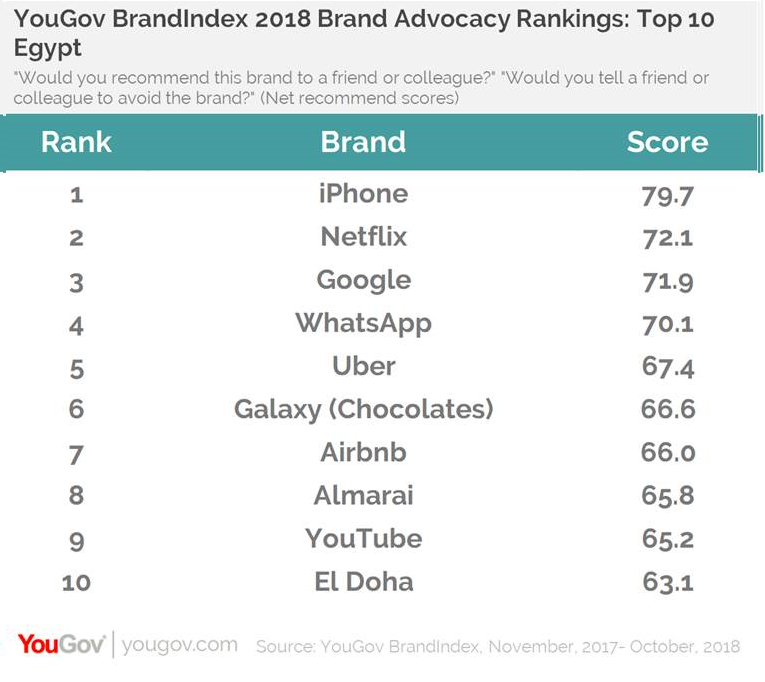 YouGov also revealed brands that have the most improved level of customer advocacy over the last 12 months. Pakistan International Airlines has seen the biggest improvement in its Recommend score in the UAE and Kia and Heinz have seen the greatest uplift in their scores in Saudi Arabia and Egypt, respectively.
"YouGov BrandIndex Advocacy Rankings reveal brands that have made a significant impression on consumers, enough for them to endorse the brand to others. In the current digital world, it is no surprise that technology brands excel with consumers and dominate the rankings in the UAE and Egypt. Travel & airlines, real estate and consumer brands also score well in the overall rankings. A recommendation from friend or family is one of the most powerful votes of confidence for a brand. The top ten brands in each market have managed to deliver positive experiences and have succeeded in building strong advocacy among their customers in these middle eastern countries," said Scott Booth, Head of YouGov BrandIndex – MENA.
YouGov BrandIndex screened 548 brands in the UAE, 288 brands in Egypt and 497 brands in Saudi Arabia for their net Recommend score. Rankings data was collected between November 1, 2017 and October 31, 2018 and Improvers data was collected between November 1, 2016 and October 31, 2018.