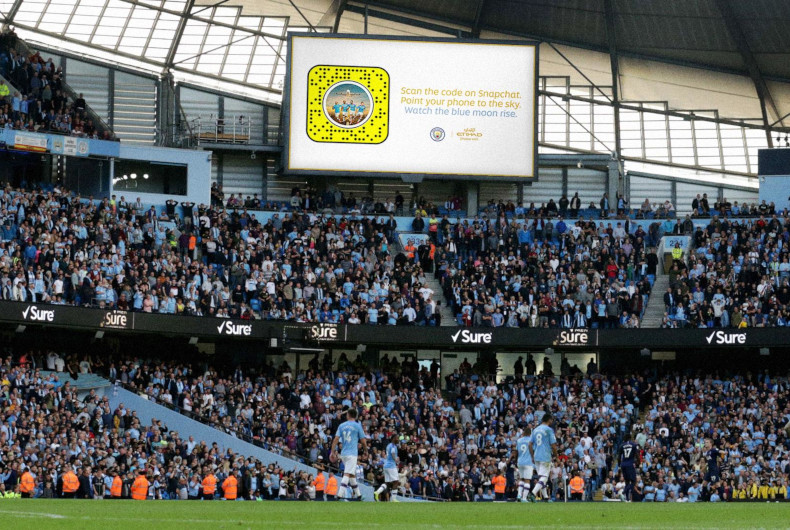 To celebrate Manchester City's first home game of this year's English Premier League (EPL) season, Etihad Airways — the official shirt and stadium sponsor of Manchester City — seized the opportunity to create a fan experience and drive engagement using the power of augmented reality (AR).
Etihad Airways worked with Snapchat and its regional Lens Studio Partner, Tactical, to conceptualize and produce the campaign, titled The AR Fly-By. The world's first AR fly-by, the Lens campaign featured an Etihad A380 roaring over the Etihad Stadium while Manchester City's iconic blue moon was rising on the horizon.
The stunt was activated via a Snapcode promoted at the Etihad Stadium, including displays on the megatron, and was also distributed by on-site Etihad Cabin Crew.
The entire campaign was conceptualized and produced within just a week's time. Etihad Airways and Snapchat are already looking at how to expand the Lens and run similar activations during key matches coming up later this fall.
"The Lens was a great use of technology to augment our fans' matchday experience at the Etihad Stadium and we were pleased to hear such positive responses to the activity. As a club we welcome innovation and new technology so it's great to work with our partner Etihad Airways to push boundaries and try something new," said Oliver Turkel, Regional Director MENA, City Football Group.
Credits:
Campaign Name: 'The AR Fly-By'
Brand: Etihad Airways
Campaign Leads:
– Shefali Vyas, Global Head of Social Media, Etihad Airways
– Jason Alexander, Senior Account Manager – Travel, Snap Inc.
– Mike Khouri, Managing Director, and Mohamed Sorkatti, Product Manager, Tactical