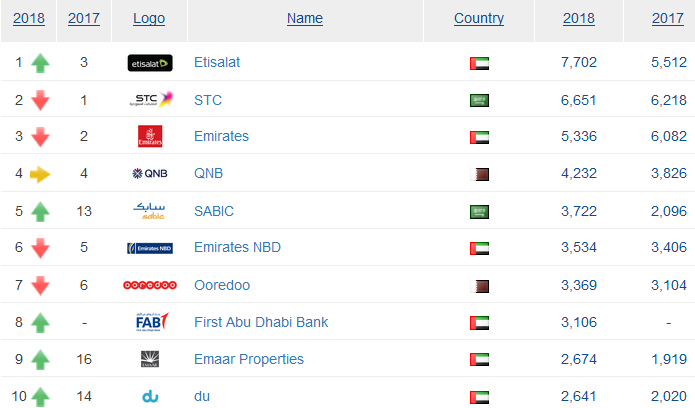 The UAE is home to six of the region's top 10 brands and 43 percent of the total brand value in the Brand Finance Middle East 50 league table, more than any other country.
According to the latest report by Brand Finance, Etisalat (up 40% to USD 7.7 billion) is now the Middle East's most valuable brand, ahead of STC (up 7% to USD 6.7 billion), and Emirates (down 12% to USD 5.3 billion).
Emaar Properties has scaled new heights to enter the top 10 for the first time, recording a 39 percent increase in brand value to USD 2.7 billion this year. This success comes after the development that property developers Emaar and Aldar are partnering to launch local and international projects worth USD 8.3 billion.
"The strategic partnership between Aldar and Emaar strengthens prospects for the UAE's real estate sector as well as delivering a real boost for the investment community as we inch closer towards Expo 2020. It is a real testament to the region's economic growth that we are seeing more world class brands emerging from the UAE," said Andrew Campbell, Managing Director, Brand Finance Middle East.
Dubai's Emirates NBD still sits firmly as the UAE's most valuable banking brand, with brand value up 4 percent from last year to USD 3.5 billion. Emirates NBD has expanded its influence through a strategic digital and regional expansion. With the recent opening of its first branch in Saudi Arabia's commercial hub, Jeddah, the lender also has plans underway for further expansion in Saudi Arabia, making it Emirates NBD's biggest branch network outside of the UAE and Egypt.
First Abu Dhabi Bank (FAB) is a new entrant to the rankings, at number eight, with a brand value of USD 3.1 billion. FAB was created through the merger of National Bank of Abu Dhabi and First Gulf Bank, and has just completed its first year of operations following a channel rebrand across all customer and digital touch-points. The bank is also eyeing up an expansion into Saudi Arabia, after recently receiving approvals from the Saudi Arabian Monetary Authority and Capital Markets Authority.
Seeing a significant 31 percent increase to its brand value since last year, Dubai-based port operator DP World has risen from 31st rank in 2017 to occupy 26th spot in the Brand Finance Middle East 50 2018. The enabler of global trade, which is also one of the world's largest terminal operators, saw its brand value grow to USD 0.9 billion. DP World's growth can be attributed to latest acquisitions in India and Peru, which significantly expand the brand's footprint.
Having almost completed its first full year of operations, Dubai Parks and Resorts is a new entrant to the Brand Finance Middle East 50 ranking, with a brand value of USD 0.3 billion. Dubai Parks and Resorts is the sole representative from the leisure and tourism industry to feature in the Brand Finance Middle East 50 2018.
Etisalat has been named the Middle East's most valuable brand for the first time. The Abu Dhabi-based operator has turned the dial up with a 40 percent increase to its brand value. The key growth drivers behind Etisalat's USD 7.7 billion brand value include the brand's innovative customer service-driven strategy, its leadership position on the 5G revolution, and successful launches of global brand-building initiatives.
With direct flights undermining the hub-and-spoke model favored by Middle Eastern airlines, and due to broader geo-political issues, the two largest airline brands in the region decreased in value. Emirates Airlines (down 12% to USD 5.3 billion) is ranked third in the Middle East, and Abu-Dhabi based Etihad Airways (down 11% to USD 1.4 billion) is 20th.