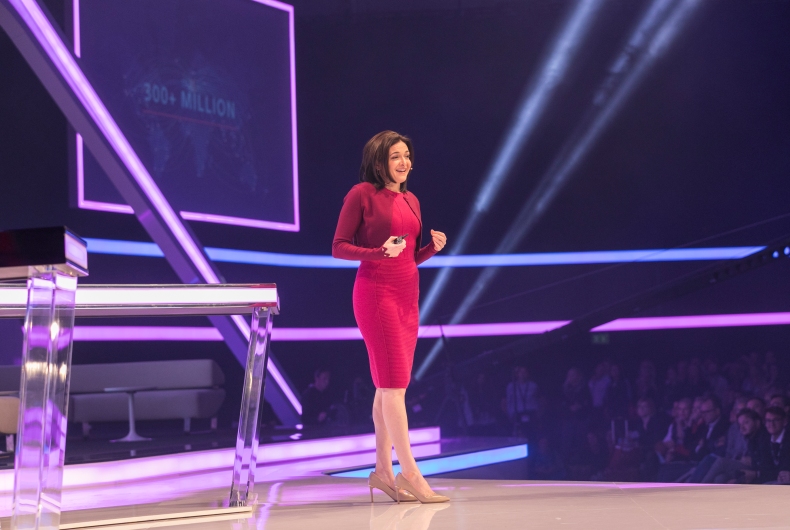 With an active user base of 2 billion, there are many firsts that Facebook is faced with – perhaps the most important one being the responsibility that it puts on the platform not only in protecting the privacy and other rights of its users but also in the kind of content that it allows to be served.
For Sheryl Sandberg, COO, Facebook there is a much bigger picture that is now guiding Facebook in its mission. Doing good, and enabling people to do good, is a large part of this mission. This is also indicative of the growth of the platform beyond just connecting people.
"We take very seriously our responsibility to earn and maintain the trust of people in businesses. We have a simple mission — making the world more connected and giving people the power to share. It is not enough to just connect people; we need to make sure we are bringing people together to do good," Ms Sandberg said, while addressing delegates at the ongoing dmexco in Germany.
Making Monetizing Difficult For Financially-Motivated Bad Actors
As the fearsome five –– Amazon, Apple, Facebook, Google and Microsoft –– begin investing significantly in content, Facebook has to come to terms with the fact that it is also a media company. Developments in the last year have put added pressure on the platform to be responsible in what it allows people to publish.
Facebook is stepping up its monitoring of hate speech, adding 3,000 content reviewers to nearly double the size of its existing team. Looking to actively address fake news, it also now also made it difficult for publishers to monetize any such content. It has set up 'Monetization Eligibility Standards and Content Guidelines' that introduces new standards for publishers and creators. According to the platform, this will help improve advertising quality in Ad Breaks, Instant Articles, Branded Content and Audience Network and "keep financially-motivated bad actors from profiting off our platform and tools".
To make money on Facebook in future, content creators and publishers will have to comply with its so-called community standards, which seek to ensure that content is authentic, not offensive and adheres to its guidelines.
More Power For Advertisers
Addressing extremist content was one of the concerns that marketers had raised in the last year. The other one was more directly related to measurement, more specifically third party measurement. Facebook has said that it is seeking accreditation from the Media Ratings Council and set a timeline of 18 months to audit, review and accredit Facebook measurement in first-party served ad impression reporting, third-party viewability partner integrations and upon launch, its new two-second video buying option.
At present, Facebook has 24 partners in its measurement system including Oracle Data Cloud, Nielsen, Kantar Millward Brown, as well as three partners –– Moat Integral Ad Science and comScore –– measuring viewability. It is in the process of adding DoubleVerify and Meetrics as two new viewability partners.
By the end of this year Facebook will also begin to offer Pre-Campaign lists (beginning rollout to advertisers) and Post-Campaign list (beginning rollout in the coming months).
The Community Approach
For some time now, 'communities' and the role they play have been important on Facebook's agenda. One of the primary reasons that people connect on social networks is around connecting on similar interests. Ms Sandberg asserted that communities will play a crucial role in assisting companies in achieving their mission. Facebook's own mission to give people the power to build community and bring the world closer together gives it a sense of purpose in everything it does, according to her.
She informed that Facebook will continue to invest so that people can build communities. She also said that Facebook will continue to build on its ways in which is enables brands to engage communities, where it is through mobile or social routes.
"People can use the power of technology to connect and work together. We want to help businesses fulfill their mission and help them grow, create jobs, and build and foster community," she said.