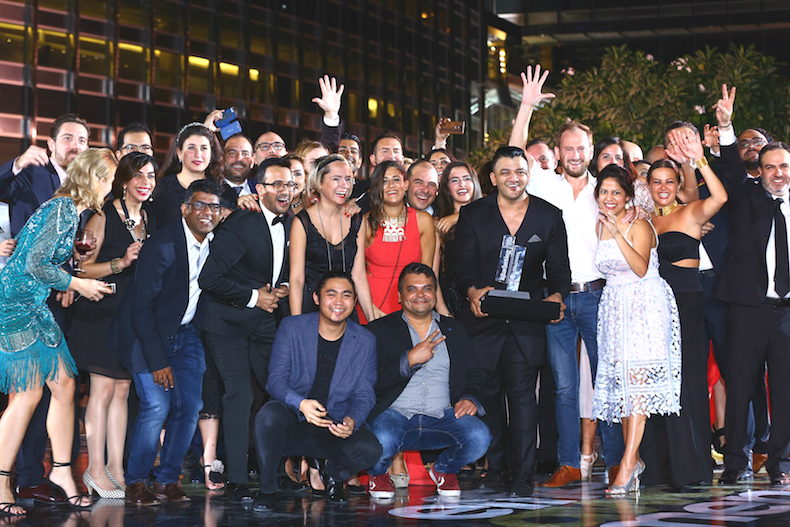 Creative Agency FP7, part of the Middle East Communications Network (MCN) and McCann Worldgroup, won several accolades at the recently held MENA Effie Awards.
The agency won the Most Effective Advertising Office of the Year, and Most Effective Agency Network of the Year, along with the prestigious Grand Prix Award.
"As we see more and more uncertainty in our region, continual drops in media spends and continual flat growth, marketers will continue to see creativity with purpose. They will continually seek agencies that will help them justify every penny they spend in order to achieve their business objectives. And that's what we do. The fifth consecutive Effie wins for Dubai as Agency of the Year and MENA as Network of the Year, to me, is simply saying that we do that better than anyone else. Put the brand in the center and fight alongside our partners to make them stronger," said Tarek Miknas, Chief Executive Officer, FP7/MENA.
Organized in partnership with Mediaquest, the competition at this year's MENA Effie Awards was stiff as ever with over 700 entries and 293 finalists across 24 categories. FP7's group with 117 finalists ranging across 45 campaigns and 28 brands, demonstrated the breadth of effective work done across MENA.
"The Effies reward creativity that works – which is why we're in the business in the first place. Contrary to perception, we don't carpet bomb the Effies. We simply have a great range of work across brands (45 finalists across 28 brands and we won 44 Effies for work across 21 brands). More clients are winning year-on-year. This is because we've made effectiveness part of our everyday culture, starting with our creative briefs, focusing on meaningful ideas that make a real-world difference vs. creativity to win at awards. We do that as often as we can, throughout the year, at every single opportunity we get. Every brief is an opportunity. This leads to the volumes and the wins we generate. And the fact that we do this year-round, ensures we're effective with the time spent too," said Tahaab Rais, Regional Head of Strategy and MENA Truth Central Director, FP7/MENA.
FP7 not only continued its winning streak at the awards, it went on to claim the much sought-after Grand Prix Award, too, by its Cairo Office for EG Bank's 'You're not accounted for' campaign. The Grand Prix Award is the highlight of the MENA Effie and is awarded for exceptional creativity and effectiveness to the best of the show. Other big winners for FP7/MENA included Coca-Cola Hijacking the African Cup of Nations, OMO's "The Dullest Ad in History for the Least Active Kids in History", Murr Television's "Bald for You", Puck's "Cook with Her" and Atlantis The Pam Dubai's 'The Taxi to Dubai'.
Headquartered in Dubai, FP7 is one of the most awarded agencies in the region, and boasts an enviable roster of clients that include heavyweight brands such as Mastercard, L'Oreal, Emirates NBD and Coca-Cola among many others. In 2016, FP7 secured was ranked 1 in the Global Effie Effectiveness Index, as the Most Effective Agency in the World.