Apple has competed and won time and again as a brand of reckoning in the Middle East & North Africa (MENA) region. This was validated once again in the latest brand rankings from YouGov BrandIndex, where iPhone rated as the top brand that Egypt consumers would choose to recommend to friends.
The Advocacy Rankings, produced by YouGov's daily brand tracking tool BrandIndex, considered how much Egypt consumers endorsed brands over the past year by asking respondents, 'Would you recommend the brand to a friend or colleague?' and 'Would you tell a friend or colleague to avoid the brand?'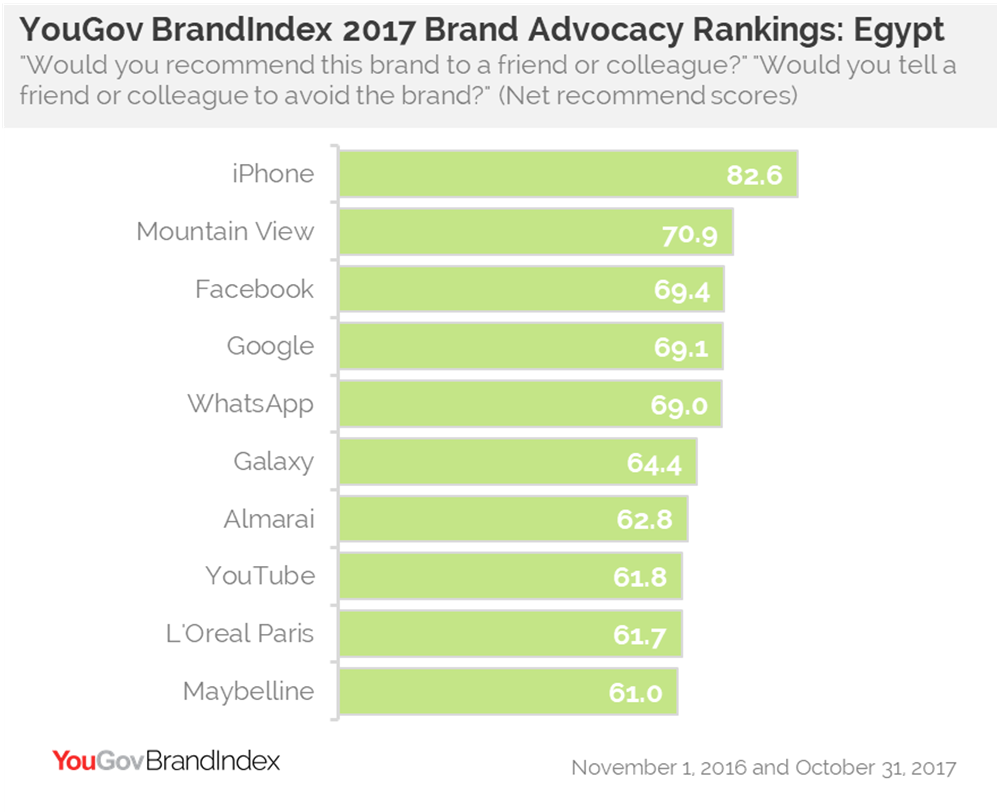 In its 10th anniversary year, 2017 has seen three new iPhones launched to a healthy worldwide reception. Having tracked the brand's advocacy over the last 12 months, BrandIndex states that iPhone is the most likely brand to be recommended to friends among Egypt residents.
The second most heavily endorsed brand in the Egypt Advocacy Top 10 is established Egyptian real estate developer Mountain View. Digital based brands take up another four spots with world social heavyweight Facebook, search giant Google and instant messaging phenomenon WhatsApp in third, fourth and fifth respectively; video sharing platform YouTube stands in eighth.
Galaxy, in sixth, and Almarai in seventh represent the most highly endorsed FMCG brands over the past year in Egypt, while L'Oreal Paris and Maybelline round out the top 10 as the most highly commended make-up brands among Egyptian consumers in ninth and tenth place respectively.