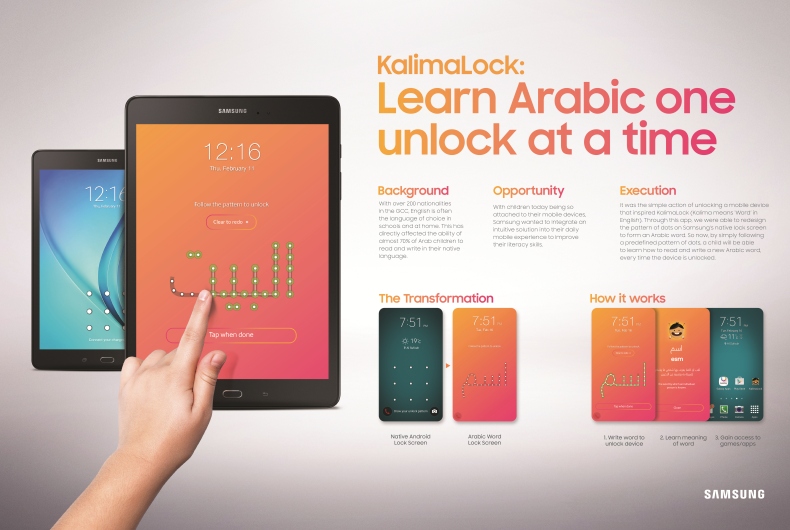 Cheil MENA has been awarded the Grand Prix in the Design category at the Dubai Lynx International Festival of Creativity, for its entry 'Samsung Kalimalock' for Samsung Gulf Electronics.
There are two Golds given in the category – one to J. Walter Thompson for 'The Good Note' for Bou Khalil Supermarché and the second to Memac Ogilvy Dubai along with Geometry Global Dubai for 'Handle on Hygiene' for Unilever.
Memac Ogilvy has won the highest number of metals in the category with one Gold, three Silver and two Bronze Lynx.
The complete list of winners is as follows:

| TITLE | ADVERTISER | ENTRANT AGENCY | COUNTRY | METAL |
| --- | --- | --- | --- | --- |
| Samsung Kalimalock | Samsung Gulf Electronics | Cheil MENA, Dubai | UAE | Grand Prix |
| | | | | |
| Handle On Hygiene | Unilever | Memac Ogilvy, Dubai / Geometry Global, Dubai / Ogilvy Singapore | UAE | Gold |
| Breaking A Fatal Pattern | Qatar Islamic Bank | Memac Ogilvy & Mather, Doha / Memac Ogilvy, Dubai | Qatar | Silver |
| Breaking A Fatal Pattern | Qatar Islamic Bank | Memac Ogilvy & Mather, Doha / Memac Ogilvy, Dubai | Qatar | Silver |
| Ikea. It's That Affordable | Ikea | Memac Ogilvy, Dubai / Memac Ogilvy & Mather Jeddah | UAE | Silver |
| 100 Years Of Contour | Coca-Cola Middle East | Memac Ogilvy, Dubai | UAE | Bronze |
| Handle On Hygiene | Unilever | Memac Ogilvy, Dubai / Geometry Global, Dubai / Ogilvy Singapore | UAE | Bronze |
| | | | | |
| The Good Note | Bou Khalil Supermarché | J. Walter Thompson Beirut | Lebanon | Gold |
| | | | | |
| The Tribal Rapport Field Guide | Mercedes-Benz | Impact BBDO, Dubai | UAE | Bronze |
| | | | | |
| BMW Xwalk | BMW | Serviceplan Middle East, Dubai | UAE | Silver |
| | | | | |
| No Broblem | British Council KSA | The Classic Partnership Advertising, Dubai | UAE | Silver |
| | | | | |
| The World Expiration Date | Global Export Co. | Y&R Dubai | UAE | Bronze |