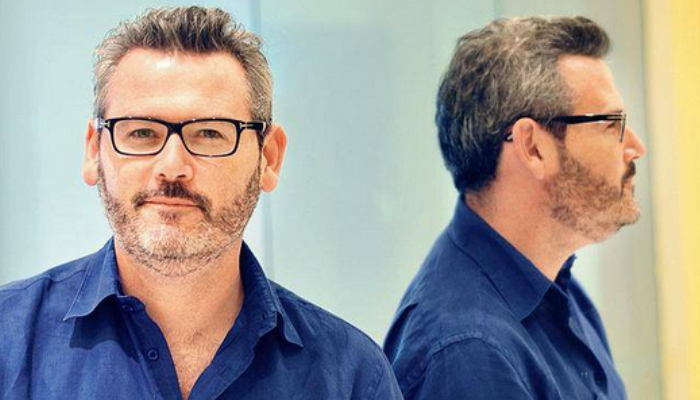 "We are moving from a world of disruption to a world of discovery," remarked the Chief Creative Officer at Facebook, Mark D'Arcy, as he observed how marketers have the power to be in front of the people they want to connect with, through their mobiles. With the consumers' attention span decreasing, what does a giant social networking platform such as Facebook do to get that one click from the consumer, how does it run a video ad, where does it deploy a banner so that people start re-posting it.
From the outside while this might look like a Herculean task, Facebook's creative team, led by Mr D'Arcy's, views it as a great opportunity for creative professionals to design a plethora of experiences for people. "We have had an incredibly exciting journey as a platform. We have grown from having side banner ads on a very popular website, to have a sweep-in canvas, to a multitude of experiences for creative people of the brands, and for people around the world. The variables such as films, photography, actions etc, all builds an opportunity that needs creativity to unlock its value."
Mr D'Arcy stressed on the point doing the work was more important than talking about the work. "There is so much that happens when we engage creative minds from across the industry. When we look at how we do this, we come from a great belief that it should be less talking about what we could do and more about building real things, for real clients, for real business in real time. For that we are going from the theory of emerging markets, the theory of what can happen to a place where we start building real things today."
Celebrating this belief is the Facebook Awards that brings together the works of numerous creatives on one platform, giving them recognition and inspiring others.
"We are often asked what is the best ad on Facebook, who is doing well… the truth is that there is no one Facebook. Facebook doesn't exist in one absolute phone, your Facebook is completely different and unique from my Facebook and so our job from a marketing standpoint, is to have the most relevant, useful and valuable advertising messaging and marketing stories from brands that connect with a particular individual. We want to be the best in your News Feed. Creative is a huge part of the reward and that is why Facebook Awards is very encouraging for the creative community."
Video entries emerged as a dominant medium with 77 per cent of the entries being video based in 2015. With Facebook getting four billion video views a day, Mr D'Arcy said that this "shows people are finding mobile Facebook videos as a natural process that tell stories to people."
Six Questions To Mark D'Arcy On Facebook Awards 2015 & FB @Cannes Lions
There are two interesting trends in the Awards this year – videos dominating the entries, and the 49 per cent increase in submissions, implying people either are doing more work on social platforms or are more confident of the work that they are doing. What does this mean for the industry?
The submissions show that people all around the world are investing time, energy and talent into building valuable things for people on Facebook. And that is something that really excites us because we can not only increase the response and the quality, but also the stories, the utilities, the photography and films that are going to be delighting people in News Feeds from brands.
Lebanon has done extremely well in the awards. What worked in favor of the work from Leo Burnett Beirut?
We have a wonderful jury with some of the finest creative leaders of the world, and they just adored the 'Keep The Flame Alive' work from Johnnie Walker. The way the campaign started, the transfer of ownership, and the way people engaged with it was brilliant. The campaign was seen more as marketing for people than marketing at people. I was really delighted with the work. This year really came out to be the year of Lebanon.
With Facebook's new initiatives in MEA like Creative Accelerator, what are your views on advertising on social platforms that are moving business metrics in the region?
Business metrics is one of the primary factors that we look at. Given the size of audience that Facebook and Instagram connect with, brands have the choice of what they could pursue, while also focusing on businesses. Business results, brand values, the KPIs really matter and we work backwards from there that to identify what are the things that are important to people, who are important to the brand. One of the benefits of such a large audience, which is so engaged, is that we can reach people who matter. What is it that a brand should do that matters to its audience – this is when we talk about relevance, reward and utility of what we are putting in front of people on their phones. There needs to be symmetry of value. Trends indicate that we are moving from the world of disruption to a world of discovery and we are going from a place where marketers felt that they have the right to be in front of someone to finding the right opportunity of being in front of someone.
You are gearing up for Cannes Lions International Festival of Creativity with quite an intensive agenda. What is the key message that you want to communicate to advertisers and agencies at the Festival this year, from a Facebook viewpoint and from a category pioneer viewpoint?
The way world is accelerating its use of mobile is still under-appreciated. Not only in time-spent, but it's also changing the way in which we have a relationship with brands and content, and the way in which we navigate in our lives. People who build to connect brands with people must build for where people are, not where they were. We have to acknowledge these changes. The speed at which people are moving to mobile is so rapid that we have no option but to be mobile first. We have to re-think the way we edit films, the way we write films, the way we create content and sequences to reach people in their pockets. There are opportunities for story telling, conversion and measurement that are new and very exciting, but if we are not interested in the learning, we will just replicate what we are doing somewhere else on a new screen. When we do that, we will miss a huge opportunity.
How would you compare the quality of work that you see at Facebook Awards versus what you see at a much broader platform like Cannes Lions. Does a focused platform like Facebook Awards attract a higher caliber of work in social media?
It attracts a similar caliber of work. We don't in anyway feel like we compete with any shows. The reason we created the Awards was to understand who is doing great and interesting work on Facebook. We are going to showcase many works from regions across the world, which is worthy of consideration and appreciation, which has great insight and inspiration for people from around the world. It's a community for creatives who are building for Facebook and Instagram and the more they share ideas, learn from each other and deliberate on how to reinvent in different ways, the more are the chances to build newer, better things.
One of the biggest challenges that brands face is the lack of brand building options on mobile – at least this is the reason quoted for the low single digital ad spends directed towards mobile. Why would you say this situation is different today? Are agency professionals and marketers doing the needful in crafting solutions relevant to, and repeatable on mobile.
I truly believe we have the most beautiful, engaging, immersive mobile advertising experience in the world. We can help in building brands by putting the idea in people's hand. I don't see a better canvas to tell a brand story to people, and we have some great examples from Facebook and Instagram to prove that. The economic and craft investment in building for this region comes at the back of people realizing the scale of the opportunity and the returns that people are getting in the business. At the cost of repeating myself, we have to create messages for where people are today, and that is mobile and video platforms.