Gender equality in business should be priority in every part of the world. Although barriers to starting a business in some countries are significant, when women circumvent them, they are equally confident about the present and near-term outlooks of their businesses as are men. This was further reiterated in the Future of Business survey.
In collaboration with the World Bank and Organisation for Economic Co-operation and Development (OECD), Facebook has launched the Future of Business Survey, a global source of information on small and medium-sized enterprises (SMEs). The survey, which covers more than 140,000 small businesses, in 33 countries around the world, provides information to help businesses learn from each other and to encourage them to use technology to further their reach.
This year's results focus primarily on gender management.
With more businesses leveraging online tools each day, the survey also provides a lens into a mobilized and digital economy and unique insights into businesses' outlooks, challenges, tactics, and demographics.
Small businesses drive economic growth and are responsible for the vast majority of jobs in economies around the world, through adopting digital tools that decrease the barriers to entry into the international economy. Connections between people around the world have reached unprecedented levels – it's no surprise that this flexibility and reach inspires confidence and growth. Currently, there are now over 60 million small business Pages on Facebook and globally, more than 1 billion people on Facebook are connected to at least one business in a foreign country.
Some of the key findings from the survey show:
#1. When small businesses engage in international trade, they thrive. Some highlights from the International Trade report include:
a. Digital presence matters for international trade: 17 percent of small businesses with a digital presence are engaged in international trade
b. Small businesses engaged in international trade are more confident about the present and near-term outlooks of their businesses than non-traders
c. Small businesses that use digital tools for a higher number of purposes are more likely to engage in international trade
d. Small businesses (45 percent) that are engaging in international trade are more likely to increase jobs in the next six months, than non-traders (37 percent)
e. On a global level and across all survey months, 18 percent of SMEs state that they did create jobs in the past six months and 39 percent that they want to create jobs in the next six months
#2. When women succeed, economies do better. Highlights from the Gender Management in Business report include:
a. In many countries, disproportionately fewer female-run businesses exist, in part reflecting institutional barriers
b. Women-run businesses are as confident about their business' current and near-term outlooks and report facing the same challenges as male-run businesses
c. Women-run businesses are more likely to leverage online tools to make their businesses succeed
d. Women-run businesses use digital tools for five of the six purposes included in the Future of Business survey more than male-run businesses
– Typically, women are not seen as the main consumers of technology, but in fact, they are using digital more than men to run their businesses
– As women around the world are increasingly becoming the providers for their families, digital provides a viable path for them to engage with the broader economy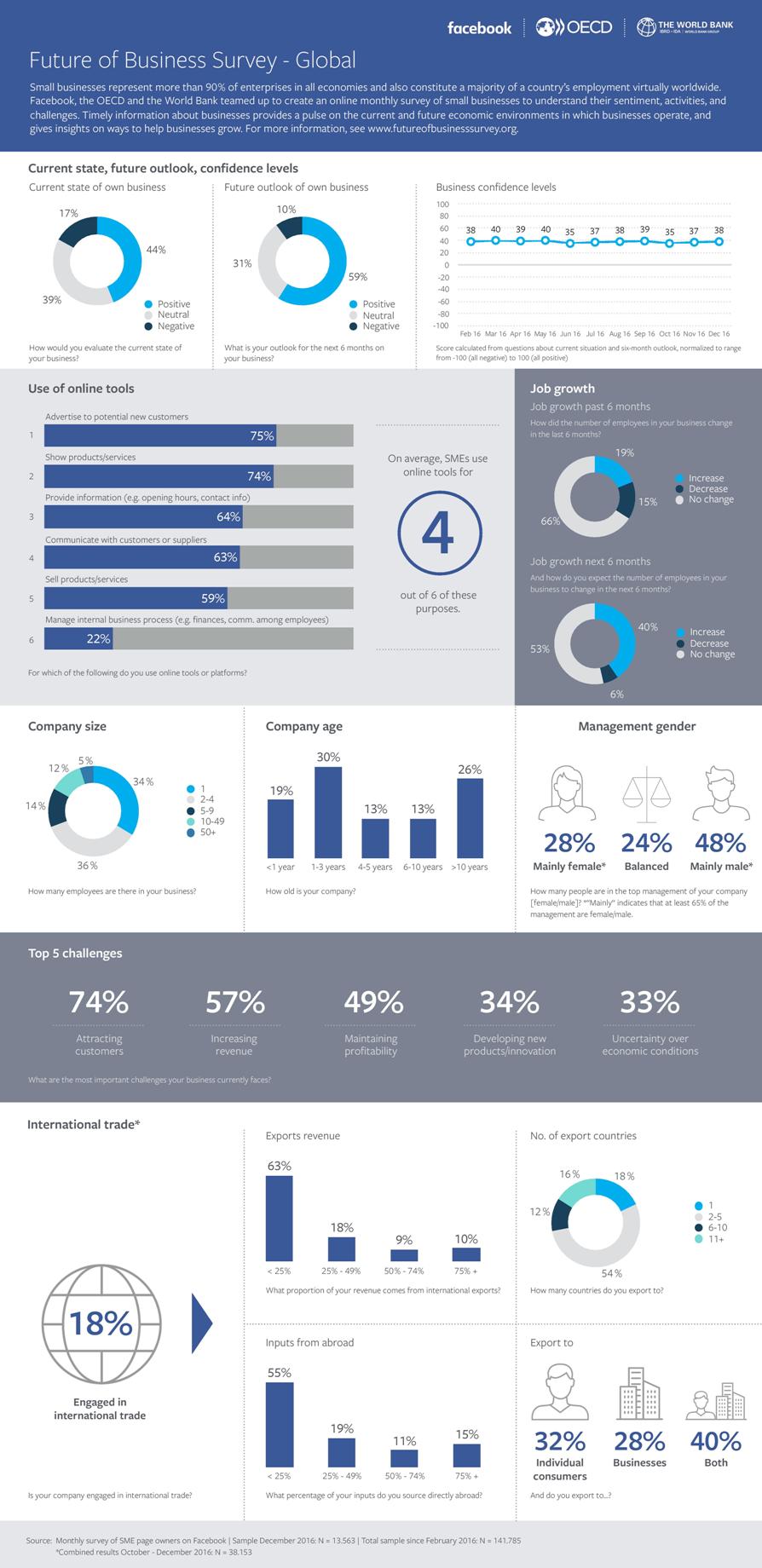 In conjunction with the survey, a custom Blueprint course – Facebook's global training and certification program, will be launched to highlight how to get the most out of the Future of Business survey.