GroupM has rolled out viewability standards to support continued investment in digital media. These standards are applicable in all markets that the media holding company operates in, including the Middle East & North Africa region. Viewability, a measure of a digital ad's opportunity to be seen, has seen several challenges as marketers demand parameters that build on the norms that the industry is accustomed to in legacy media.
Several marketers, who are GroupM's clients, are supporting the demand for enhanced viewability and measurement in digital advertising, including Unilever, Campbell Soup Company, Church & Dwight, Shell, Subway and Volvo Cars.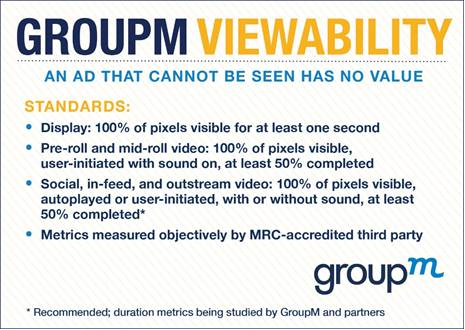 "Unilever and GroupM have been at the forefront of the viewability and transparency conversation. We support GroupM's ongoing assessment in this space to reflect changes in consumer behavior and available ad formats, and to ensure full accountability and verification," said Keith Weed, Chief Marketing and Communications Officer, Unilever.
Media and technology partners supporting the viewability effort include comScore, DoubleVerify, Integral Ad Science, Moat and also Hulu, Spotify and Teads. GroupM is in active dialogue with all digital media partners worldwide about viewability measurement and delivery to the now global standards.
Viewability considers the area of the ad that can be seen within a browser or application (in percentage of pixels) and the duration of time that the pixels remain in view (in seconds). According to global verification providers, as much as 50 percent of all digital ads are not viewable, representing a significant accountability risk to advertising clients.
In 2014, GroupM had put together certain standards for an ad to count as a payable impression. This required that 100 percent of the pixels in a display ad must be in view (for any amount of time); and for video, that 50 percent of the video must be played at the user's initiation, with the sound on, while 100 percent in view. According to the media holding company, at the time, only 18 percent of video impressions met its standard; by mid-2016, 55 percent of impressions met the standard.
GroupM evolved its standards and plans for studying the performance of video ads in social and newsfeed environments. The requirement that an ad must be 100 percent in view remains foundational to GroupM's standards for all ad formats. With user behaviors in mobile and social newsfeed environments, where they sometimes scroll too quickly to see ads, GroupM has strengthened its standard and now requires a one second duration for the time a display ad passes through the viewable screen.
GroupM, its clients and partners will also study the performance of social and newsfeed video, measuring more than 100 data points with DoubleVerify, Moat and IAS across Facebook, YouTube, Pinterest and Snapchat to identify which are most meaningful in evaluating different ad formats in these social platforms and in mobile environments. This analysis will be the foundation for the development of future social and newsfeed video duration metrics.
"Our ambition is to offer clients the absolute best quality digital media in every market. By working with clients and progressive media and technology partners, we can help shape the digital marketplace for the better, as we have seen in the U.S. It was always our goal to operate around a consistent standard globally and following many months of partner dialogue, now is the right time for us move forward with these enhanced standards that consider the evolution in social and mobile platforms, as well as user behaviors," said John Montgomery, Executive Vice President, Brand Safety, GroupM.
Industry Reactions To The Viewability Standards
"We applaud the work GroupM is doing to maximize our brands' visibility and exposure"
Chris Hayek, Head of Global Connections, Shell
"The industry continues to strive for viewability metrics that help level the playing field between digital and TV. These enhanced metrics will help marketers properly evaluate the relative value of each screen, and the context in which a campaign is delivered. Only then can media buyers build truly cost-effective campaigns and execute on impactful cross-media strategies. We applaud GroupM's efforts and their continued focus on breaking down measurement silos to grow the pie for all parties."
Aaron Fetters, Sr. Vice President, comScore
"DoubleVerify applauds GroupM's continued efforts to bring quality to the forefront of the industry through media authentication standards such as viewability. Through our strong relationship with GroupM, clients can keep up with the evolution of the GroupM standard from measurement to actions to billing. The DoubleVerify platform streamlines this process for clients, enabling both greater efficiency and performance."
Matt McLaughlin, COO, DoubleVerify
"Our industry must work together to address our current challenges around transparency, especially when it comes to viewability. That's why IAS is proud to support GroupM's new viewability standard, and applauds them for taking proactive steps to ensure their campaigns are in-view and more likely to impact consumers in a meaningful way."
Scott Knoll, CEO, Integral Ad Science
"We're honored to have provided trusted, independent measurement of GroupM's trading standards from the start. And we're honored to continue working with WPP's media investment arm as it strives to better serve its clients around the globe. Moat and GroupM's relationship has given brands a new level of insight into consumer attention for years, and we're thrilled to continue providing the metrics that matter to brands together."
Jonah Goodhart, SVP, Oracle Data Cloud & Co-Founder of Moat