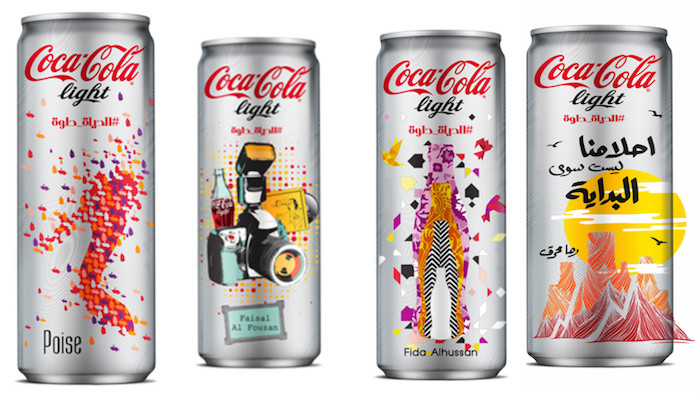 Coca-Cola Light brought in its second series of its customized Coke Light cans, designed by four local artists across the region. The limited edition designs by Emma Boutras, Fidda Al Hussan, Faisal Al Fouzan & Raha Moharrak have been released across the UAE, Saudi Arabia and Kuwait.
Its first series was launched with #LoveLife cans in May 2015, where the artists had the opportunity to freely express their life journeys through their illustrated designs.
"We are very pleased to be collaborating once more with inspirational Arab designers, and encouraging them to share what it is that they love most about life. We hope to build on the huge success of the first installment of the #lovelife campaign with the new designs, and hope to once again inspire the Arab region to celebrate with Coke Light as they reaffirm why they #lovelife," commented Tolga Cebe, Head of Marketing Coca-Cola Middle East.
The four can designs symbolize the artists concepts. One can has as image of a shoe, which represents footsteps to transform. The bottles within a bottle design demonstrate the ability to control feelings from within, the positive diversity and ethnicities captured by photography and last one achieving ambitions, depicted by an image of Mount Everest.
"Every step we take evolves us to a different person from yesterday. Being a shoe designer, the footsteps on the can are my symbolic representation of my love for life – our footsteps transform us," said one of the designers Emma Boutras.
Another artist, Fida Al Hussan, shared,"My love for life is the fact that we have the ability to control and navigate our feelings and thoughts to our will. The fact that we can choose to forget the past, fully live the present and shape our future, as obvious as it sounds, is something that amazes me."
Coke Light actively supports diversity, which is the theme Faisal Al Fouzan identified with his love of life. "My love for life is the positive diversity around us. The mix of ethnicities, backgrounds that make the way for a mix of colors, shapes that we sometimes overlook in our busy life. This is what I try to capture in my photography," he said.
Raha Moharrak, the first Saudi woman to conquer Mount Everest, expressed her way to love life on the can with a mountain, which she describes as "a universal icon of achieving something and a personal goal of climbing Mount Everest."