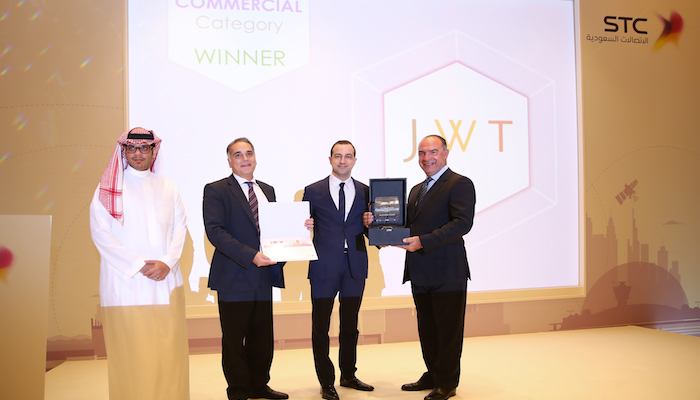 J. Walter Thompson Saudi Arabia was awarded the first ever "Vendor Award – Innovation Category" by Saudi Telecom Company's Procurement division at STC's fourth Vendor Day at Gitex 2015. The event that was held Dubai saw the presence of Dr. Khalid Bin Hussein Al-Bayari, STC CEO, and a number of the company's senior officials. The award was accepted by Vatche Keverian, CEO, J. Walter Thompson MENA and Fayez Jabri, Business Director at J. Walter Thompson Saudi Arabia on STC.
"It is as much an honor receiving the STC Vendor Award, as it is having STC as our client.  I speak for the entire team when I say that we look forward to many more years of creativity, innovation and a continued strong, collaborative relationship with STC. I must raise my hat to the Procurement Transformation team at STC for their inception of these awards. It shows vision on their part and firm belief in the value of partnership with the vendor community," shared Mr Keverian.
The award recognizes STC's partnership with J. Walter Thompson and the agency's expertise in communicating the STC products and services in innovative ways across innovative channels, by proposing and implementing new ideas to make STC more efficient, competitive, and agile.
The main theme of the Award show was planned to be the first time ever distribution of the STC Vendor Awards, aimed at both recognising and rewarding successful suppliers and endure long lasting relationships, across three categories – Commercial, IT and Network – while the awards would tackle three themes or attributes that the vendors are bringing to the table, namely Innovation, Collaboration and Added-value.
STC is a provider of telecommunication services in the Kingdom of Saudi Arabia and the Middle East. Congratulating J. Walter Thompson MENA on the win, Cenk Serdar, SVP of the Consumer Unit, said "We have recognized J. Walter Thompson Saudi Arabia's exceptional level of support and the innovation they bring to our brand – making it the leading national telecommunications provider in the Saudi market – with the first ever Vendor Award – Innovation category from STC at the 4th Vendors Day.