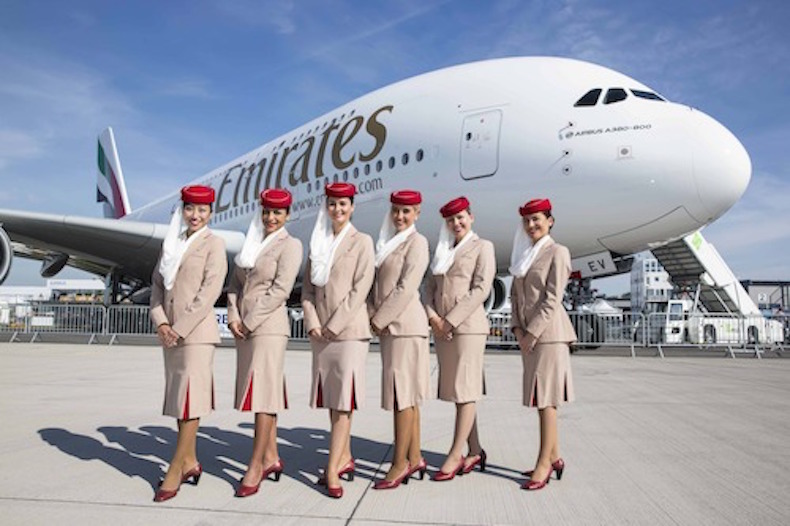 Home-grown powerhouse Emirates is the most positively perceived brand in the UAE yet again according to the 2016 Mid-Year BestBrand Rankings – released by global market research company YouGov.
The 2016 Mid-Year BestBrand Rankings which launched across 26 countries globally, including the UAE, Saudi Arabia and Egypt, are compiled using the Buzz score from YouGov's daily flagship brand tracker – BrandIndex.
Since knocking Samsung off the top spot last year, Emirates has continued to create the highest brand Buzz scores of over 400 brands in the UAE this year, and has also made a comeback into the Saudi Arabia Mid-Year Rankings in ninth place. 2016 has seen the brand launch a refreshed 'Hello Tomorrow' global advertising campaign embracing film, digital, print and outdoor assets to further showcase its in-flight experience to the masses.
Holding tight onto second and third place respectively are WhatsApp and Samsung. Mobile messaging phenomenon WhatsApp opened up its services to businesses in 2016 which attracted Dubai Municipality to use the platform to engage its customers. Samsung meanwhile continued to create hype with the launch of the Galaxy S7 and S7 Edge in the Middle East region.
Social media favorite Facebook (fourth) – reported by YouGov last month to be the most popular social media platform in the Emirates, YouTube (sixth), and home-grown property developer Emaar (seventh) are this years' Mid-Year Rankings climbers – all successfully gaining positive share of voice and improving their Buzz scores since this time last year. YouTube is the only brand to appear in the top 10 Rankings in the UAE, Saudi Arabia and Egypt in the Middle East region.
On the other hand, both Apple and iPhone fell down the rankings to fifth and tenth respectively. Following the launch of the largest ever Apple outlets in travel retail at Dubai International Airport and the re-release of its global 'Shot on iPhone' advertising campaign this year, it will be interesting to see if Apple can claim back its share of positive Buzz in the later part of the year.
Google witnesses this years' biggest rankings descent from fifth to eighth place. After debuting in the Mid-Year rankings last year, Etihad Airways also slips to ninth but new investments in social and digital display advertising to launch its latest global 'Flying Reimagined' campaign starring Nicole Kidman could turn it around for the brand as we move into the second half of 2016.
As we look to the biggest Mid-Year Improver Rankings for 2016, which record the brands with the biggest increase in Buzz for the first six months of the year, leisure and entertainment favorites Global Village and LEGOLAND are winning the biggest increase in positive share of voice in first and second place respectively.
Celebrating its 20th season Global Village is showcasing the rich culture and heritage of the GCC in its GCC pavilions this year. Meanwhile, LEGOLAND has taken the front foot in the run up to the highly anticipated opening of Dubai Parks & Resorts in late 2016.
Representing gains in digital brand appeal are global ICT provider Huawei and new social media hot shot Snapchat in third and seventh place respectively. With a range of new routes, a first-of-its-kind Travel Festival and award for exceptional search engine marketing Qatar Airways snaps up fourth.
After setting social media alight with the second most shared film in the world in 2016, it's an Improvers first for Almarai in fifth. Following closely du sits in sixth whilst Dubai Properties makes gains in eighth. Rounding up the UAE's BestBrand Improvers Rankings so far this year is the only mall in the top 10, Ibn Battuta in ninth, while household FMCG brand Persil sits in tenth.
"Digital and social media are becoming increasingly prominent as marketing vehicles to generate positive appeal amongst consumers with the likes of Emirates, Almarai and Etihad Airways fully integrating these elements into major campaigns," said Scott Booth, Head of Travel, Tourism & Leisure Research at YouGov.
"Over the last five years technology brands have been the primary movers in terms of Buzz — Samsung, Apple, Google, Facebook and YouTube have all featured heavily — and at one stage it looked like they would fully dominate the top 10 UAE Rankings. Now we are seeing other businesses begin to capitalize on the effectiveness of these technology brands in heavy digital, multi-channel campaigns to reach core regional audiences efficiently and in vast numbers. This represents a whole new world of positive opportunity for brands with the strategic foresight to capitalize on digital media to engage their customers," Mr Booth added.