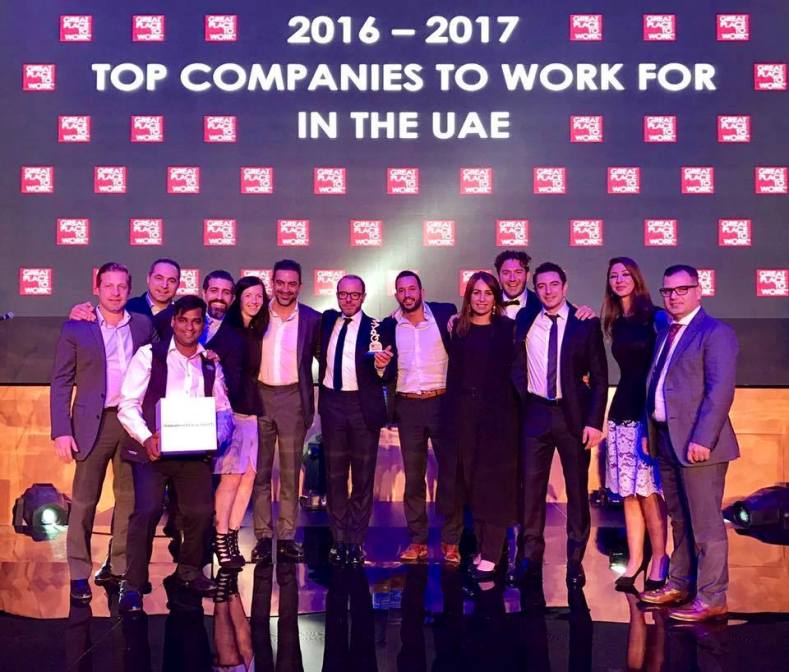 In its sixth year of participation, Omnicom Media Group MENA, along with its agencies, has been named the runner-up best employer in the UAE by the Great Place to Work Institute. It is the marketing holding group's highest-ever ranking in the list and the fourth time in a row that it appears in the top five. This consistent performance has led its CEO, Elie Khouri, to receive the inaugural 'Leader of the Year' award from the Institute.
In 2016, Omnicom Media Group MENA introduced several changes and initiatives, such as extended maternity and paternity leave before the law changed and a new communication channel with its employee app, OMGene. HR processes have also been reviewed and streamlined, adding convenience and transparency. Staff participation to CSR and wellness campaigns also increased.
Great Place to Work, a global research, training and consultancy firm that identifies the best workplaces in over 50 countries worldwide, evaluates each participating company. Its ranking is based on the confidential feedback of employees as well as an audit of management policies and practices. Two-thirds of the company's score is based on the results of the Institute's proprietary Trust Index survey, which is sent to the employees from each company. Its questions relate to their attitudes about the management's credibility, employee engagement and job satisfaction. The other third of the scoring is based on the company's responses to the Institute's Culture Audit, which includes detailed questions about pay and benefits programs and a series of open-ended questions about hiring, communication, and development.
"After three years in third place, we felt that moving up in the ranking was going to be very tough. The insights provided by the Great Place to Work survey results have actually given us the key to become an even better employer. Considering the headwind we all faced in 2016, this performance is a stunning validation of all our efforts. I am very happy to see more companies participating, as it demonstrates that the employer best practice is growing in the country. We owe this to our talent and our business partners, who ultimately benefit from this focus," said Elie Khouri, CEO of Omnicom Media Group MENA.
"Competition for talent is fierce in our industry and our people policies and workplace culture are proving essential to attract and retain the best professionals at every level. We regard the Great Place to Work analysis as a fundamental benchmark, in our industry and beyond. Our teams work very hard so we strive to provide a supportive environment in which they can perform at their best, grow into their career and find meaning and purpose. Their feedback is an essential compass that keeps us moving in the right direction," added Fadi Chamat, Regional Executive Director – People Team.
"This is without a doubt the strongest level of competition we have seen since launching the Top Companies program in the UAE seven years ago. To be recognized as one of the 24 best workplaces in the UAE is a significant achievement and winners should feel proud of their results. Elie Khouri's role in guiding Omnicom Media Group MENA to greatness, consistently ranking highly on the UAE list, cannot be underestimated and warrants the recognition we conferred on him. He is also a strong advocate of leadership best practice," added Maha Zaatari, Managing Director of Great Place to Work in the UAE.