The ad blocking debate moved on from platforms embracing and enabling it to platforms fighting against it. Some of the most renowned websites including the likes of The Telegraph, Forbes and Wired do not allow users to browse further until the ad blocker is disabled or a fee is paid. The discussion is also branching to how ad blocking is growing on mobile platforms. As per a recently released PageFair report, as of March 2016, 419 million people, or 22 percent of the world's 1.9 billion smartphone users, are blocking ads on the mobile web. Even though ad blocking has not reached apps just yet, the figure is troubling because it was previously reported that mobile ad blocking use was much lower.
The PageFair report defines the landscape of mobile ad blocking, and reveals that in-app ads on platforms such as Spotify, Apple News and CNN are vulnerable to ad blocking. One of the report's insights is that it is possible to block 'suggested' content in Facebook and Instagram and other ads in Facebook's mobile app.
Impacting Emerging Markets
Numbers suggest that ad blocking is just about growing in key markets of the region. Pakistan, Saudi Arabia, UAE and Egypt are among the leading countries globally that are embracing ad blocking on mobile.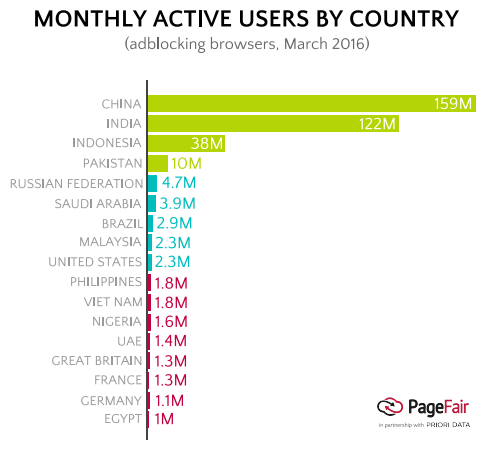 Mobile ad blocking grew by 90 percent globally in 2015. Ad blocking browsers, which are mobile browsers that block ads by default, account for the majority of mobile ad blocking. This type of ad blocking is most popular in emerging markets, where the next billion are coming online for the first time exclusively on mobile devices with low bandwidth, relatively expensive data connections.
"This report tells a sobering story about the future viability of ad-funded media and journalism in developing economies. Ad blocking now threatens all mobile channels. Failure to address user concerns about mobile advertising in will lead to a widespread ad block usage," said Sean Blanchfield, CEO and Co-Founder at PageFair.
Prediction
Mobile ad blocking is a serious threat to the future of media and journalism in emerging markets, where people are coming online for the first time via relatively expensive or slow mobile connections. Usage in western economies is likely to grow as more manufacturers and browsers start to include ad blocking as a feature.
In August, PageFair and Adobe's 2015 Ad blocking Report put the issue of ad blocking on the international agenda, revealing that there were 198 million ad block users on desktop browsers.