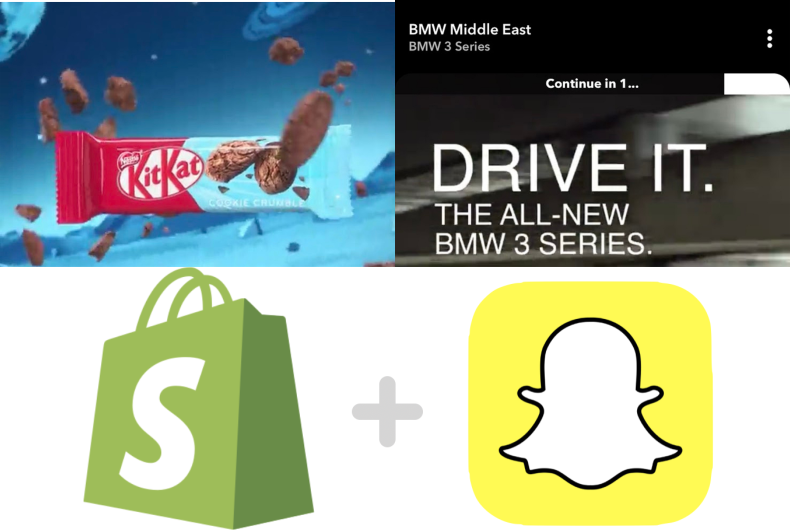 In line with its global growth plan, Snap Inc's Middle East & North Africa (MENA) play also heavily relies on partnerships. Recently, Snapchat had tied up with a slew of advertising partners for the debut of its new advertising product, Commercials. Now Snap has entered into a partnership with Shopify to build seamless integration for merchants. All initiatives are indicative of the platform's move towards growing its MENA presence.
Commercials & More
Commercials which are Snapchat's six-second unskippable ads will run across Snapchat Shows in the UAE and KSA. Nestlé, (Zenith), BMW (Zenith), Mini Cooper (Zenith), Samsung (Starcom), Louvre (Spark Foundry) and Almarai (Spark Foundry), are among the first advertisers to take advantage of the new ad format.
"Given the BMW core focus on digitalization and marketing innovation, partnering with Snap on the Commercials platform is the perfect alliance. As a luxury brand with strong local presence, BMW is always looking to align itself with premium regional content, and with innovative solutions such as Commercials, coupled with Snap's undeniable reach in the local market, we are confident we'll see strong brand uplift and recall," commented Fahad Mughal, Digital Manager, BMW Middle East.
Commercials leverages the audience that Shows has created. In November 2018, Snap introduced Shows in MENA with the aim of bringing this format to Snapchatters in the region. Shows are TV-like content, produced exclusively for mobile by TV networks, entertainment studios and publishers. Snap partnered with media brands such as MBC Group, Dubai Media Inc, Rotana Group, Abu Dhabi Media, Kooora, ITP and OLN tv for this.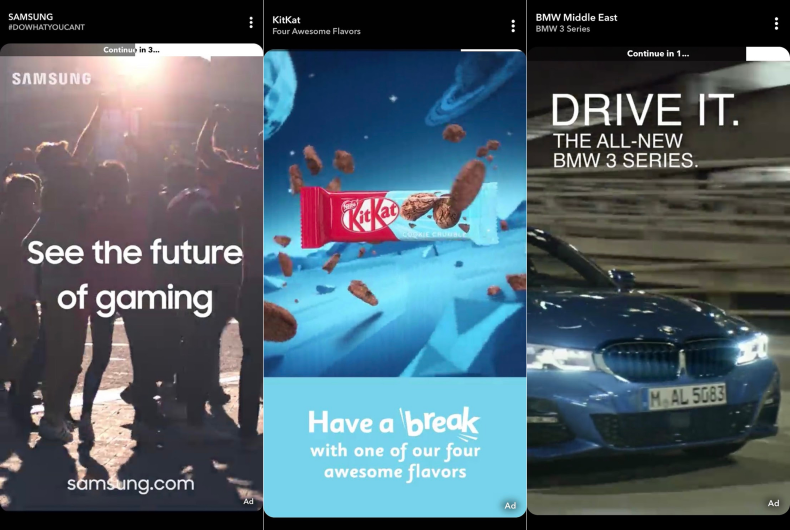 "Inventive spirit is at the core of the MINI brand DNA and shapes how we communicate with our customers. Partnerships like the one we have with Snapchat allow us to stay true to our brand DNA through inventive ad formats. Commercials helps us connect with our digital-savvy customer through authentic stories that speak to their interest and values, at moments when they are most engaged, making it a valuable addition to our digital media strategy," added Mariam Al Rousan, Marketing Manager, MINI Middle East.
Shows are typically three-five minutes in length, full screen and immersive. They are hyper-visual, featuring motion graphics, split screens, quick cuts and more, inspired by the expressive communication Snapchatters use to talk to their closest friends. Commercials has followed this experience approach.
"Snapchat is one of our go-to mediums to generate engagement. The new Commercials product, however, diversifies our approach — it's premium content gives us an opportunity to tackle one our business goals and drive awareness and consideration of the museum offering to a local audience," observed Emma Cantwell, Acting Director of Marketing and Communications, Louvre Abu Dhabi.
Yet another marketer, Wassim Barbara, Media Manager at Nestle Middle East, noted, "KitKat and NESCAFÉ are two brands that speak to consumers who value connections with cutting edge of marketing and advertising. Snap as a company and partner delivers on these two very important parts of our business. Commercials is helping us reach out to our target audience in key moments of premium content consumption. This new thoughtful format will align our Nestle products with these key moments and keep us top of mind as their favorite snacks and beverages." 
Merchants In Mind
While content and advertising partners are one end of the spectrum, Snap has also partnered with ecommerce platform Shopify to build a seamless integration for Shopify merchants to buy and manage Snapchat ads directly from the Shopify interface.
Shopify merchants are often small and medium-sized businesses (SMBs) — with busy days and deep familiarity with using Shopify to promote and grow their business. Today, Shopify is launching a new 'Snapchat Ads App' within its interface — as Snapchat becoming only the third major player, after Facebook (Carousel Ads & Dynamic Ads) and Google (Search, YouTube etc.), to offer a one-stop-shop to advertise from within Shopify.
With the new partnership, any Shopify merchant will now be able to create and manage basic Snapchat Story Ad campaigns directly from the 'Snapchat Ads App' within Shopify's self-serve buying interface. This gives merchants access to a streamlined Snapchat ad buying flow, catered to meet the core marketing needs of SMBs.
In February 2018, Snap was early to partnering with Shopify on seamless native commerce tools for select brands and creators (Nike [Jordan], adidas, Kylie Jenner, Ariana Grande, Nicki Minaj etc.). The new development does not touch on its native commerce work together on behalf of merchants.