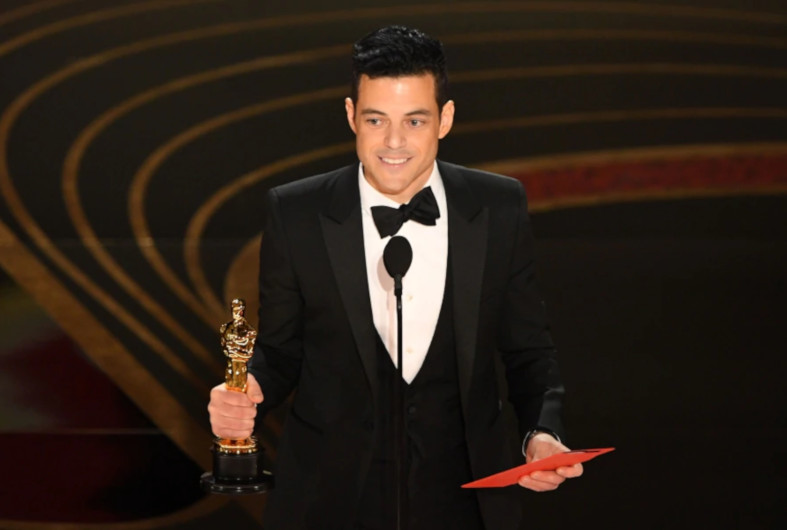 The social media world went all out, when on February 25, 2019, Rami Malek made history as the first actor of Arab descent to win in the Best Actor for his role in Bohemian Rhapsody during the 91st Academy Awards, better known as the Oscars.
In the following days, between Feb 20 to Feb 26, there have been more than 33,500 mentions of Malek in relation to the Oscars. Around 80 percent of all his mentions happened within 24 hours of the award ceremony on February 26, as fans and viewers shared their reactions in real time.
A Meltwater analysis shows that Malek's win was also one of the most discussed in comparison to other Academy Award winners this year.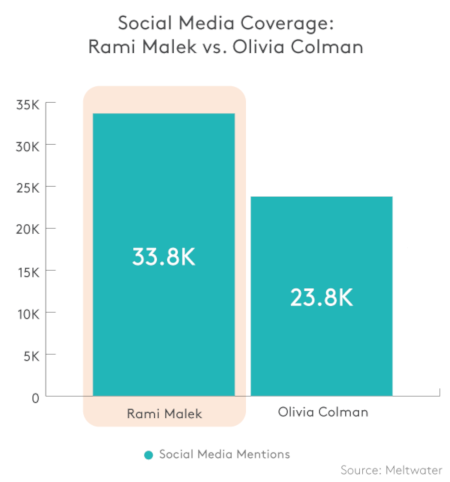 In a comparison between social mentions of both Rami Malek and Olivia Colman (Best Actress Award winner), Meltwater found that Malek gained 21 percent more mentions than Colman in relation to the Oscars.
Lady Gaga's win on the other hand deserves an honorable mention as it generated over 150,000 social conversations in one week.
The top three countries discussing Rami Malek's historic Oscar win were the United States (22%), Egypt (5%) and United Kingdom (4%) — respectively. Malek prides himself as a first generation American, born to Egyptian parents who immigrated to the United States in the 70s.
A tweet by @ScreenMix sharing a clip of Malek speaking Arabic at his press conference had over 18,000 engagements in less than 48 hours.
رامي مالك في أول تصريح صحفي له بعد فوزه بالأوسكار يتكلم العربية 🔥 ويقول: "أهلا وسهلا، فرصة سعيدة، ومنور بيكم كلكم". ويمدح بعدها تراث وتقاليد الشرق الأوسط وكم هي عظيمة وعريقة من كل النواحي ❤#Oscars pic.twitter.com/v4hwzi6YB5

— Screen Mix (@ScreenMix) February 25, 2019
The term 'Egypt' was also mentioned over 3600 times in relation to Malek and the Oscars, as Egyptians and Arabs rejoiced and celebrated his big win on social media.
Malek's acceptance speech also ignited over 2500 conversations on social media, with many discussing Malek's reference to his once-immigrant parents. The discussions on social media indicate that the parallels between the late Freddie Mercury and Malek's backgrounds have struck a chord with viewers around the world.
'Speech', 'Bohemian Rhapsody', 'Freddie Mercury', 'Immigrants' were also some of the most used keywords in relation to Rami Malek and the Oscars.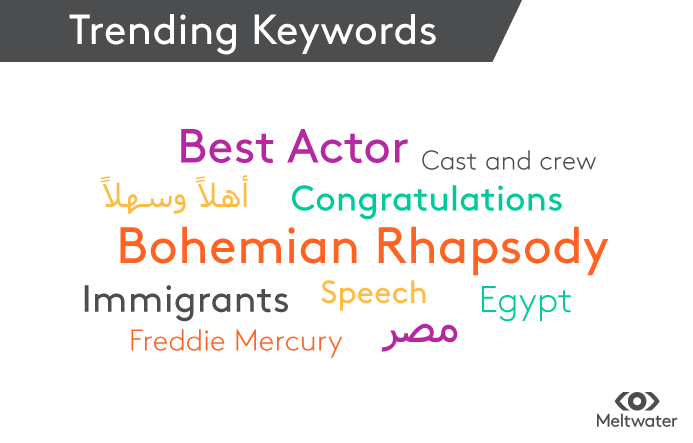 Meltwater analyzed global social media posts mentioning Malek in the month of February. The biggest spike was on the night of the Oscars, where the term 'Rami Malek' witnessed a 266 percent increase in mentions. The second highest spike took place on February 11, around the day that Malek also won in the Best Actor category at the BAFTAs.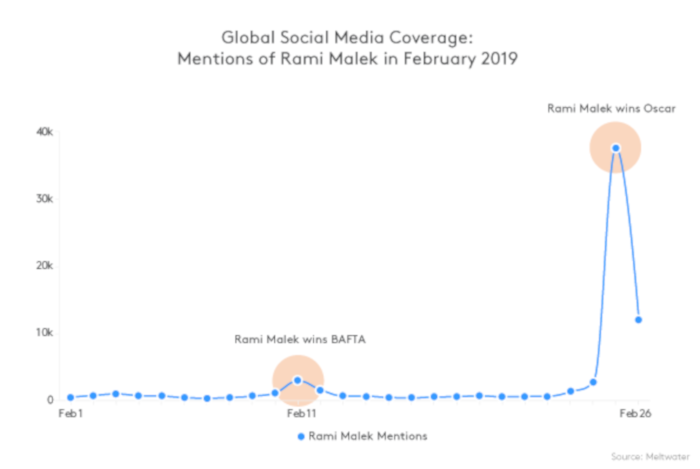 Overall, the Oscars tend to generate more mentions on social media compared to the BAFTAs. In the month of February alone, the Oscars were mentioned over 1.3 million times, while the BAFTAs around 190,000 times.