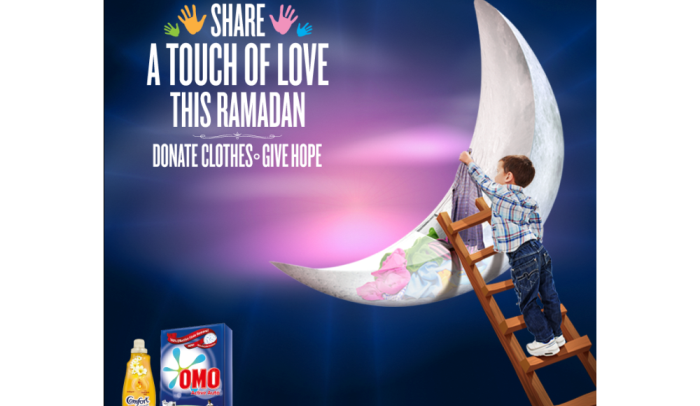 Household names Comfort and OMO have rolled out their annual Ramadan community campaign across UAE in partnership with Emirates Red Crescent.
"Share A Touch Of Love this Ramadan" with the Unilever brands is a clothes donation campaign that encourages the people of the region to donate clothes to those less fortunate during the Holy Month of Ramadan. The campaign in its sixth year, last year achieved a Guinness World Record for the largest collection of clothes with over 146,000 items for donations.
"Unilever is delighted to continue with this campaign which is now in its sixth year; one of the key successes of the 'Share a Touch of Love This Ramadan' campaign in the past 5 years includes setting the Guinness World Record for Dubai, which has been instrumental in building consumer love and trust. This campaign is now a main activity in Unilever's Ramadan calendar in the Gulf and has become a household Ramadan charitable act that consumers await and love to take part in," commented Waqas Javed, Marketing Director Foods, Refreshments & Home Care – Unilever Gulf.
OMO and Comfort donation booths are being installed in the five malls in the Dubai including Mirdiff City Centre, Mall of the Emirates, Deira City Centre, Lamcy Plaza and Ibn Batuta mall and will be active till 25th July 2015. The campaign has been initiated in collaboration with Emirates Red Crescent who will distribute the apparel collected to the less fortunate in the region.
"Since its launch, The Red Crescent works to promote the spirit of unity and compassion among community members, and thanks to the support of OMO and Comfort, for the sixth year in a row, we are collaborating together to assist those families who are in need during the Holy month of Ramadan. This year, we look forward to an increased number of donations and we encourage the public to participate in this charitable drive," said Mohammad Abdullah Alhaj Al Zarouni, General Manager, Dubai branch, UAE Red Crescent.
The brands have also dedicated a mobile number 800-COMFORT (800-2663678) to have a representative pick up the clothing from their homes across the emirate.