Committed towards harnessing the entrepreneurial energy of youth to pioneer new businesses, Sheraa hosted 2017's inaugural Startup Weekend at its hub in American University of Sharjah. The Startup Weekend event is part of the global movement coordinated by TechStars and supported by 'Google for Entrepreneurs'. In this edition, Sheraa provided a platform to over 200 participants to kick-start their entrepreneurial journey and set up their maiden business ventures.
The 54-hour competition featured members from Sharjah's University City community who aim to embark on a journey to own their businesses. The event witnessed an array of skills, hosting graphic designers to coders and marketing strategists to product development specialists. Industry professionals also mentored the participants and 15 teams that were viable startup models were selected as finalists to compete for the top prize.
The event was judged by a panel of industry leaders including Alia Al Mazrouei, CEO of Mazrui International; Aysha Taryam, Editor-in-Chief of The Gulf Today; PK Gulati, Founder and Maker-in-Chief at The Assembly and Najla Al-Midfa, General Manager of Sheraa.
Ms Al-Midfa said, "We were delighted to play host for the Startup Weekend, as it gave us an opportunity to focus our support and mentorship-driven program in a highly engaged environment. The aspiring entrepreneurs in our hub reflect a new generation of problem-solvers who – with adequate resources, mentorship and faith in their ideas – can spearhead the increase in socio-economic fortunes of our region. Moreover, gathering on the same platform with a central focus to prosper with business ideas fosters a spirit of collaboration instead of competition. Sheraa is an ideal platform to network and combine various strengths, and we are happy that the Startup Weekend competition was able to leverage these unique offerings and engage with a wide audience."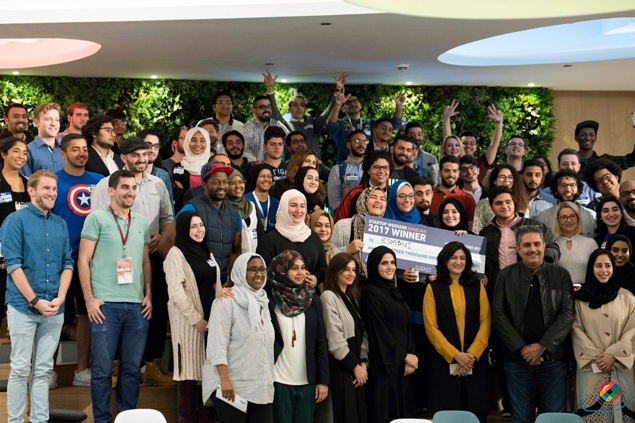 The Winning Team
The team judged as winners of the Startup Weekend was the brain behind 'Asmani (Esm3ni)' – a platform designed for educational and entertainment audio books in the Arabic language. In addition to a cash prize of AED 15,000, the team will get full access to Sheraa's incubator and co-working ecosystem that will oversee refining of their ideas and licensing of the business. Furthermore, team Asmani will receive branding consultation from a reputed media firm, access to the 'IBM Global Entrepreneur' program and up to USD 120000 in free IBM Cloud Credits. At Sheraa, the team can also utilize their free crowdfunding 'Zoomal' credits worth USD 750, training in marketing strategy and pitching as well as free legal advice that comes as part of the winner's package.
"While we congratulate the winners on their success, we also extend our support and welcome other teams to become a part of our growing community and see their ideas flourish into successful startups. We also recently unveiled our first cohort of teams that have successfully completed our in-house accelerator program and their journey and businesses are guaranteed to provide further motivation to never give up on their ideas," Ms Al-Midfa added.