The technology giants Google, Apple, Microsoft, Amazon and Facebook take the top five places in the 2017 BrandZ Top 100 Most Valuable Global Brands ranking released by WPP and Kantar Millward Brown.
Amazon achieved the highest dollar value growth of all brands in the Top 100 ranking, increasing by USD 40.3 billion to USD 139.3 billion to take the fourth position. The retail giant has continued to focus on its technology ecosystem honed to meet multiple consumer needs such as online shopping, rapid delivery and entertainment, as well as introducing new artificial intelligence-enabled services including grocery delivery and personal assistant Alexa.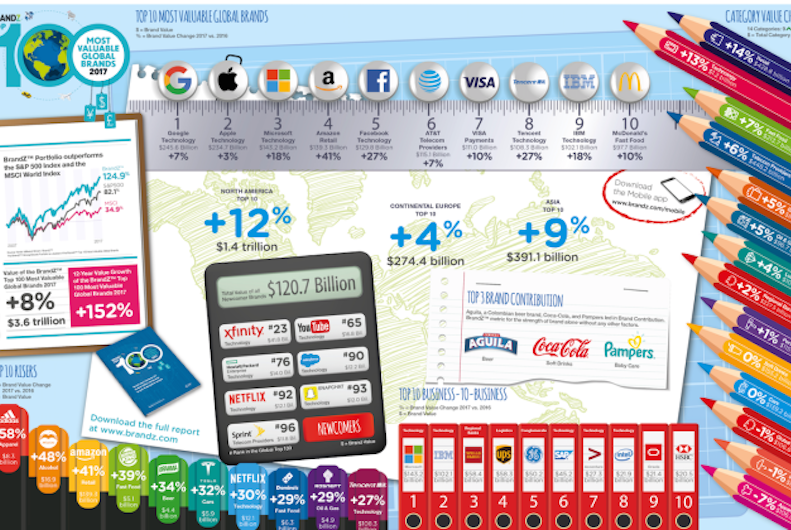 Google, Apple and Microsoft retain the top three positions, growing their brand value to USD 245.6 billion, to USD 234.7 billion and to USD 143.2 billion respectively over the past year. Facebook ranked fifth growing to USD 129.8 billion.
"This year's BrandZ global top 100 continues to demonstrate that strong brands deliver superior shareholder value and returns regardless of disruptive external climates. Dubbed the 'The Frightful Five' by some, the tech giants that head the rankings are more like the 'Fearsome Five' to their competitors, given their huge brand power and a seemingly unassailable market position," said David Roth, CEO EMEA and Asia, The Store WPP.
Other highlights in this year's ranking include Chinese brand Tencent at position eighth, which saw increased use of its social platform WeChat and entered the Top 10 for the first time, with a brand value increase of +27 percent to USD 108.3 billion.
This year, the total brand value of the Top 100 brands has risen +8 percent to USD 3.64 trillion, compared with +3 percent in 2016, while the number of brands worth more than USD 100 billion has increased from six to nine.
The 2017 ranking shows that the balance of power has truly tipped towards the consumer-focused technology brands that develop ecosystems that cater to many needs, simplifying an increasingly complex world. More than half of the Top 100's total brand value is contributed by technology-related brands.
Nine of the Top 10 are technology-related brands, as are all seven of the newcomers to the Top 100 in 2017: XFinity, YouTube, Hewlett Packard Enterprise, Salesforce, Netflix, Snapchat and Sprint.
Retail was the fastest rising category, increasing +14 percent in value over the last 12 months, driven by ecommerce brands such as Amazon and Alibaba which, like many native internet companies, continued to add physical stores to their sales channels. Overall the value growth of pure online retailers has increased +388 percent since 2006, while traditional retailers dropped -23 percent as they took longer to adapt their offering to include online.