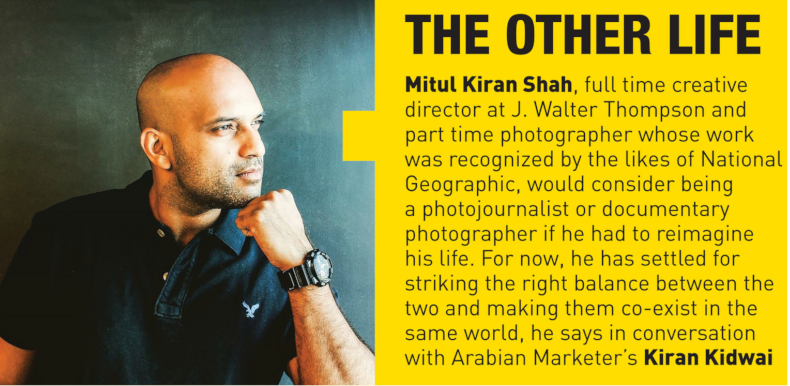 How and when did you know photography was your passion?
Nearly 18 years ago, I got a disposable camera as a birthday gift. I enjoyed taking pictures of people, places and random things but none came out right. This mystery of you waiting at the photo development studio, not knowing what the output would look like, got me hooked.
How do you sustain your passion?
It is an expensive hobby. It's not about having the best or the latest, but knowing what kind of photography you like, so you plan for your kit accordingly. I upgrade the kit every few years, so it gives me enough time to save for it.
Would you say photography helps you in your profession?
For me, the base of both are the same. In photography, you are trying to tell an interesting, real, sometimes even an unexpected story. I use the same thinking in my work — whether you are trying to sell a toilet paper or a luxury car, tell a great story.
If you had to choose between being only a creative professional or becoming a pro photographer, what would you choose?
If I were to completely reimagine my future, I would consider being a photojournalist or documentary photographer for something like a Time magazine. Because it's the mystery of finding the unexpected, the real unfiltered world, and showing it how it is. But that is what we do every day in advertising. We find the unexpected story in brands. Hence, choosing between the two is very tough.
What is the best advice you have received in balancing work and photography?
It was simple and to the point: 'Make the bloody time'
Does ad land allow its people enough time to pursue their passion?
Working hours in the ad industry are a boon and a curse. Sometimes it is 9 AM to 6 PM and sometimes 6 PM to 9 AM, which makes planning photography sessions a bit hard, but I have learned to work around this. For example, I keep my camera with me all the time; if I leave the office at 3 AM I go shoot the '3 AM City' and make a series out of it.
What is your advice to fellow professionals on being a professional and pursuing passion?
Find the right balance between the two and make them co-exist in the same world. Draw inspiration from one to help the other — this way you won't feel you are missing out on either.
'The Other Life' is a feature in Arabian Marketer's print edition, that features individuals whose interests expand beyond advertising and marketing