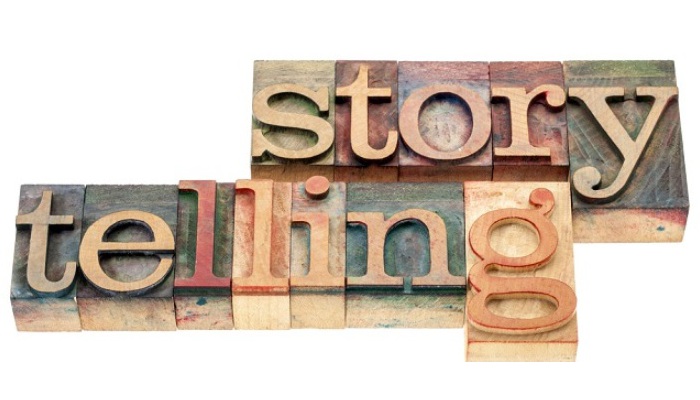 Storytelling hasn't really changed and if anyone tells you otherwise they are selling you snake oil. Good storytelling is still really hard work.
Good storytelling will move us to laugh or cry, anger us or inspire us. Good storytelling will take a human truth and illustrate it to us in a way that's so obvious that we're only left to nod and ponder, "Why didn't I think of that?"
Technology hasn't changed storytelling; it's just made it easier. Storytelling in a grand sense, used to be controlled by a select few. Hollywood, TV, magazines, radio hosts, musicians, comic books and the editorial column in the paper. Technology has democratizes storytelling and allowed anyone, anywhere to tell stories that have the ability to span the globe.
This democratization of storytelling has meant a rise in content saturation. There's over 300 hours of video content being uploaded to YouTube every minute. That's a lot of cat videos, and a lot of noise. Your social news feed regardless of the platform, has become a war zone – one where content is battling for your attention. The gatekeepers? The social media platforms themselves, which are learning from your every move and trying to show you stories that they think you would find interesting. Too many cat videos and you'll stop visiting (unless that tickles your fancy).
With all of this noise, and the gatekeepers making sure that only the good content sees the light of day, what does this mean for brands and storytelling?
It means now more than ever, it's important to invest in good storytelling and good storytellers. You can call it whatever you want using any combination of industry buzzwords, an investment in creativity, branded content, branded entertainment, innovation, collaboration, social media marketing and the list goes on. What really matters is that you recognize that investing in storytelling and storytellers is important.
Why?
Supply and demand. There's an over supply of bad stories, and a scarcity of good ones. Bad storytelling brands are a dime a dozen, their stories are functional, product-centric, void of a unique insight and to be frank, lacking in anything resembling creativity.Good storytelling brands are so finely tuned to their craft that their stories don't just feed off of pop culture but they are pop culture.
Ex-VP of Global Advertising Strategy and Creative Excellence at Coca-Cola, Jonathan Mildenhall (now CMO at AirBnb), once shared that Coke's mission was to earn a disproportionate share of popular culture. How uncompromisingly bold, but also how true. Mildenhall and Coke recognise that their content isn't just competing against Pepsi, it's competing against any great story that's made it through the gate and into your news feed. Coke knows that for it to remain a top of mind brand, one that's almost universally adored, it needs to tell stories that create and define pop culture. Lofty ambitions, but Coke delivers time and time again. They've had the odd miss but they repeatedly show that they will continue to push themselves to tell great stories, even if they fail on occasion.
Good stories will find always find a home and an audience. What has changed are peoples expectations. They expect instant gratification. An instant smile, laugh, giggle to break the monotony of their day. Every second of boredom, spare time, waiting room, bus ride or procrastination is a chance for someone to pull out their phone and get a quick dose of entertainment. It's also an opportunity for a brand to tell a story, however brief. Is your brand or agency poised to tell that story?
Great storytelling is a hurdle for a lot of brands, but getting to the point of producing quality and relevant stories is only half the battle. Frequency and immediacy are the new challenges. Platforms like Instagram, Twitter and more recently Vine,Snapchat, Periscope and Meerkat have only facilitated our ability to share stories instantaneously.
This will require a new approach from both the client and their agencies, and it starts with talent and process. For talent agencies should look to startups for how to build lean teams. Your "war room" should be a mix of left brain and right brain thinkers, creatives, insight-mining planners, and geeks who look at storytelling in complimentary ways. For process agencies need to look no further than publishers to draw inspiration from. Buzzfeed, Huffington Post and Vice have all prospered by being exactly where the consumer is with fresh, relevant and engaging stories. Their editorial teams realize that hitting a home run piece is a bit like trying to capture lightning in a bottle but they work hard at producing a varied mix of short, medium and long form content. Whether it's real-time event based storytelling, videos, articles, 6-second Vines, disposable Snapchat stories, they have succeeded in rising above the noise and each are now firmly entrenched in pop culture.
We're ruthless critics when it comes to how we consume stories online. We only care about the good ones. So when we talk about brand love, or changing behavior, or being top of mind, or the zero moment of truth – none of that can happen, none of it, unless you start with a good story. For agencies and brands, it's never been more important to get the right people and the right process in place to not only tell a good story, but a variety of them in all shapes, sizes and frequencies. You have an audience impatiently waiting, clicking, swiping, refreshing and searching for that next smile, that next quick hit of gratification that comes from clicking "like". What are you waiting for?