Brands and marketers want to know what is going on in the minds of their consumers. Giving an example on how brands can understand the behavioral patterns of their buyers, Via Media Dubai shared insights into the behavioral patterns of customers through practical examples, on the back of first-hand experience with advanced neuromarketing technology (implicit and biometric), during its workshop at the recently concluded Dubai Lynx International Festival of Creativity. They demonstrated how subconscious reactions to marketing stimulus can be measured, with the use of EEG, eye-tracking and facial coding.
Why Aren't All Campaigns Equally Successful?
This question is certainly asked by every marketing expert and brand manager in the world. Probably the best answer to this is in David Ogilvy's famous statement, 'Consumers don't think how they feel. They don't say what they think and they don't do what they say.'
"Simply put, consumers don't always tell us what they think, because they don't know, sometimes they are not sure and other times they are just adjusting their answers to be socially acceptable. This is where the subconscious plays an important role," says Medina Beganović, Managing Partner at Via Media Dubai.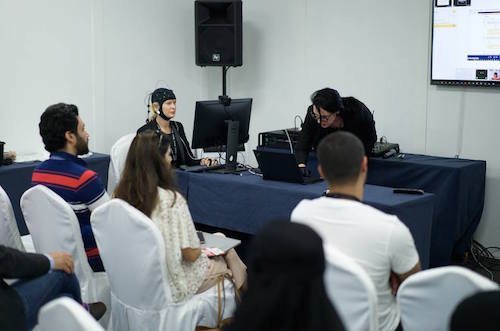 It All Begins With The Brain
In order to get valid and reliable feedback from customers, brands need to know how their brain works and technologies such as neuromarketing are paving the way for that. "The biggest advantage is that these methods help fill the gaps of traditional marketing research methods, by giving truthful insight that eliminates the situations where consumers say they want one thing, but then act in a different way," adds Ms Beganović.
Explicit Vs. Implicit
There are variety of tools that can be used to learn more about what people really think about a certain brand or its creative expression, such as EEG, eye-tracking and facial coding. Via Media has come across a specific research software called the Implicitor. The Implicitor is based on algorithms developed by team of applied mathematicians, behavioral scientists and psychologists. This software draws a line between explicit and implicit reactions, which are directly connected to the subconscious thoughts.
Mind Your Brand
"People are highly non-rational and this is no news. However, we have developed the tools to measure subconscious reactions in specific marketing environment. Using our Implicitor tool, we can identify true thoughts and perceptions of consumers towards a brand, its communication or creative execution within the campaign, on a implicit level. The Implicitor is testing if customers see your brand the way you want it to be seen. Two key components of every product are monitored in the process of testing – the customer's perception of the brand and their purchase intent," explains Ms Beganović.
Ms Beganović informs that the firm's recent study has shown significant differences in perception of innovativeness of two brands. "When you look at the percentage of people who said that they perceive brand A or B as innovative, you can see that both of them rank highly at the scale. However, when we explored the implicit reaction time, we found that only brand B is truly perceived as innovative. This is huge discovery, because when you conduct a research in a traditional way, you are only presented with the first set of data that makes you believe your marketing strategy of brand A is successful and that you did a great job in positioning your brand as innovative, while in reality this is not the case. However, people don't always say what they think and don't think how they feel, but luckily now we can detect those differences," she concludes.