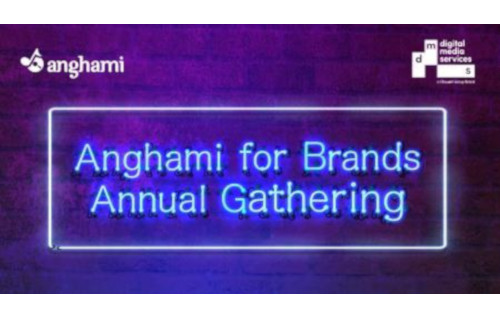 With the music industry growing across the Middle East, Anghami is hosting an executive annual gathering on September 26. The event is being organized with the support of its exclusive media representative – Digital Media Services (DMS), the digital arm of Choueiri Group.
The invite-only event will bring together an exclusive gathering of marketers, media and advertising professionals, at a forward looking and fun-filled music-oriented day. Over 100 regional leaders from the media industry are expected to attend.
It will extend a forward-looking agenda focused on the industry landscape, the challenges that marketers face today, and the music related opportunities in a mobile world, fueled by data, content, and technology. As a music entertainment platform, Anghami aims to build greater awareness for the power of audio and how as it uniquely positioned to address the new challenges, which await brands and marketers.
Anghami will also host a guest speaker from the International Federation of the Phonographic Industry, who will talk about worldwide trends and the role of local and global streaming services in key and emerging markets. In addition, a panel with top marketing executives will shed light on how marketers can strike a balance between performance, engagement and maintaining brand value.
Anghami Co-founders Elie Habib and Eddy Maroun will also take the stage to unveil the latest technology updates and product features, following the launch of Anghami 4.0. In addition, they will also share Anghami's journey from a streaming app to a music entertainment powerhouse in the Middle East – a journey that has witnessed the region rise up from being a piracy hub to becoming a global music attraction.
Speaking about the upcoming event, Mr Maroun said, "This year we not only celebrate our 7th birthday, but soon our 100 millionth user as well. We would like to celebrate how far we have come and where we are today with our key partners, who have all played a huge role in making Anghami happen. This event also gives us the ideal opportunity to ghive them a sneak preview of what the future holds for us. We are all very excited."
"With the growth that is being witnessed across the region's music streaming landscape, we believe that now is the right time for brands to learn more about leveraging the inherent power of music. We are extremely proud of our association with Anghami and confident that its proven success and growth, which has seen it evolve so swiftly into a full-fledged music entertainment platform, will enable our brand partners to benefit from a wide range of opportunities," said DMS' Chief Operating Officer, Michel Malkoun.