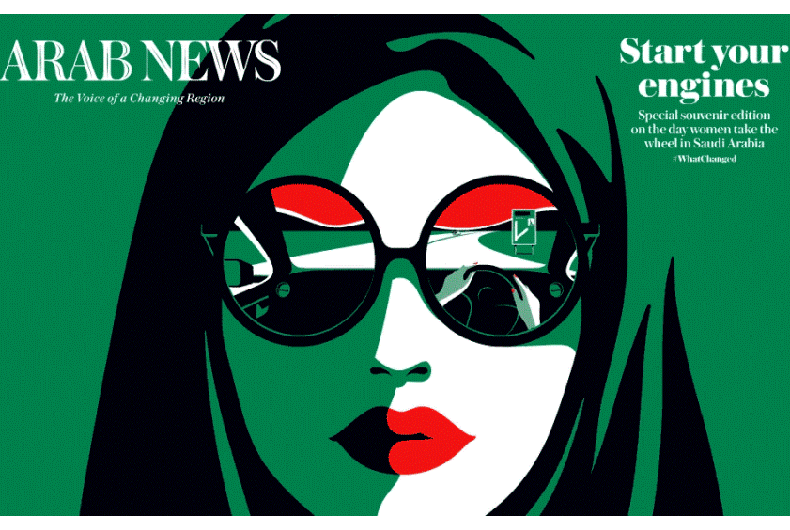 Arab News took to media innovation to mark the milestone for Saudi Arabia driving. The newspaper launched a special edition featuring work by illustrator Malika Favre in a wraparound cover.
The issue covered several aspects of what this development means for Saudi society. The special souvenir edition was published on June 24.
The newspaper commissioned the French illustrator Malika Favre, known for her work for The New Yorker and Vanity Fair, to create a special work called 'Start Your Engines', for a poster that wrapped the print edition. An hour before women started driving just after midnight on Sunday, Favre posted the illustration she did for Arab News on her Instagram account, along with an animated version.
Arab News' social channels also celebrated the move.
Women celebrate historic lifting of women driving ban in #KSA https://t.co/dYlM2dYh4E#WhatChanged #SaudiWomenDriving pic.twitter.com/BYYiQVBDFA

— Arab News (@arabnews) June 25, 2018
The special issue was distributed in cities including New York, Washington and London — alongside its daily sales points in the Arabian Gulf.
"As a champion of women for years through her unique creative style, Malika Favre was the obvious choice. Her illustration brilliantly captures the significance of this moment on the day Saudi Arabia changed forever," said Simon Khalil, Arab News' Global Creative Director.
"I wanted to create a positive and celebratory cover image to mark that crucial day. Our heroine is driving on the open Saudi road and driving towards a better future," Ms Favre added.
As women across the kingdom got behind the wheel for the first time ever, many Saudis told Arab News about their first journeys.
One to hit the road after midnight was Lina Almaeena, a member of the Saudi Shoura Council. "It feels very liberating," she said about driving her mother's Lexus.
Ms Almaeena, also the co-founder and director of Jeddah United Sports Co, had exchanged her UAE license for a Saudi one.