The economic slowdown in the Middle East & North Africa (MENA) has had its impact on several aspects but the investments in the digital sector have maintained their own.
"MENA witnessed a record year in technology startup funding in 2016, more than 30 new investment institutions launched, and more than USD 900 million was invested in 2016 alone. This is more than the value of all investments between 2013 and 2015 combined," asserted Omar Christidis, ArabNet Founder and CEO.
Mr Christidis was quoting from The State of Digital Investments in MENA (2013-2016) report. Published in partnership between ArabNet and Dubai SME, the report was launched on the final day of ArabNet Digital Summit 2017 in Dubai.
"The report shows that the UAE has led the region in attracting investments into digital entrepreneurship. The report reflects the overall strategic focus of the UAE, particularly Dubai, on supporting innovation and investments in digital economy as well as in promoting the country as the preferred choice of Arab entrepreneurs and investors," said His Excellency Abdul Baset Al Janahi, CEO of Dubai SME.
The second of the forum was dedicated to the smart economy. The day explored smart cities, smart governments, the future of cars and transportation, and the digital enterprise. It also focussed on innovation and investment, featuring over 100 investors from more than 20 countries.
For the first time this year, the Summit featured the finale of the ArabNet Startup Championship, highlighting 18 of MENA's most promising startups, hand-picked through local pitching rounds across Riyadh, Dubai, Beirut, Kuwait, Cairo and Casablanca.
The Championship winner is Sihatech from Saudi Arabia. Sihatech is a solution to enhance healthcare services, access, quality and price, and beneficial to patients, doctors, hospitals and insurances. The startup received USD 20,000 in cash, a scholarship to participate in the Blackbox.vc Connect Program in Silicon Valley, as well as services from a wide range of providers.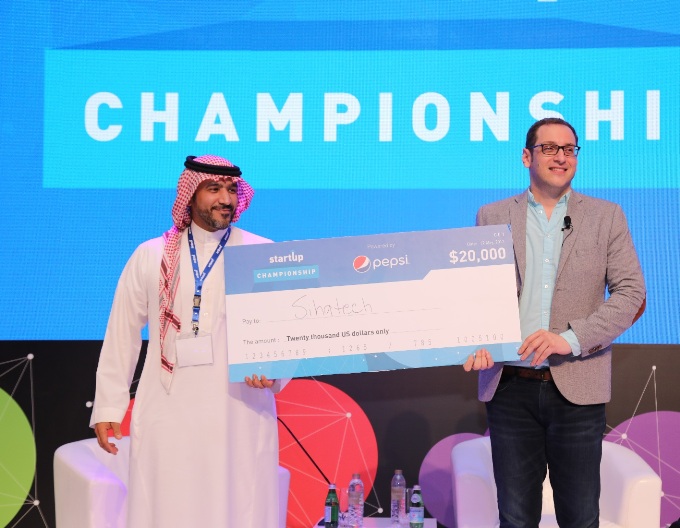 The Summit also hosted the Smartpreneur Competition and awards ceremony, organized by Dubai Chamber of Commerce in cooperation with the Smart Dubai Office. The competition highlighted promising UAE startups that are aligned with Dubai's mission and can assist the Emirate into becoming the smartest, happiest city in the world. FriendyCar – a marketplace for borrowing and lending cars in the Middle East – won first place at the Smartpreneur competition, with 75,000 AED in cash.