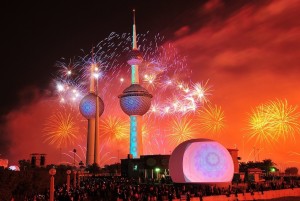 The week started with the glamorous opening of Kuwait Towers. This unconventional tower has reopened for public after over four years. Instagram and Twitter were flooded with images with #kuwaittowers and #kuwaitfireworks over the weekend when the exceptional fireworks took place around the towers for one full hour. The fireworks celebrated Kuwait's 55th Independence Day, 25th Anniversary of Liberation Day and the 10th Anniversary of the Amir's Reign.
The other highlight of the week was the celebration of International Women's Day. Several ads were created to celebrate the occasion, but the one that caught everyone's eyes and garnered attention on social media was Google's #OneDayIWill video. Women of all age groups expressed their desires and aspirations on the social media website. The other hashtags that trended during the day were #اليوم_العالمي_للمراه and #InternationalWomensDay.
Moving on from these terrific news to the more terrifying ones. A video, shot in Qatar, by a passerby went viral on social media wherein a tiger was seen on a highway during the peak traffic hours. Many people started tweeting #نمر في شوارعنا which literally translates to 'Tiger on our streets'. The confused animal was later found by its owner who leashed him and took him along. Though it is illegal, having exotic pets has been in trend among the Middle Eastern. 8th March also marked the anniversary for the MH370 Malaysian airlines that went missing two years ago. With no conclusive reports on the incident yet, people took on to twitter to remember the missing passengers and the grief of their families.
From the unpredictability of life to unpredictability of weather; this week we found weather news to be trending as well. This comes as no surprise with UAE witnessing heavy rain and thunderstorms yesterday. This affected the daily routine of all the residents as schools were closed in Abu Dhabi and many flights were cancelled due to low visibility. It has been reported that 253 accidents were recorded in a span of seven hours yesterday.  Events such as Abu Dhabi Expo and Dubai Canvas Festival were also cancelled due to the weather conditions.
It is difficult for any week to pass by in the region without sports being in the news. The highlight for this week was last night's match between Chelsea and PSG. Many people showed support for their teams on twitter and Facebook using #CHEPSG. The re-match between the two European heavyweights was surely something to look forward to.