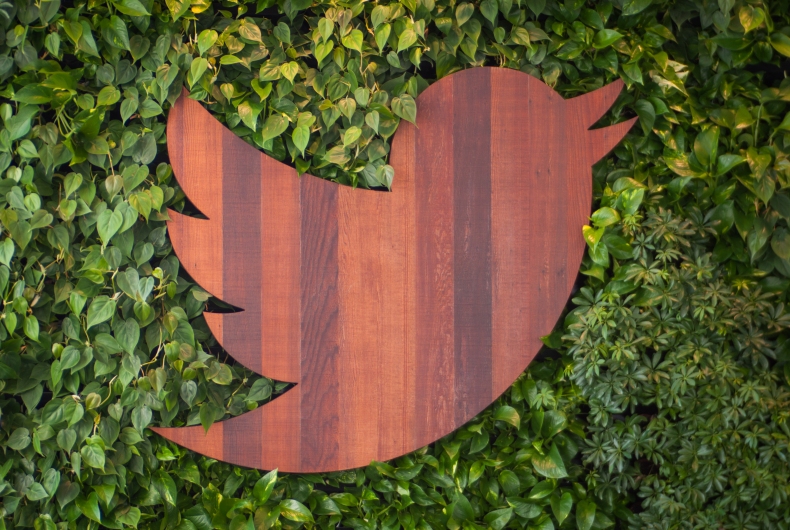 As understanding social media users, and the significance they have for brands, becomes critical for marketers, Twitter has taken a closer look at its audience base.
Collaborating with Kantar Media in a global study, Twitter has examined what drives usage on the platform, the added value for its users in their day-to-day lives, and to analyze what Twitter users have in common in different parts of the world from a profile and attitude perspective.
Kantar Media interviewed both Twitter users and non-users in several markets including in Middle East markets UAE and KSA for these insights.
Some of the topline findings from the study shows that Twitter users are younger and more affluent than non-users in the UAE. In the case of Saudi Arabia, they are slightly more affluent and educated than non-users.
They seek fresh news and are more willing to share it both online and offline. They are open minded and in a discovery mindset while accessing Twitter. They also influence purchase decisions – not only are they among the first to discover and share about brands but they are also very demanding consumers who are likely to enter loyalty schemes and drive discussions with brands.
Best Place To See 'What's Happening', Real-Time & From 'Every Side'
In this study, Twitter wanted to better understand why its users are turning to the platform to see what's happening, and what makes their user experience unique. Watching news in real-time, as it happens, and being closely immersed in the action is one of the main strengths of Twitter, with 49% of users in the UAE turning to Twitter for news (73% among daily users). In Saudi Arabia, 57 percent users turn to Twitter for news (61% among daily users).
In terms of user experience, the findings revealed that people who want "quality news turn to Twitter". Middle East users access the platform because news spreads faster on it (63% in case of UAE & 81% in case of KSA). People can follow developments in real-time (65% say UAE users & 78% for KSA users). They can «see every side» of a story. They are also heavily reliant on Twitter for news; when something isn't discussed on Twitter, they question its significance (73% in UAE, 64% in KSA).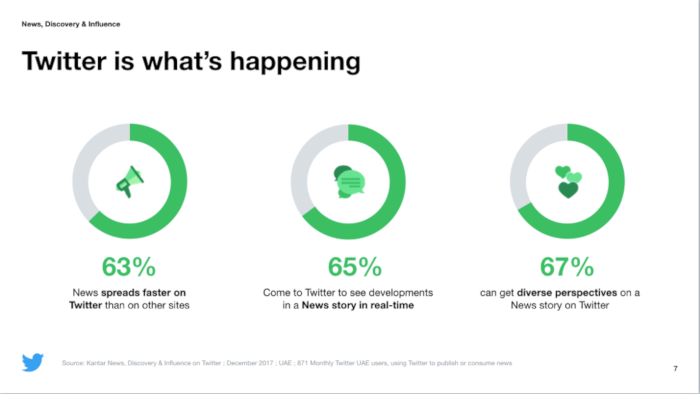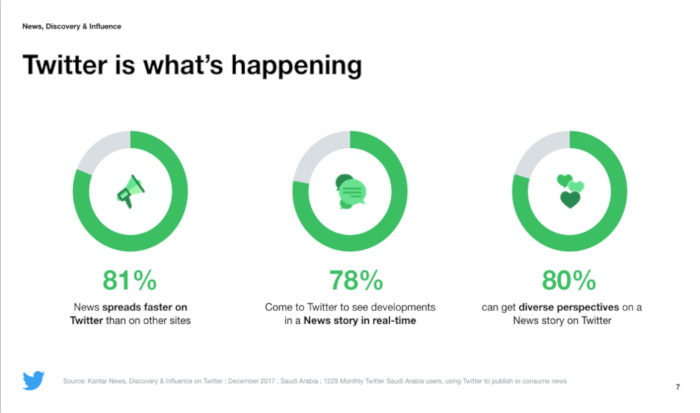 Twitter also wanted to compare and understand if users perceive Twitter as the fastest way to access news. The vast majority of the users are seeing news spreading faster on Twitter than on TV. Among daily users in UAE, these numbers are at 66 percent for 'very often or always', 28 percent 'sometimes', 4 percent 'rarely' and 2 percent 'never'. In KSA, among daily users – 75 percent say 'very often' or 'always', 17 percent opted for 'sometimes', 7 percent 'rarely' and 2 percent'never'.
A Platform For Discovery
Twitter users are likely to set trends than non-users: they are the first to try and buy new products (UAE – 66% for Twitter vs. 46% for non-users; KSA – 63% for Twitter vs. 54% for non-users) and to share and talk about them too.
Twitter provides them with a rewarding experience when on the platform: it's the right place for them to learn valuable things (89% in UAE, 88% in KSA) and things they hadn't seen before (64% in UAE, 74% in KSA).
They also consider Twitter as trustworthy (74% in UAE, 77% in KSA), which is closely linked with both the value of information and its impact.
Twitter users love to share: 77 percent in both markets say they often find interesting content online that they share in person with friends and family on their mobile phones.
Most Influential Consumers: First To Discover & Share About Brands
Previously Twitter has found that the platform is the best place for people to see what's happening, and that its users are in a discovery mindset when turning to Twitter.
Twitter is the platform that gives users more 'value', because they are more aware and likely to share content. Others naturally turn to them to seek advice.
• 79% in UAE and 82% in KSA like to give their opinion about things they're knowledgeable about or interested in (vs. 74% & 71% of non-users in both marketes)
• For 70% in UAE, their friends and families seek advice from them when they're thinking of buying something new (vs. 63% of non-users.) These numbers are at 78% and 70% for KSA.
They are natural leaders, that's why people turn to them and rely on their opinion. This is a key driver of influence.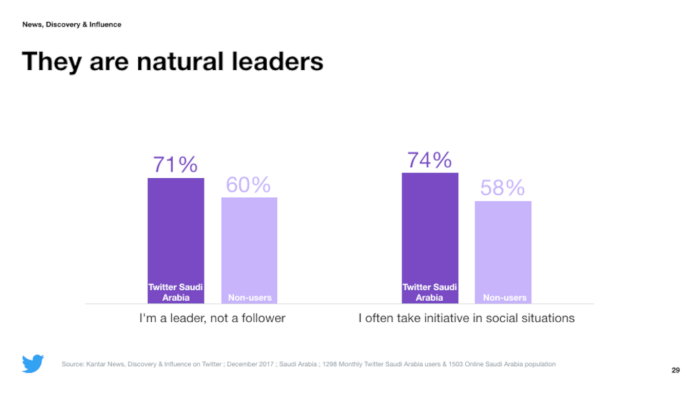 Twitter has previously observed its users love to share the content they find with their friends and families. Here, the focus is on the content found on Twitter specifically, where a high proportion of people share content found on Twitter via their phones: 41% in UAE and 34% in KSA do it every day, and 73% in UAE and 72% in KSA every week.
This means that non-Twitter users are exposed to content thanks to their friends on Twitter. This is another key driver of influence.
They share information about products and brands on Twitter: they both publish (85%-UAE, 84%-KSA) and read other users' opinions about products and services (90%-UAE, 91%-KSA) and it has an impact on their perception and on their future purchases.
To quantify the influence of its users, Twitter measured their impact on other people's purchase decisions across 13 product and service categories. It calculated an «Influence Index» for each of these categories which resulted in a high average Influence Index (129 in UAE, 117 in KSA) showing that they are very likely to influence others' purchase decisions (29% & 17% more likely than non-users in both markets respectively)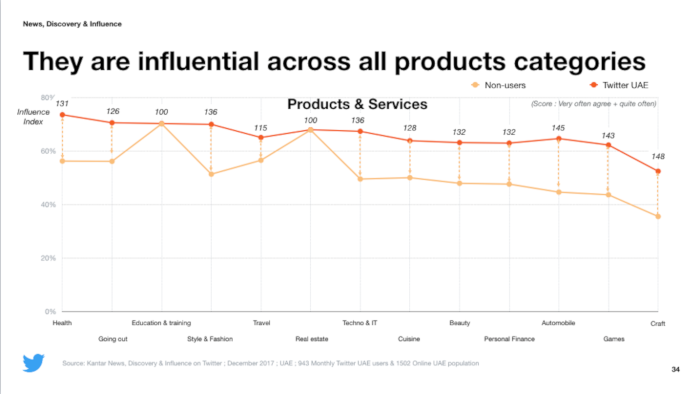 This index was calculated across 10 areas of interest across age and gender to have a segmented view.
• Twitter users are highly influential consumers on all tested categories, on both products/services and areas of interest.
• Their Influence Index is consistent and high across all demographic segments, which actually means that the influence of Twitter users is not driven by a small group of specific people. They are all highly influential, whatever their profile.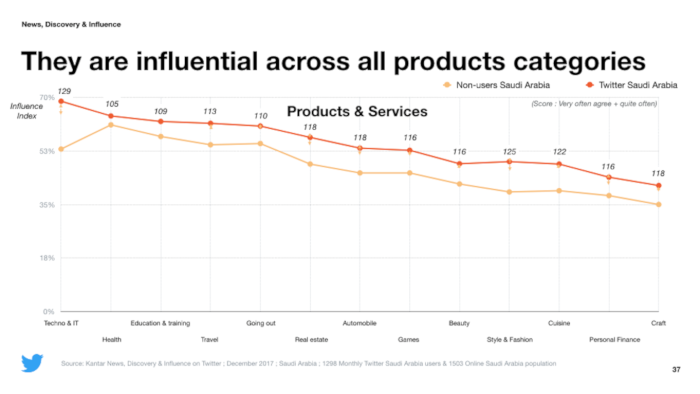 Demanding Consumers, Seeking & Rewarding Brands For Quality & Responsiveness
The study found that Twitter users are willing to pay more for quality products (64% vs. 54% for non-users in the case of UAE & 66% vs. 54% for non-users in KSA) and to save time (58% vs. 45% for non-users in UAE; 57% vs. 47% for non-users in the case of KSA). It is worth noting that Twitter is giving them a high ratio of value/time, as seen previously in the study.
Finally, Twitter is also the place where they engage, discuss (86%-UAE, 82%-KSA) and ask questions to brands directly on the platform. They also share other users' opinions about brands on Twitter (86%-UAE, 83%-KSA).
Conversations between brands and consumers are happening on Twitter, it's public, and can be seen and shared by everyone, which is also a key driver of influence.
Methodology: Research done in partnership with Kantar Media. Field done in December 2017 and results/analysis published in June 2018. UAE Base: 1,502 internet users representative and 943 Twitter users representative (on gender, age, social grade & usage frequency)