In sync with global talks on how the C-suite needs a chief entrepreneur to reinvent and innovate a brand's business model, the Marketing Society's Middle East Chapter has kicked off 2017 with a new series 'Collide'. In its first session, four Dubai-based entrepreneurs met the Society's executives for a dialogue on creativity and business.
As the role of chief executives within the corporate world is integrating and demanding performance-oriented accountability, the tighter control is making creativity and innovation more challenging than ever. Given the fact that the future is being invented by a generation that is born in the digital age and believes in free-flowing ideas, the Marketing Society hopes that its series 'Collide' will become a catalyst for transformational change, a motto that the Marketing Society has followed since its inception in the region.
Butheina H Kazim, Founder, Cinema Akil, Sunny Rahbar, Gallerist, Third Line, Tom Arnel, Co-Founder, Bull & Roo and Dan Greenpeace, Entertainment Entrepreneur coached the executives from their experience of beginning businesses in Dubai they were passionate about. Mike Fairburn, General Manager, Sony Music Entertainment Middle East & Marketing Society Board Member hosted the session. The entrepreneurs shared their definitions of creativity, what keeps them going, their connect with consumers and the challenges they face as they become bigger.
Speaking to the Arabian Marketer, Asad ur Rehman, Director Media, Unilever MENA and Chairperson of the Middle East chapter said, "We live in a world where conflicting views are the order of the day. At times the task is not to find balance between those, but to create discourse that leads to harmony. Collide is designed to that, bring people together to talk about subjects that might be uncomfortable, or conflicting. Think of it as a place where everyone feels safe and stimulated enough to speak their mind."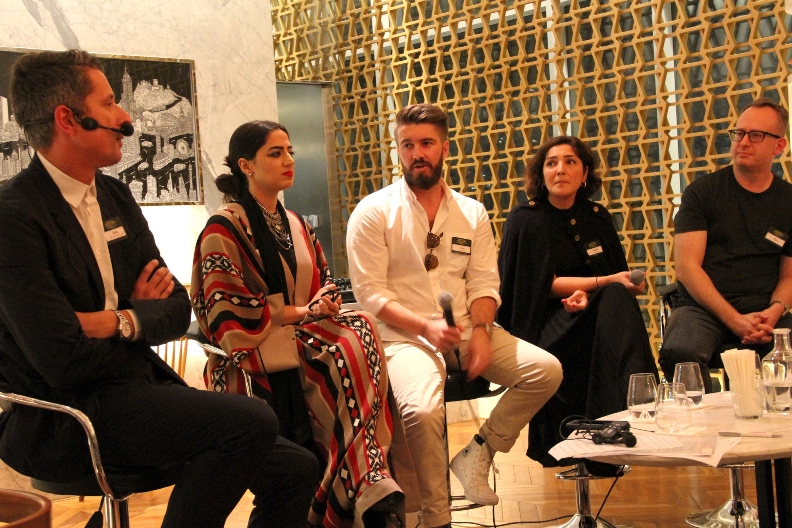 A Process Of Co-Learning
When asked to define creativity in the panel, Butheina H Kazim, Founder, Cinema Akil said, "Challenge and struggle is key to creative process. I have learnt that creativity comes from this challenging journey. We need to negotiate our place and space in the world."
Sunny Rahbar, Gallerist, Third Line, highlighted that corporate support to entrepreneurs was still lacking. She said, "Few corporates come forward to invest in entrepreneurial initiatives despite good work because their is lack of trust."
While responding to what is the one thing that they want to take from the corporate world, Tom Arnel, Co-Founder, Bull & Roo said, "We started from Al Quoz in Dubai with one restaurant and as we grew into five restaurants, I have realized that while keeping up and resolving business issues in the five restaurants including hiring staff, looking after daily requisites and so on, I have lost touch with customers. That bothers me, and that is one area I seek to learn from corporates from."
Dan Greenpeace, Entertainment Entrepreneur commented on the creative culture and on working in Dubai. He said, "Dubai has created its own culture and identity that drives creativity in businesses. We are seeing so many homegrown success stories that have their own identity and less and less of imported ideas coming to Dubai."
"The Marketing Society aims to inspire marketing leadership and do things differently," said Gemma Greaves, Chief Executive, The Marketing Society who flew in from London to join the session. Adding the need to create experiences that its members want to come back to, she said, "Collide is an opportunity to be bold and bring different worlds together where there is interesting learning through outside perspective. If you think differently, you will do differently and you will bring that difference back to your day job."
The series is a first for the Marketing Society globally. The Marketing Society members in the region coined the idea and the society is hoping to replicate it at other chapters. "From global perspective, this is a new format for us and we will see if there is a place for it in Singapore, Hong Kong, New York, New Delhi and London. In a world where ideas are travelling so fast and we are so connected, we have to keep up with that pace of change. And so we love taking learnings and formats from once place and share them globally," said Ms Greaves
Out Of The Box
The common practice for most marketing bodies is to have executives meet by themselves or with an occasional guest and discuss solutions. That's why Collide debut session was unique. C-suiters sat in audience and looked eager to learn from entrepreneurs who offered radical leaps into the future. The host of the panel Mr Fairburn, who tabled the idea of Collide said, "I am taking back many learnings from this session. To name a few – be bold, be passionate and be courageous in embracing new ideas."
Delving on the theme of the first session, Mr Fairburn said, "Creativity is in every business and in every team. All we need to do is nurture and promote new thinking within. When we engage with the creative community to start a dialogue, it inspires great partnerships and projects."