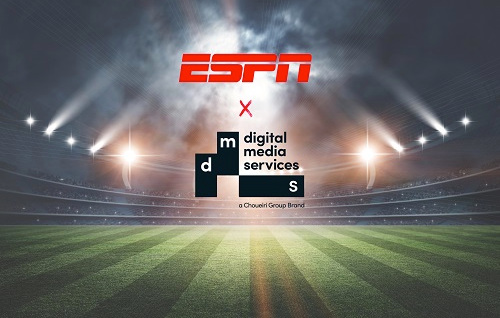 ESPN Sports Media that has platforms such as ESPN.com and ESPNCricinfo.com in the Middle East and North Africa (MENA) region has signed the digital arm of Choueiri Group, DMS, as its exclusive media representative.
With over 50 business entities, ESPN is regarded as home to one of broadest portfolios of multimedia sports globally. While ESPN.com and its corresponding app represent ESPN's multisport focus, ESPNCricinfo.com serves as the world's leading digital cricket brand.
Cricket today is the second most watched sport in the world – with 2.5 billion fans globally – and the second most watched sport in the UAE, with almost half of the UAE population (49%) estimated to be cricket fans and 1.3 million UAE residents regularly playing the sport.
This huge fan base is skewed heavily towards Asian expat males from India and Pakistan, a 'digital first' demographic known to utilize the internet and social media to follow sports; representing a distinct audience for brands to target.
ESPNCricinfo.com is said to be the most visited sports website in the UAE, with the highest page and visit duration figures, attracting over 5 million visitors from the GCC during the 2019 Cricket World Cup.
Speaking about the partnership, Martin Healy, Commercial Director at ESPN said, "We are excited about the next phase of growth and development for ESPN in the region, and especially ESPNCricinfo. This strategic partnership between the worldwide leader in sports, and such a pillar of the local media landscape, shows our commitment to the region, and our desire to connect brands with our engaged, loyal, sports-fanatic audience through world class content and media solutions."
"With ESPN joining the DMS family of market-leading digital platforms, we greatly look forward to furthering the audience engagement goals of our brand partners around the region. With ample, innovative and highly effective advertising opportunities in store, we are confident that clients will find Cricinfo.com to be the ultimate gateway for reaching out to and connecting with the vast south-east Asian expat population in the UAE and GCC," added DMS' Chief Operating Officer, Michel Malkoun.