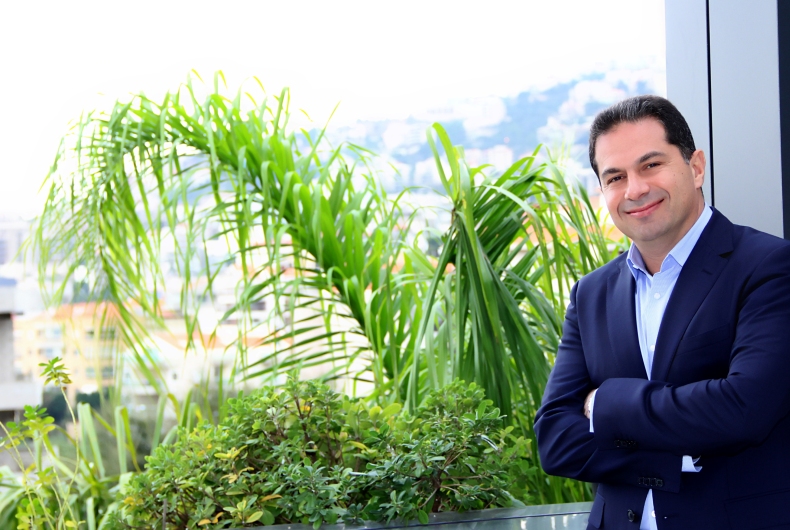 'A combination of patience and humility', 'a natural-born leader', 'driving from the forefront of change', 'extremely professional and passionate', 'a true business partner'…
Leading men and women of the marketing, advertising and media industry, not only from the Middle East & North Africa (MENA) region but also globally, have used some of these words to describe Alex Saber.
Mr Saber, the Chairman of Publicis Media Middle East, was voted AM Person of the Year in an industry-driven process, initiated and executed by The Arabian Marketer. The two-tiered methodology invited nominations of names that industry professionals believed to have made the most difference in the year gone. The top 10 from these were put to a vote, the culmination of which resulted in the crowning of Mr Saber as the industry captain whose contributions in 2016 will contribute to the growth of the domain itself.
There is much that has been said in the praise of Mr Saber, an ad man for his entire career in playing a significant role shaping up the media landscape in MENA. Over a period of over two and a half decades, he has risen through the ranks at Leo Burnett, and what is now Publicis Media, to set up a power brand to reckon with in the region. His career has seen him set up the first media AORs, influence change in the industry, be counted time and again among the most influential Arabs in the world, and steer a growth mechanism that enables MENA agencies to compete with the best in the world.
INSIDE THE MIND OF AN INDUSTRY CAPTAIN
Irrespective of the parameters used to gauge 2016, the year put to test the best of the marketing business in the MENA region. From the effects of economic and political instability and global challenges around oil prices to budget constraints and increased demands from marketers despite lowering investments, were all among the key highlights of the year. In the new market-changing norm, that desperately seeks innovation, risk taking abilities and handling challenges with a combination of sensitivity, sensibility and aggression, the solution to navigate the fragmented and constantly evolving comes in increasing integration and consolidation. Or so is the belief that held Alex Saber and his team in good stead for the year.
For Publicis Media, 2016 was a "strategically significant and exceptionally exciting" year as it restructured across the region. One reason why this was no ordinary development was because Publicis Media was adapting to a global call that essentially changed the way in which the agency business had operated, ushering in a silo-less structure. A change of that kind is especially tougher when it is required to be done at scale. "We are the largest group in MENA and have been for the past decade, an accomplishment we are happy to boast about. The past year was challenging for our entire industry, but the changes we implemented and business transformation opportunities these changes generated have kept us focused and motivated to pave the way for a hopeful road ahead," says Mr Saber, weighing in on what the change meant for the agency.
During the restructure, Publicis Media's focus was on making the transition as seamless as possible for its clients, while aiming to continue delivering on its day-to-day values, which the agency defines as technology, partnerships, increasing results and continuous product innovation. "This not only kept us ahead of the curve, but we bounced back from every curveball the industry has faced in 2016," remarks Mr Saber.
OPPORTUNITY IN CRISIS
While in hindsight, all seems to have worked for the agency, it does not take away from the fact that Mr Saber had his work cut out for him at this time, last year. Having been with the group for over 26 years, he has been through his fair share of ups and downs but as they say, with extensive experience comes the knowledge and confidence to tackle concerns head on, and in some cases, even before they arise. That was Alex Saber's guiding mantra for 2016.
"Successful companies are able to shine through tough times. Natural selection separates those who will perform well under pressure of a difficult market from those whose laborious processes cause them to struggle and flounder. Our agencies fall under the former. Part of our group's power is that we are seen as a top tier operation within Publicis Media globally. Our key strengths include several longstanding clients, who are leading names in their respective industries and are invaluable to us," Mr Saber said.
Like some of the stronger brands in the region, Publicis Media anticipated a problematic 2016, and had invested to protect itself and carve a growth plan. The media holding company invested in non-traditional media, wherein digital media accounts for more than 50 percent of its investments. "We made this commitment more than seven years ago, when we were the first to lead the MENA industry in digital investments. We allocated almost 35 percent of our staff to digital at a time when the competition only had a handful of their staff with digital capabilities," informs Mr Saber.
Much of Mr Saber's strategy has centered on the agency's people.
ALL ABOUT THE PEOPLE
Throughout its transformation in 2016, the top priority for the Holding Company was two-fold — safeguarding services for its clients and retaining talent from its agencies Starcom, Zenith, Mediavest | Spark, Blue 449 and Performics. "Our staff turnover was the lowest in the industry. The happiness and well-being of our teams matter a great deal to us and they will always be of our top priorities," Mr Saber asserts.
His reasoning is rooted in the fact that technology has dramatically revolutionized the media world, but the science behind it remains the same. People are, and will always be, an agency's primary asset.
Reiterating this, he said, "We are committed to continue nurturing our talent. It is my personal concern to be as close as possible to our people, as having the right and properly motivated people on board is one of the secrets of our success. Our people trust us to lead them through both the highs of a booming market and the demanding economic situations such as the one we are currently facing. We are confident that we will come out on top, and that gives us an edge."
The agency's 2017 agenda leads with the continued search for the best talent. Despite all predictions of a tougher year, Mr Saber is optimistic on the Publicis Media's overall targets. In 2017, the industry will continue to see decreasing ad spend, by about 7 percent, as per Zenith global forecast. Mr Saber's bullishness comes from the current Publicis Media structure with marketers at the core, and an outlook that will continue accelerating growth. "We have already seen solid growth in 2016, a prime example is our business in Egypt, where despite all the difficulties and challenges, we witnessed record growth numbers," he says.
GEARING UP FOR 2017
The year 2017 will see the industry's best applying all the learnings gathered for nearly a decade now battling a slow economy. Leading marketers and agency Chiefs have begun to understand the significance of diving right into the problem, making the most of the opportunities that come in its wake. The keyword for 2017, according to Mr Saber, is transformation.
With the evolution of digital, and the access to tools, technology and experiences of a global marketplace, the industry has learned to preempt changes than just adapt to them, an area that Publicis Media has excelled in. Mr Saber observes, "Successful agencies of the future will be those who can use the wealth of data and technology and answer consumer needs. They should also anticipate industry trends and consumer behaviors in order to generate the highest return on investment for clients. Given that digital media currently accounts for more than half of our interests, I would say this is one test we're breezing through."
In 2017, Publicis Media will continue to invest in data, technology and talent. It will aggressively pursue acquiring new business and apply scale and insights to transform its clients' businesses. It will continue to create deeper bonds, while working towards evolving into true partners to its clients. "Our recent metamorphosis will allow us to better combat the changes that the industry faces. Our aim is to streamline and keep delivering, even more than expected. We are adamant about looking to the future and not simply building upon our past," Mr Saber concluded.
Alex Saber's views and approach to business mirrors the ideology of a true leader. For his continued efforts in contributing towards making MENA's advertising and marketing sector significant in the global scheme and for being among the influencers, who galvanize an industry, Alex Saber is AM Person of the Year 2016.
This interview first appeared in the Jan-Feb print edition of The Arabian Marketer