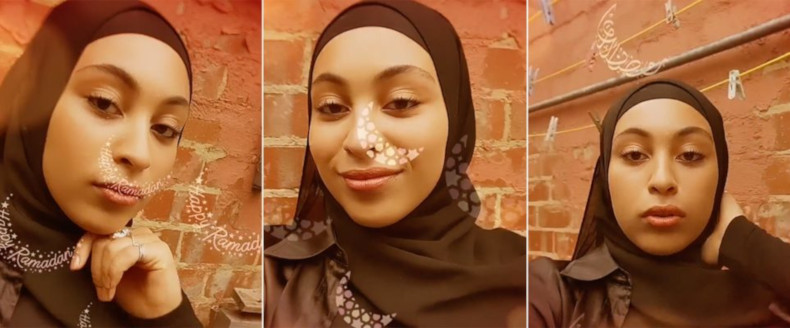 In keeping with the spirit of Ramadan, Instagram is launching its first ever Ramadan campaign #MonthOfGood, calling on the global community to celebrate and share kindness on its platform. To coincide with the campaign, Instagram is also launching its first ever Ramadan camera effect 'Lantern', to encourage Instagrammers to share their Ramadan celebrations and acts of kindness in a creative way.
An act of kindness can be something as simple as posting positive comments on friends' or colleagues' social channels, to thanking friends and family for iftar or suhoor; to volunteering within community and sharing it as an example to others to be kind and do good.
The camera effect, 'Lantern' features subtle bokeh and crescent shapes inspired by the ornamental arabesque design style. The shapes and textures used are traditionally associated with Ramadan. The effect is multi-layered, and people can tap the screen to move to a traditional crescent design effect and then the option of English or Arabic Ramadan greetings.
Instagram has also revealed data showing how Instagram is a key place for people to come and share celebrations and acts of kindness during the Holy Month. Last year between May 16 2018 and June 14 2018, the first and last days of Ramadan, there were over 15 million feed posts about Ramadan.
In countries where Ramadan is a key celebration, words associated with kindness and good deeds, such as charity, donating and generosity increased significantly during the holy month in 2018.
In UAE, posts containing the words 'donate' or 'donation' increased by 97 percent. This year, building on this behavior, Instagram is asking its followers to share their moments of kindness and celebration, using the new camera effect and tagging their content with the #MonthOfGood.
Commenting on the launch of the campaign and camera effect, Samer Jamal, Strategic Partner Manager, MENA at Instagram said, "Instagram is a diverse, global community and Ramadan is one of the biggest cultural moments celebrated on the platform. Our data shows that Ramadan is a time when people come to Instagram to share their moments of kindness and good deeds – with words associated with charity increasing significantly."
"Kindness does not have to be a grand gesture. In fact, small and unexpected acts can have a huge impact on someone's day. That's why we're delighted to launch #MonthOfGood and our first ever Ramadan camera effect, so that people on Instagram have a fun and creative way to express their good deeds and celebrations this Holy Month. We can't wait to be inspired by the acts of kindness — big and small — shared by the Instagram community this Ramadan," he added.