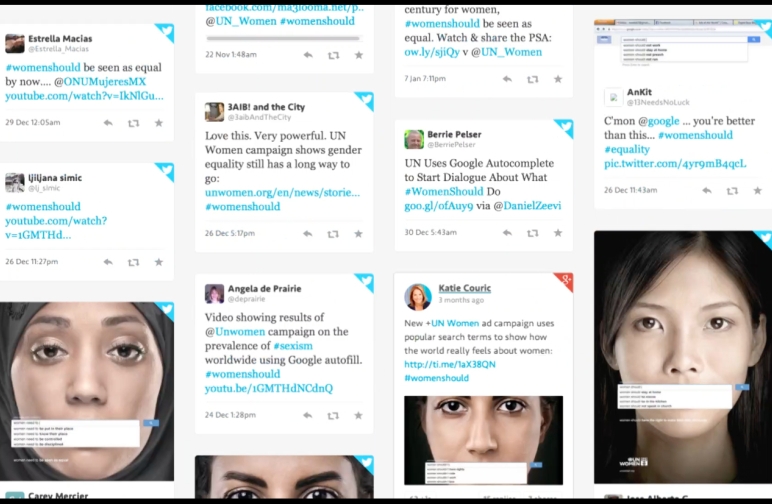 Memac Ogilvy Dubai was the sole agency from the MENA region which won a Lion in the Creative Effectiveness category. 'The Autocomplete Truth' work by the agency for UN Women bought home a Bronze Lion.
Seeing that despite decades of global advancement, discrimination against women is still rampant worldwide, UN Women needed to reveal this to a global audience and reignite the conversation. Using Google's autocomplete function, fed by 6 billion searches daily, the campaign, created by Memac Ogilvy, held up a mirror to the world and exposed the truth. The shocking results became the faces of the campaign, initiating people to debate.
"With such strong competition, we were overwhelmed to be shortlist in this category, let alone to go on and win a Bronze Lion. We are very proud of this achievement, in a category which is notoriously tough to judge. The Autocomplete Truth lead to real change, as Google no longer offers autocomplete options for a number of phrases, including the one that started it all, "women should." The campaign has over 335 million twitter impressions, and over 1.3 billion global media impressions; both of these numbers continue to grow as the campaign maintains attention and interest and continues to expose the hidden gender inequality in society," commented Ramzi Moutran,  Executive Creative Director, Memac Ogilvy & Mather.
The Grand Prix was bagged by Forsman &Bodenfors Gothenburg for its 'Live Test Series' campaign for Volvo Trucks. Jury President Wendy Clark, President Sparkling Brands & Strategic Marketing, Coca-Cola North America, emphatically called "a gift to the industry" that demonstrated the power of creative bravery as a conduit to exceptional effectiveness. "This was unapologetic advertising, proud to communicate its message. Every jury member was jealous of the work."