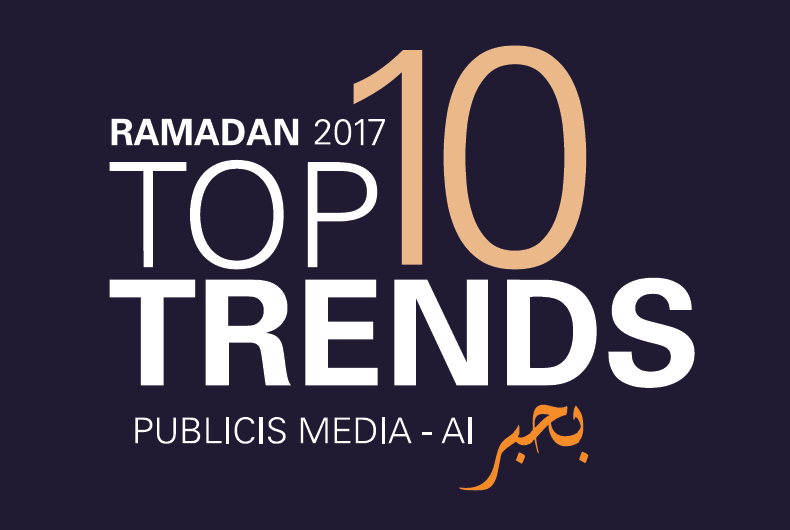 Social conversations during Ramadan have long-centered on the broader celebration of the Holy Month and flagship TV shows that are associated with it. But increasingly, consumers are shifting the Ramadan conversation from the spirit and macro-moments of the Holy Month, to the day-to-day habits, lifestyle adjustments, and micro-moments that mark their 30 days celebrating it.
The Broad Strokes
As consumers are increasingly sharing insight into their Ramadan daily lives, several mindset shifts and lifestyle trends transpire through their social footprint; chief among which in the past year has been their need to share their goodwill, spirituality and altruism on social media during the Holy Month – both to feel self-fulfilled and to encourage others to do the same. As such, there is none to low tolerance for angry fasters and people who don't truly understand and live the spiritual purpose of Ramadan. Instead, healthy lifestyle hacks and fitness routines are enabling them to focus on spirituality first, practicality second.
Similarly, consumers' Ramadan TV choices and conversations are also reflective of maturing and changing mindsets. Big TV discussions have shifted from light, superficial topics like romance, makeup and settings, to issues of substance and of deeper impact. TV shows that fail to deliver on value beyond slapstick entertainment are losing ground with viewers. They are asking for more relevant productions that tackle real and controversial issues. They've come to hold high expectations of the Arab production value, expecting it to be on par with international standards.
As they've grown ever more critical of Ramadan TV, their selection of the shows worth their commitment is systematic; series are filtered during the first three to four days, starting with an average of eight to nine shows, eventually bringing it down to three to four shows.
The brand implications for this shift and maturity in consumer taste, lifestyle and mindset are ample – particularly since consumers hold equally high expectations of Ramadan brands and advertisers.
Inspired by the audience, Publicis Media Analytics & Insights practice has put together Top 10 trends for Ramadan 2017.
The Top 10 Trends – #RamadanTop10
#1. Iftar & Suhour, Where Everyone, Everyday Is Invited
Imagine feasting with 300+ people every day… In Ramadan, Iftar & Suhour used to be daily moments shared mainly with family. Now, people have transformed their dining room to a connected virtual experience where they share and celebrate daily moments and food with their extended circle of friends.
What Can Marketers Do?
• Create an enduring connection by celebrating the chef (aka mom) through providing opportunities to participate in branded content strategies.
• Deliver more relatable content answering associated feelings – hunger during Iftar and prep tips for the coming day.
• Opportunities to be flexible and dynamic in key moments by creating relevant content to coincide with Iftar and Suhoor.
• Connecting mobile and social platforms to the Iftar and Suhoor special moments.
#2. Rise Of The Underdogs
Viewers in Ramadan are emotionally invested in characters and plots of TV shows, that even a villain is capable of drawing empathy and buzz. This Ramadan will see the rise of underdog actors, assertive female roles, and series pushing boundaries with taboo topics.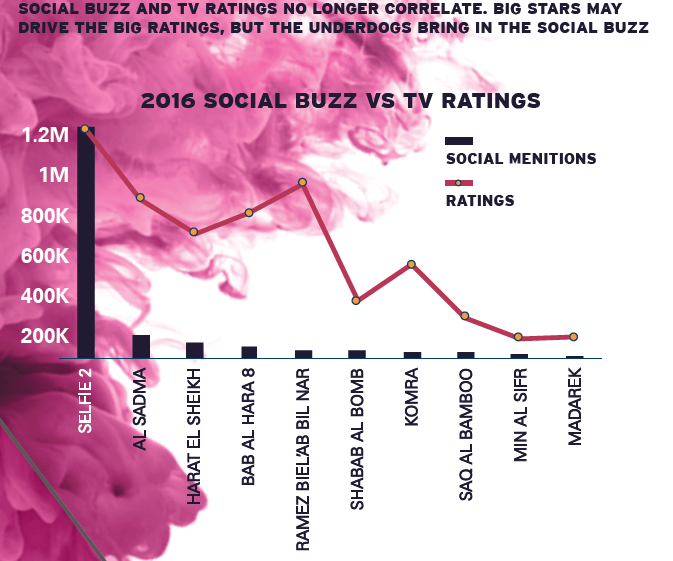 What Can Marketers Do?
• Explore second screen sponsorships on key programs.
• Collaborate with rising celebrities and stars.
• Design a content strategy with characters and plots in mind. Consider spoofs and parodies
#3. Series Theme Songs Are The New Fawazeer Jingles
We've seen it emerging last season and believe it will only grow as big music celebrities collaborate with creators for the opening scores. Opening scores enjoy longevity beyond the month.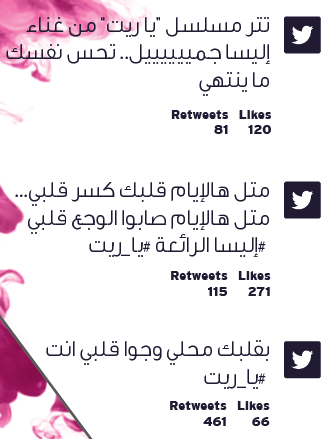 What Can Marketers Do?
• Collaboration opportunities with key singers who've won audiences over in Ramadan TV shows.
• Personalize favored theme songs to your brand's style. Consider karaoke versions of the songs.
• Entice audiences through games like 'Match the song to the series'.
#4. Social TV Reviews Are Born On Instagram & Mature On Twitter
Twitter and Instagram are playing a bigger role as the new TV guides, where passionate fans of Ramadan series determine what will be a hit and what will be a miss. As audiences become more emotionally invested, they engage in real time conversations on twitter.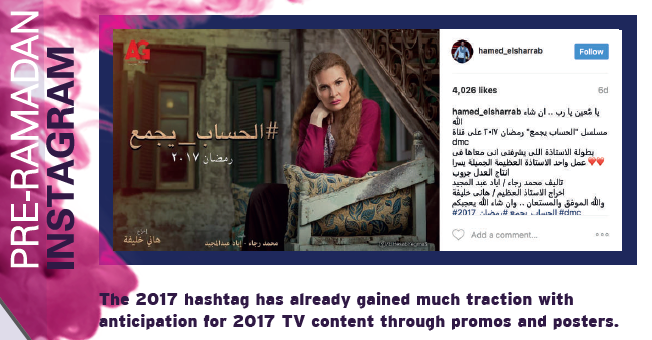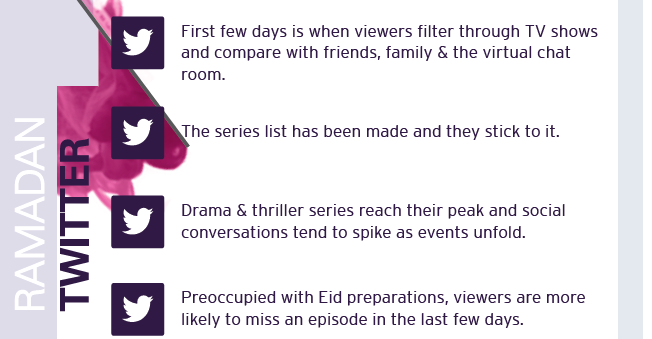 What Can Marketers Do?
• Opportunity to connect with die-hard fans whose opinions make or break TV shows.
• Be where the audience is and migrate communications across social platforms.
#5 Social Media Is The New Ramadan Fitness PA
Health-conscious fasters and weight-conscious fashionistas are skewing Ramadan conversations towards healthy food choices and substitutes, digestive remedies and fitness routines tailored to fasting habits and timings – with pre-Iftar workouts and pre-Eid dietary measures emerging as key conversation points.
What Can Marketers Do?
• Opportunities to fill this gap in being the go-to fitness guide.
• Collaborate with fitness gurus and influencers.
• Design activations around challenging audiences to document their fitness successes throughout the month.
• Opportunity to cheer audiences on in their fitness journey.
#6. Altruism Is The New Cool. And It's Social
Goodwill and altruism have always been at the heart of Ramadan, but now they are paid forward and shared on social. Partly because it brings out the best version of themselves, but mostly out of a genuine desire to partake in and scale Ramadan goodwill movements, people take it to social media to advise and remind others to do good.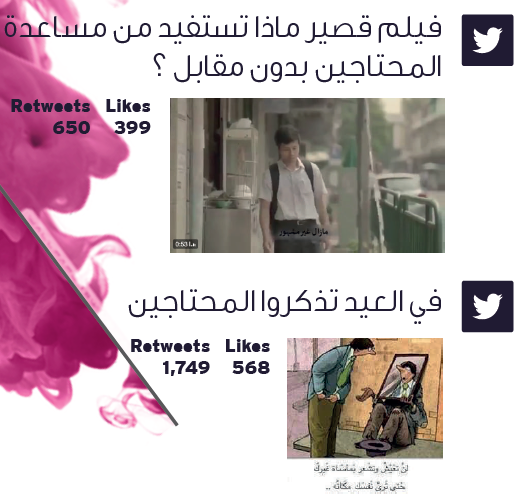 What Can Marketers Do?
• Join the conversation by inviting consumers to explore their own definition of Ramadan.
• Highlight any CSR campaigns conducted by the brand.
• Sponsorship opportunities with Ramadan-spirited shows.
#7.Viewers Go The Extra Mile For Drama TV
Serious commitment to TV dramas. In Ramadan, viewers invest a great deal of their emotions and time into dramas and thrillers. Missing out on the evolution of a thick plot, character or engaging story is out of the question for Ramadan TV enthusiasts. If they miss it on TV, they waste no time catching up on VOD.
No strings attached to TV comedies. While comedies and sociocultural shows pass for quality entertainment, missing an episode would not disrupt the 30-episode journey for a Ramadan TV enthusiast. Catching up on a missed episode on VOD is only worth it if their social circle says so.
What Can Marketers Do?
• Optimize sponsorships by associating specific brands with the right genres and on the right platform (TV VS VOD).
• Expand the playing field by joining the conversation of true fans around moments, content and characters.
#8. Ramadan TV Comes In Two Seasons
On average viewers watch 3 series per season, however they are still intrigued and watch the reruns of shows they missed post Ramadan.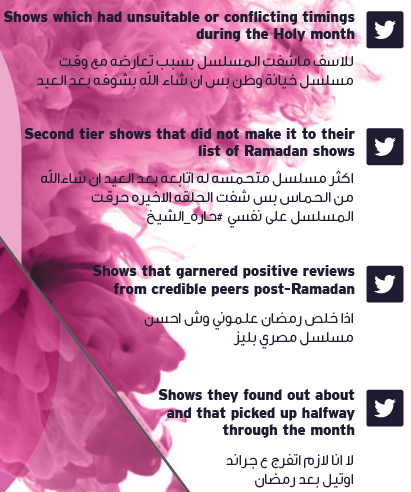 What Can Marketers Do?
• Explore sponsorship opportunities post-Ramadan.
• Identify key TV moments to capitalize on in the second wave of viewership.
#9. Same Same But Different; Advertising No Longer Works
Redundancy and frequency of advertising are the bane of Ramadan TV viewers. In their 30 days of exposure to a deluge of ads, viewers don't want to see:
• Rehashed Ramadan messaging from the same brand, a year later.
• Uncapped ad frequencies for the same brand.
• A single ad copy for the same brand running at uncapped frequencies carrying rehashed messaging, a year later.
• All of the above.
What Can Marketers Do?
• Deliver different brand experiences to the consumer with more targeted ad copies across platforms.
• Enhance ad copies into a month-long story with multiple copy rotations throughout the month.
#10. Consumers Have Tough Love For Ramadan Brands; They Expect Them To Dress Up For The Occasion
Advertising makes, not interrupts, the Ramadan experience for consumers – granted it lives up to their expectations.
• They expect specific brands to be active during Ramadan.
• They enjoy themes that embody the Ramadan spirit – nostalgia, goodwill, togetherness, among others – but always from a fresh angle and execution.
• They want & favor brands that are social.
What Can Marketers Do?
• Authenticity is a key opportunity for brand to create relevant and sharable content while remaining true to their own voice.