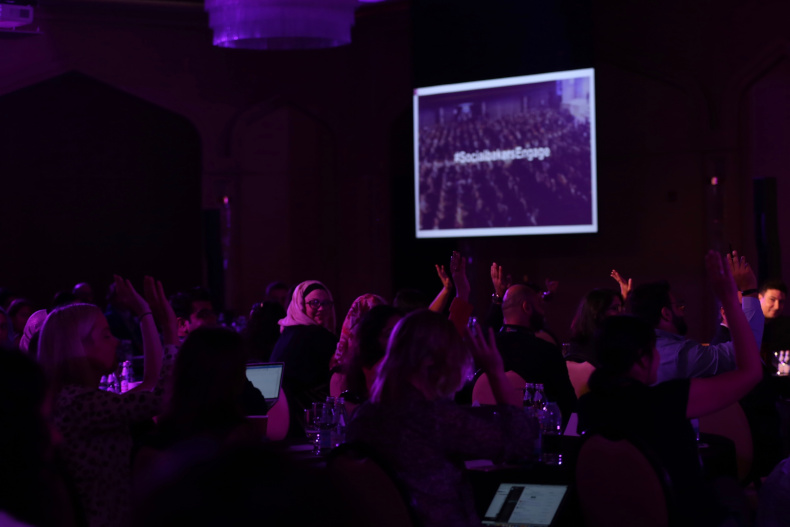 If there was one key takeaway from the recently held Socialbakers Engage summit in Dubai, it was about the importance of data driven solutions in social media marketing. "Gone are the days of guesswork" was a point that most speakers asserted.
"The Middle East and Africa market is truly fascinating in that it is quick to adopt cutting-edge means through which brands communicate to their audiences, while also maintaining the importance of local flavour throughout. It is a market of an overwhelmingly young demographic. Socialbakers has worked extensively to understand how Middle East and Africa social media users communicate with brands that speak their language, and vice and versa," said Christian Bechara, Middle East and Africa Head of Sales, Socialbakers.
The event saw participation from over 400 marketers, CEOs and CMOs among others.
"Socialbakers Engage events worldwide have brought the brightest minds in digital marketing together to learn and discuss invaluable insights into social media trends and forecasts. We are proud to be bringing the Engage summit to Dubai, the region's hub for business and creative minds, where they can increase value from social media and be inspired to apply their social media tools in new and innovative ways," commented Moses Velasco, Chief of Strategy, Socialbakers.
Socialbakers also unveiled new products for businesses to translate social media insights and analytics into business growth during the event.
Among guest speakers at the event, Ihab Ahmed, Global Head of Social and Community, Careem said, "Socialbakers has been a great partner for us and we continuously rely on the tool for valuable performance and customer insight. The tool allows us to analyse how our content performs and how it is perceived against other content and pages, which shows us what is relevant and effective to our audiences."
"The Engage conference is a one-of-a-kind event and being a part of it, amongst some of the most experienced social media professionals, leaves you with a sense of community in such a competitive form of media. The exchange of knowledge and experiences between the brands and individuals present sparks a forum for creativity and inspiration," he added.