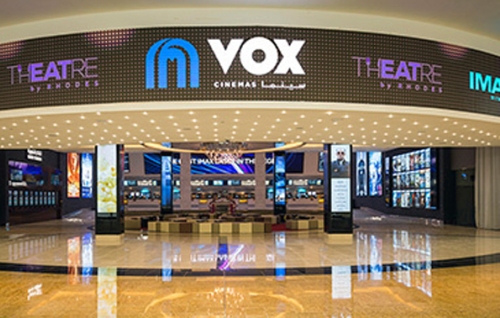 Vox Cinemas is awarded one of the first licenses to operate cinemas in Saudi Arabia. Its cinema, which will also be the first multiplex in Saudi Arabia will open at Riyadh Park Mall in the coming days.
The development paves way for Vox Cinemas to start delivering on an ambitious plan to bring its cinema entertainment portfolio to Saudi Arabia and support the growth of audio-visual and creative talent across the Kingdom.
The Vox Cinemas Riyadh Park experience will include four screens located within the Magic Planet Family Entertainment Centre in the region. Content including animation, family-friendly films and educational movies will be available through a portfolio of viewing experiences including the first IMAX screen to exhibit movies and Vox KIDS, the concept designed especially for young movie fans.
Vox Cinemas parent company Majid Al Futtaim is an active supporter of the Kingdom's Vision 2030. Majid Al Futtaim has project investments valued at SAR 14 billion across its mall asset, fashion, leisure and retail offerings in Saudi Arabia. This commitment is expected to create more than 114,000 direct and indirect job opportunities.
"We thank the Saudi Government, the Ministry of Culture and Information and the General Commission for Audio-visual Media for the confidence they have placed in us to contribute to a new chapter in the history of the Kingdom of Saudi Arabia. Vox Cinemas will join a growing stable of Majid Al Futtaim's leading retail, leisure and entertainment brands operating across the Kingdom," said Majid Al Futtaim CEO, Alain Bejjani.
VOX Cinemas is investing an additional SAR 2bn to open 600 screens in the next five years in Saudi Arabia. These new cinema developments will create around 3,000 direct jobs, providing a boost to the diversification agenda for the Saudi economy.
Through its partnership with 20th Century Fox, the distribution arm of Majid Al Futtaim Cinemas will also be exclusively distributing Fox content to all cinemas across Saudi Arabia.
"Majid Al Futtaim is proud to be one of the largest private sector investors in the Kingdom and Vision 2030, with an investment commitment now increasing to SAR 16 billion," Mr Bejjani added.
"We are excited by the opportunity to be a catalyst for the development of creative talent and content in the Kingdom. Vox Cinemas is honored to deliver our world-class portfolio of viewing experiences and premium concepts unrivalled anywhere else in Saudi Arabia. We are committed to providing our Saudi audience with countless great moments while making a direct contribution to the diversification of the Saudi economy," commented Majid Al Futtaim Ventures CEO, Ahmed Galal Ismail.