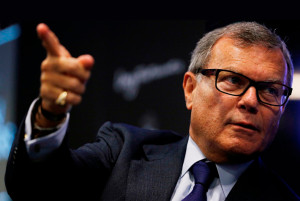 In the third quarter of the year, WPP reported net sales growth of 2.9 percent with revenues up 23.4 percent to GBP 3.61 billion. Even though Sir Martin Sorrell, CEO, WPP has been vocal on his disappointment of the Brexit vote, the impact of sterling weakness due to Brexit has had a positive impact on the double digit revenue increase.
"Uncertainty in the UK over Brexit, and some of the other things that are going on round the world, makes our clients a little bit nervous and hesitant to invest. That level of uncertainty makes our clients less willing to invest in capital investment, building plants and making investments and, in our own case, investing in innovation for consumers and brand. Uncertainty is the enemy of growth," said Mr Sorrell about the company's results.
Across the business, like-for-like revenue in Q3 grew 3.2 percent. Whereas the overall revenue growth was 7.6 percent on a constant currency basis, reaching GBP 3.6 billion.
Advertising grew in North America and Asia Pacific, but slowed relatively in Middle East, Africa and the UK. Maaruri (communication services) Ecuador and Wanda Digital (digital media) were the major advertising acquisition seen in Turkey. Public relations and public affairs revenue grew in all regions; but there was a particular strong growth in UK, Continental Europe, Latin America and Africa.
This quarter revenue for Asia Pacific, Latin America, Middle East and Africa (MEA) and Central and Eastern Europe is GBP 1.1 billion. Asia Pacific, Latin America, MEA and central and Eastern Europe has got the strongest net sales growth with constant currency being 11.9 percent and like for like 2.2 percent which is slightly lower than the second quarter.
"Given what's happening in the environment, the slow growth, lack of inflation; with the exception of the UK with the devaluation of sterling; the focus on costs and the general level of uncertainty around the world, I think it's a good performance," Mr Sorrell added.
The company concluded that it was looking ahead to 2017 with 'continued caution' being the watchword.