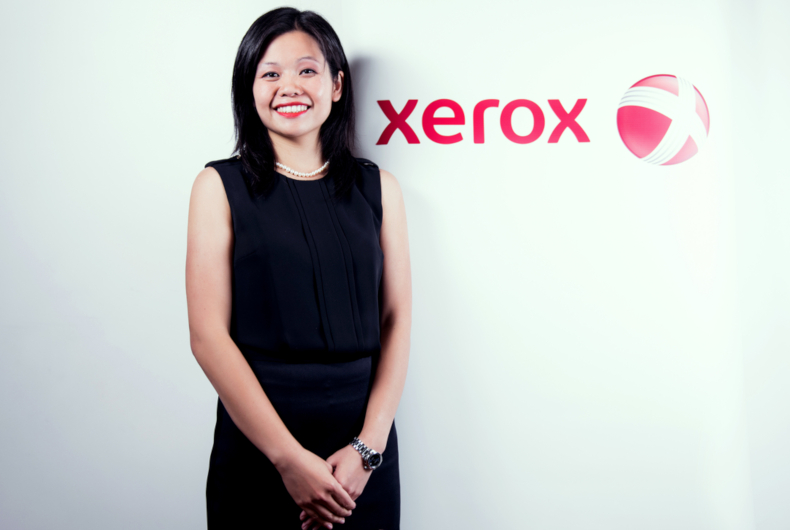 The Middle East & Africa (MEA) is among one of the most important regions in Xerox' global scheme of things. "Especially the GCC", as per Pui-Chi Li, the head of marketing for MEA. In a conversation with Arabian Marketer, she reminds the Gulf is recognized to be full of dynamic and emerging states and that the likes of the UAE are leading the digital transformation journey in the region.
Counted among the few women leaders in the tech industry, Ms Li explains more on the trends shaping the tech industry, Xerox' 2019 marketing plans and her thoughts on gender parity and advice to younger women workforce. Excerpts:
1. You have been with Xerox for nearly 12 years. With the move to a paperless world, what are some of the milestones at Xerox towards becoming a future relevant company?
Xerox has long been associated with innovation and while we started out life as a paper-based company, through our approach of putting the customer's needs at the forefront of our strategy, we have been continually investing in what the future workplace looks like.
From a milestone perspective, we can identify two complimentary routes that Xerox has taken. From a technology perspective, we have launched the Connectkey platform, which enables traditional devices to be more workplace assistants, becoming more adaptable, and future proof in its use of apps and artificial intelligence (AI) technology.
Concurrent to this is our approach to Managed Print Services (MPS), which provides our customers with the ability to not only go paperless but to truly integrate digital processes into their businesses — saving time, decreasing costs and improving efficiencies.
2. Xerox brings a legacy where the brand name was synonymous with photocopy – has this been a boon or bane, especially as things become more digital?
We continue to be proud to our heritage of innovation and part of that history is the photocopy function. Xerox continues to be one of the most recognizable international brands, which we are evolving into the next phase to a technology powerhouse that customers can look to and partner with for their digital needs.
3. What would you say are some of the recent trends that shaped developments at Xerox?
We can't ignore the one dominating today, which is digital transformation. We've been helping customers through their digital transformation journeys for the last five years. Additional elements include printed electronics, AI and digital security. In each of these areas, Xerox has explored and brought forward solutions which help our customers embrace and implement them into their environments.
4. If you had to re-evaluate your marketing performance last year, what would be the hits and misses?
The highlight of our year has been the launch of the Xerox Iridesse Production Press. We successfully implemented a multichannel marketing plan to ensure we achieved maximize reach and coverage of this new offering into the market. This included several customer and industry events internationally, including UAE, Emirates, South Africa and Morocco.
5. Tell us more about the plans for 2019 — what can we expect?
For 2019 we will continue to work with our channel partners to develop and grow in the Middle East market. We will be extending the next phase of the Global Partner Plus program into MEA.
6. What would that include?
This includes a new partner portal for improved access to Xerox support as well as a new learning and development platform to ensure our partners are kept up to date with all Xerox offerings and services. Furthermore, we will be working with our partners to develop their digital marketing presences to ensure we are maximizing our reach and access to customers.
7. Gender equality and diversity have become an important subject in the last few years. What is your take on this subject?
Since joining the workforce just over a decade ago, we have seen significant shifts in the occurrence of female executives in critical, high profile jobs. Regardless of the role, company or industry, we need to recognize the importance of strong examples for the next generations to follow — to encourage and inspire. Having resilient, capable female leaders in positions of power will continue to give this movement continued momentum. From my personal experience, I have been fortunate to build my career in the progressive environment that Xerox embraces, with a full breadth of opportunity and support to succeed.
8. What is it like to be a woman leader in the Middle East?
Working with the Middle East market has been a privilege and a pleasure. In such a dynamic and diverse environment, I have found people to be more open to exploring opportunities and new ways of working. I have also found that in our markets, there is a prevalent attitude of getting the job done, overcoming challenges often with minimal resources, which is refreshing and exciting.
9. What are some of the biggest challenges that you think women face in the technology, and in the marketing, industries?
The technology industry has traditionally been a male dominated sector from the grass root engineers through to the senior executives. The challenges faced by women vary as they progress through the hierarchy for example overcoming the social pressures of entering into STEM subjects at the academic stage. At the later stages, there are the challenges associated with breaking into the boardroom which is common in various sectors.
10. What is your advice in overcoming these?
Understanding the field one is working in is critical and spending time interacting with customers is the best way to achieve this. My advice is to spend time with the full spectrum, from the large corporate customers with printing facilities all the way to the smaller print houses because each represents a learning opportunity on how to add value to the customer.
You also need to define what you want and what matters most to you — go into the details and thoroughly understand the layers and different elements involved in your work field. This will form your core values and stake in the ground, which will drive everything you do to achieve your business goals.
Women in the workplace frequently take on an amicable persona and lose sight of their own goals in favor of other pressures and demands — thus, having a clear goal in mind will help you overcome these challenges.