Amazon.ae has achieved the largest rise in its ad awareness in the UAE in the May, according to YouGov BrandIndex. The uplift coincides with Amazon and Souq's launch of Amazon.ae in May.
In 2017, Amazon acquired the online marketplace Souq and now the ecommerce player is growing the Amazon name in the Middle East with the rebrand: Souq is now Amazon.
The current campaign focuses on informing consumers of the new website 'Your SOUQ is now Amazon.ae', highlighting the brand's offerings. Arabic language and local payment options have also been introduced to enhance the customer's overall shopping experience.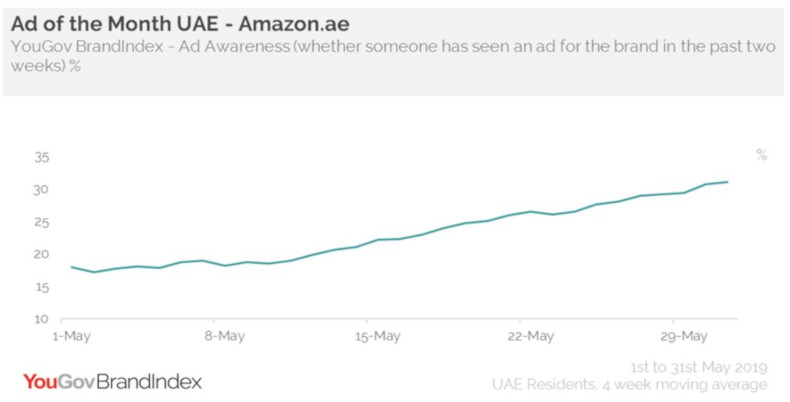 YouGov BrandIndex data shows that the launch campaign for Amazon.ae is cutting through, with the brand's ad awareness score (whether someone has seen an advert for the brand in the past few weeks) increasing by +13.9 points, from 17.1 on May 2, 2019 to 31.0 on the May 31, 2019.
The launch of Amazon.ae has also seen other Brand Index metrics rise as well. The Word of Mouth metric has increased by +7.2 points (from 15.7 on May 2 to 22.9 on May 31), while Buzz for Amazon.ae has seen a 4.6 point uplift over the same time period.
The impact of the rebrand on Consideration and subsequent Purchase Intent remains to be seen and will be continue to be tracked in BrandIndex.