In preparation of Expo 2020, Dubai is signing on partners who would collaborate to create an unprecedented experience for the 25 million global visitors expected to attend the event. As is known, Expo 2020 will take place between October 20, 2020 and April 10, 2021.
Expo 2020 & PepsiCo – Brand For Good
Expo 2020 Dubai and PepsiCo have joined forces with a shared vision to work together towards a healthier and more sustainable future in the lead-up to, during and beyond the next World Expo in 2020.
The two organizations will work together to inspire and educate attendees on areas of critical importance including water stewardship, sustainable packaging, agriculture and nutrition.
"The increasing world population is straining the planet's resources, generating an urgent need for more intelligent sources of nutrition, and packaging for snacks and beverages among other solutions. Expo 2020 Dubai is committed to showcasing products and innovations that will help address this global challenge, allowing people to live healthier, more prosperous and sustainable lives," said Sheikh Ahmed bin Saeed Al Maktoum, Chairman of the Expo 2020 Dubai Higher Committee.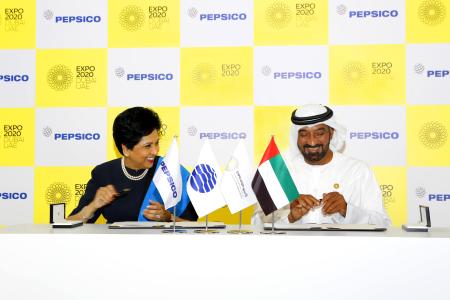 "We are honored to be selected by Expo 2020 as the Official Beverage and Snack Partner for this incredible gathering of the global 'best of the best' in Dubai. PepsiCo and Expo 2020 Dubai share the belief that we must create a virtuous cycle that can sustain our way of life for the next generation and beyond," added Indra K Nooyi, Chairman and CEO of PepsiCo.
PepsiCo plans to feature products in line with the Expo themes of sustainability, opportunity and mobility. The company will use the World Expo to showcase its latest nutrition-driven initiatives, expanding on programs like 'helloGoodness'.
PepsiCo will also leverage the collective power of its brands to ensure that Expo 2020 Dubai will reach millions of households globally through cross branding, promotional contests and social media initiatives. Before and during the six-month event, Expo 2020's logo will be used on packaging for select PepsiCo brands, including Pepsi, Lay's and Quaker Oats.
Connectivity With Cisco
Expo 2020 Dubai has also teamed up with Cisco to ensure that the first World Expo to be held in the Middle East, Africa and South Asia (MEASA) region leaves a lasting, positive impact and delivers on expectations to be a festival of human ingenuity.
Expo 2020 Dubai and Cisco will work closely to demonstrate how connectivity can be a force for social and economic good, in alignment with the event's theme, 'Connecting Minds, Creating the Future'.
"Dubai is rapidly becoming one of the smartest and most connected cities in the world, exploring futuristic solutions that range from driverless vehicles to artificial intelligence solutions. At Expo 2020, we hope not only to share the expertise we have acquired across these areas, but also, through our partnership with Cisco, to connect minds around the world and capture the many opportunities made possible through collaboration," said Sheikh Ahmed bin Saeed Al Maktoum.
Expo 2020 will utilize Cisco Vision signage solution to help deliver information and experiences throughout the Expo.
"At Cisco, we firmly believe that amazing things can happen when you connect people, ideas, data and things. By partnering with Expo 2020 Dubai, we will not only showcase the future of technology and the incredible possibilities it presents, but also help shape how we all connect, communicate and collaborate," added Guy Diedrich, Global Innovation Officer, Cisco.
Delegates from Expo 2020 Dubai visited Cisco's San Jose headquarters in March to experience multiple use cases of Cisco Vision and explore ways in which Cisco technology can drive experiences for Expo visitors.
Expo 2020 has now announced 10 Official Premier Partners and two Official Partners. Apart from PepsiCo and Cisco, the partners include Accenture, DP World, Emirates Airlines, Emirates NBD, Etisalat, Nissan, SAP and Siemens. DEWA and UPS are the Official Partners named so far.