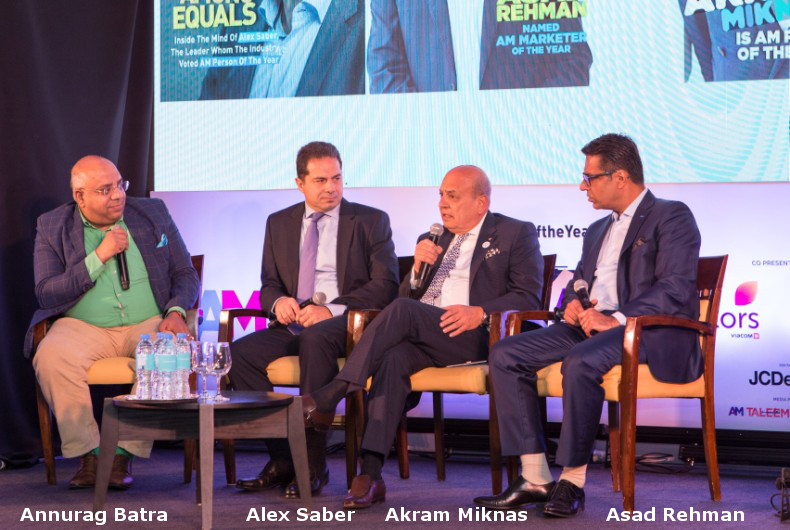 As Arabian Marketer celebrated its Leadership Awards, naming Akram Miknas, Chairman, MCN as AM Person of the Year 2018 and Asad Rehman, Director – Media & Digital Transformation, Unilever MENA as AM Marketer of the Year 2018, the leaders took the stage to reflect on what the leadership of today requires to thrive and grow.
Mr Miknas and Mr Rehman were joined in by Alex Saber, Chairman, Publicis Media Middle East, who was the AM Person of the Year 2017 on the subject at the AM Leadership Forum, themed 'Resilient Leadership'. Annurag Batra, Chairman & Editor-in-Chief, BW Businessworld Group & exchange4media Group led the conversation.
Make More Leaders
Deliberating on what makes a leader, Mr Miknas reminded that the position does not make the person, and that leadership is a position that must be taken seriously. "Leadership takes on a much larger responsibility. And you can spot leaders – they are like diamonds that shine without polishing," he said.
Responding to Mr Batra's query whether the world was fast becoming a society of dwarfs, where leaders kept the focus on self glory, Mr Miknas pointed out that there are still those who worked towards creating more leaders, a policy that has guided the AM Person of the Year 2018 himself.
"It is not the car, it is the driver. If the driver is good, a lot more will be achieved," Mr Miknas asserted.
Every Problem An Opportunity
Mr Saber added here that leadership shines especially during difficult times. "When things are tough, which it is in today's times, leaders show their skills. People count on leaders not only for their leadership and ability to make the right decisions, but also on being able to adapt. Leaders come out strong at the end of hardships. In our industry, post 2008 and in the last two years, we have been faced with several challenges. Great companies and great leaders have grown in this much time," he stated.
In the wake of changing times, one key difference is leadership styles is the replacement of a hierarchical way of working with a more linear structure. "The world today needs a more collaborative approach," remarked Mr Rehman, explaining that the demands of leadership are changing and hence leaders themselves have to transform.
"True leadership is seamless, it can only be felt," he added.
The Cost Of Mistakes
Great leaders have succeeded because they failed at some point in time. Stating that unless an audacious attempt is not made, a greater goal is not realized, Mr Batra asked the three leaders of the one failure that shaped them.
Mr Miknas explained that sometimes it is not failure that shapes a person. "In my case, the greatest person in my life, from whom I learned significantly, was my mother. She shaped my ideas and thinking, and is a great inspiration to me even today," he divulged.
For Mr Rehman, it is the unscratchable itch to put things right that builds resilience.
Sharing the experience that impacted him most, Mr Rehman said, "I wanted to be a tech person, but I could not get in to the right school and to me till date, that was the darkest period of my life. But things move on and marketing bought me to where I am today."
Mr Saber said that in a continued scale, it is more mistakes than failures that have an impact. "When you are a big and successful company, there is a cost if you make mistakes and sometimes people around you have to pay the price. At a more personal level, I would say that how one reacts to challenges is what shapes what we become and influences what we eventually do," he said.
Pointing out that a leader is not just battling circumstances and market led challenges but many a times facing opponents waiting for a mistake to happen, Mr Saber also said, "You have to admit to mistakes and react in a very responsible way. Your accountability is a sign of your authority, and you must comprehend that responsibility that comes with it."
The final advice from the leaders was to stay honest and be humble.