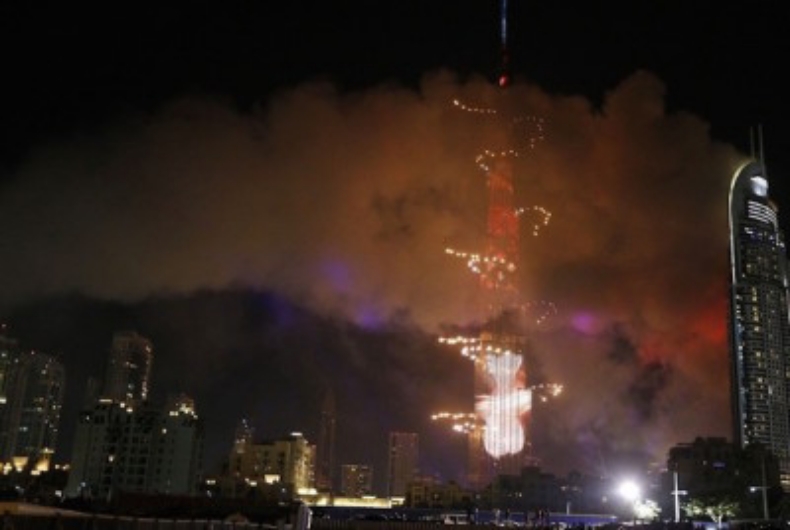 It was all at once for Dubai as it prepared to bring in New Year with the fanfare and aplomb that millions from across the world have come to expect of the Emirate year-on-year. On the eve of 2016, tourists and residents gathered to the three popular sites where the biggest and most magnificent fireworks take place, one being the Burj Khalifa. The revelry on social media platforms was just picking up pace, when the news of a fire at The Address, one of the most reputable hotels opposite the Burj Khalifa, was engulfed in flames.
According to news reports, 14 were injured and the number could have been higher had it not been for the efficient and systematic manner in which the hotel and Dubai authorities evacuated the hotel and contained the situation. But the supreme authorities in Dubai were faced with a predicament – to continue with the celebrations or not.
Developer Emaar had started promoting the New Year celebration on digital platforms with hashtags #BeThere and #MyDubaiNewYear for nearly a month. The entire ordeal – from the countdown and the display to welcoming 2016 was all about witnessing a crescendo of fireworks, light beams and LED displays. Emaar also live streams the entire celebration, which this year was also planned to be broadcast live on the screens in Times Square in New York City.
Long before the clock could strike midnight, and as fire officials fought through the massive flames, conversation on social media had shifted from #BeThere to #DubaiFire. The thousands of onlookers shared videos and photos of the blazing fire as they waited for the fireworks to begin.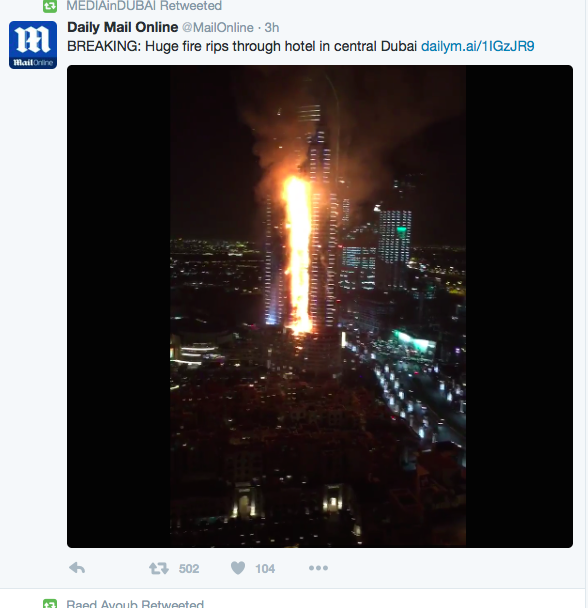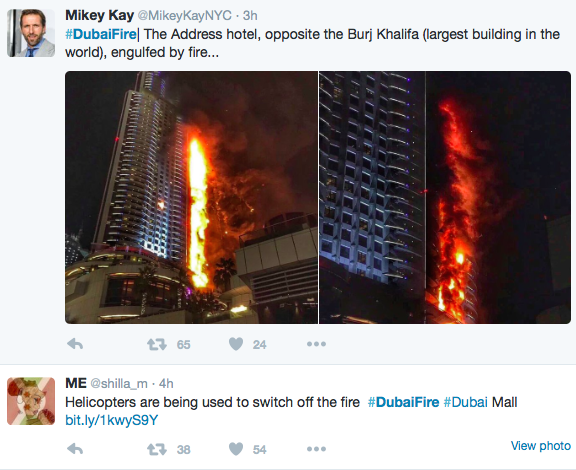 While the live streaming was eventually cancelled, the fireworks were not. The decision received mixed response on social media. As scheduled, Burj Khalifa lit up with hundreds of fireworks at midnight. Some Twitteratis expressed their disappointment: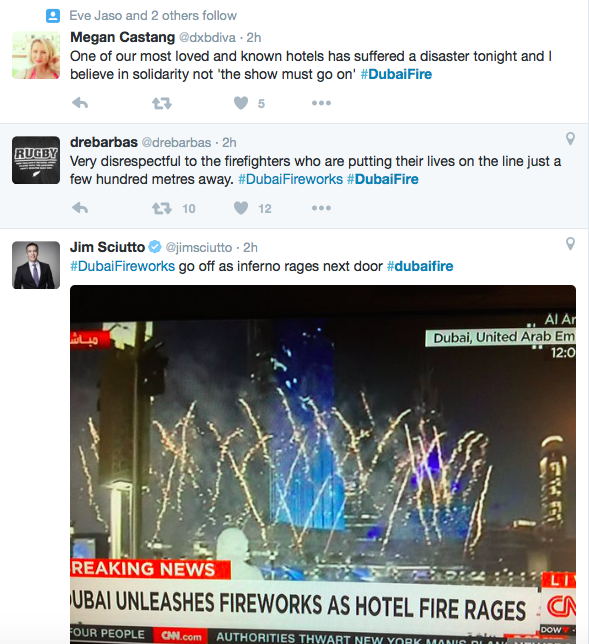 Some celebrated the moment…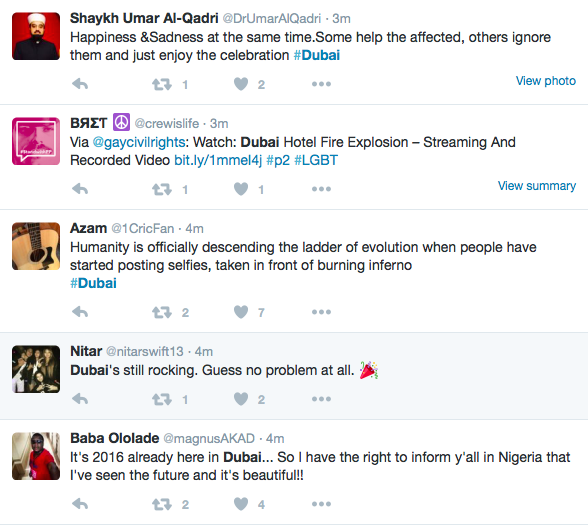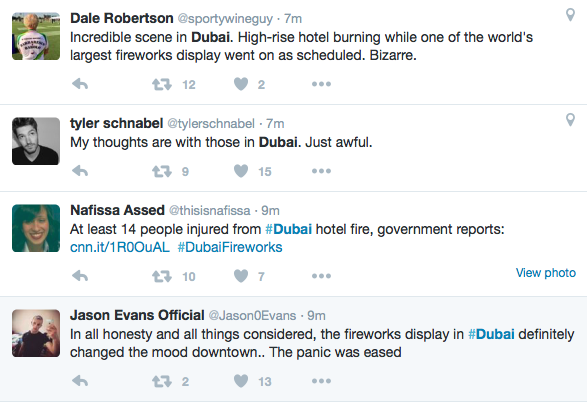 The human side of Dubai was also seen when residents showed support to the displaced boarders of the hotel offering shelter to them for the night, and the hashtag #NeedAnAddress also trended on social media.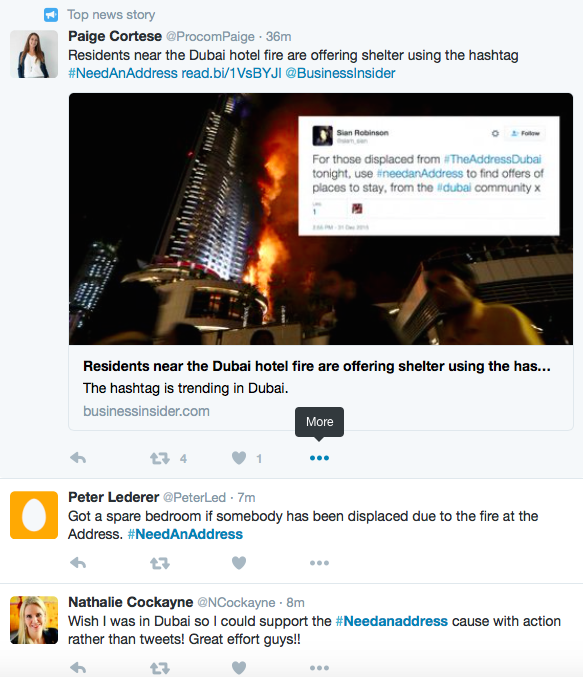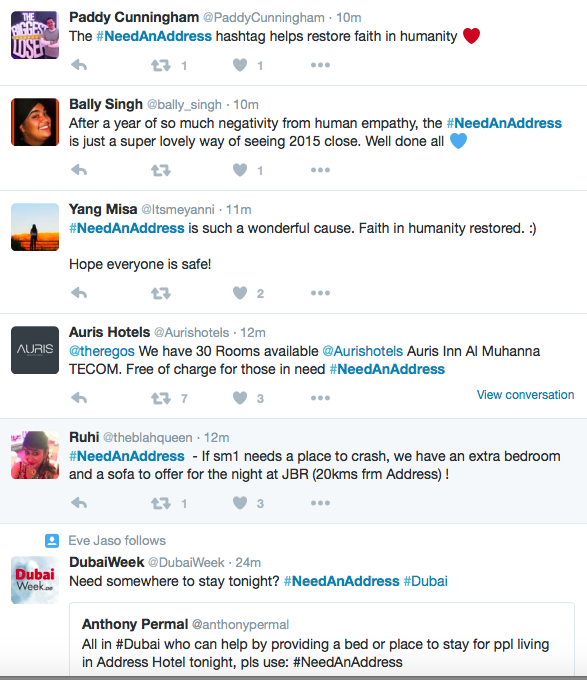 Should the tragedy have changed the celebrations? In many ways, it did. Arguably, Dubai put a brave front when it decided to steer forward with the fireworks. Was that the right decision? The debate could go on forever but there is no denying that for Dubai, it was not just any other New Year Eve.