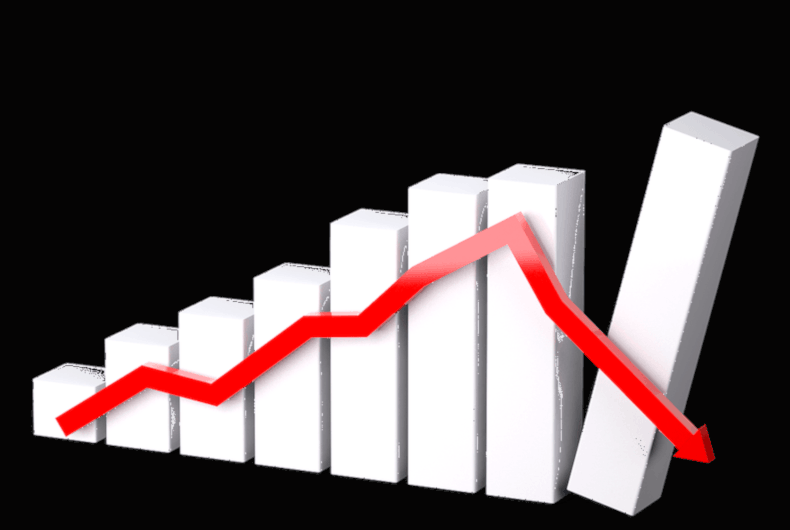 Global ad expenditure will grow 4.5 percent in 2018, reaching USD 581 billion by the end of the year, as per Zenith's Advertising Expenditure December forecast. This prediction for overall growth has not changed since June, though the growth figures have shifted for most individual markets. The agency has also forecast 4 percent growth for 2019, followed by 4.2 percent in 2020 and 4.1 percent in 2021.
Not unlike its previous forecasts, the only region to decline in ad spend is Middle East & North Africa (MENA).
In September, Zenith thoroughly revised its historic estimates of ad expenditure in MENA, and added figures for Iraq, Jordan and Syria, as well as channels targeting Asian-language speakers across the region.
The net effect of these changes was that its estimate of regional ad spend is now higher than it was previously, but so too was the estimate of the shock the region suffered from the drop in oil prices since 2014, political turmoil and conflict.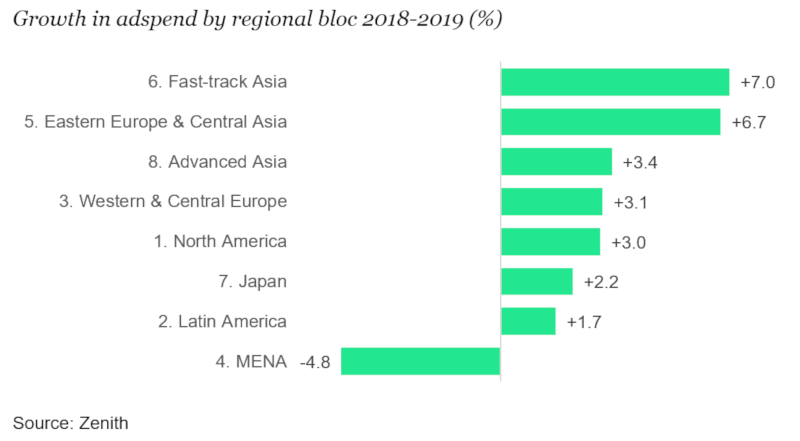 "We now estimate that ad spend shrank by 40 percent between 2014 and 2017, more than our previous estimate of 33 percent. We forecast 11.6 percent decline in 2018 and 4.9 percent decline in 2019, before the market stabilizes at 0.4 percent growth in 2020 and then grows by 1 percent in 2021, which would be MENA's first substantial growth since 2014": the report quoted.
From a global perspective, the report stated: "Of the various blocs, MENA is the clear underperformer, while the clear outperformers are Fast-track Asia and Eastern Europe & Central Asia. The other blocs range gradually from growing slowly (Japan) to solidly (Latin America)."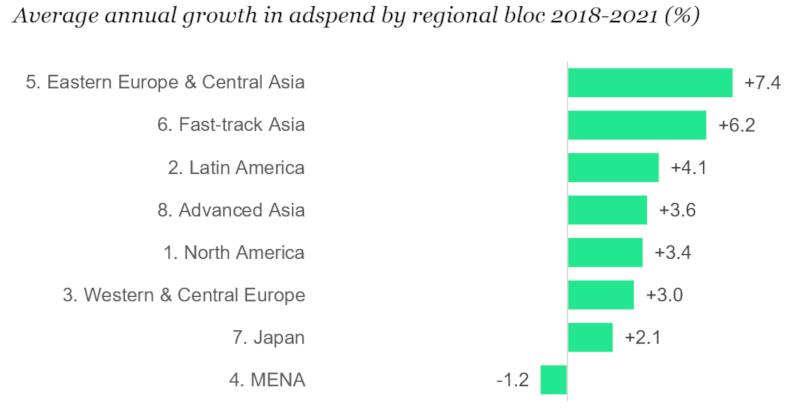 Global Advertising Expenditure By Medium
In 2017 internet advertising overtook advertising on traditional television to become the world's biggest advertising medium, accounting for 38 percent of total ad expenditure. As internet advertising matures, its growth is slowing down, but it remains the fastest growing medium by some distance and it is still gaining share rapidly. Zenith estimates that internet ad spend grew 12 percent year-on-year in 2018, and forecasts an average growth rate of 9 percent a year between 2018 and 2021. By 2021 we expect internet advertising to account for 47 percent of global ad spend.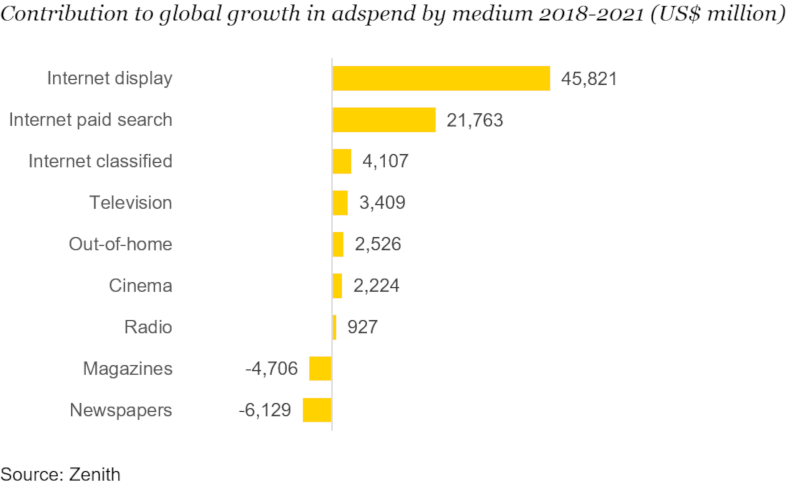 Display, including traditional display (such as banners), online video and social media, is the fastest-growing internet sub-category, with 12 percent annual growth forecast to 2021. All three types of display have benefited from the transition to programmatic buying, which allows agencies to target audiences more efficiently and more effectively, with personalized creative.
Online video and social media are currently the driving forces of internet ad spend growth. Zenith forecast each to grow at average rates of 18 percent and 13 percent a year respectively between 2018 and 2021.
Paid search and classified are now both lagging behind display. Search is growing at 7 percent a year, and classified at 6 percent.
The rise of mobile technology has transformed the way consumers use the internet, and the way brands communicate. In 2017, more money was spent on mobile ads (US$105bn) than desktop ads (US$100bn) for the first time. However, as technology has developed, the distinction between mobile and desktop has blurred. Instead of a sharp divide between small smartphones, larger tablets, even larger laptops and desktops, devices have a wide range of differently sized screens, some with integral keyboards and others with detachable keyboards.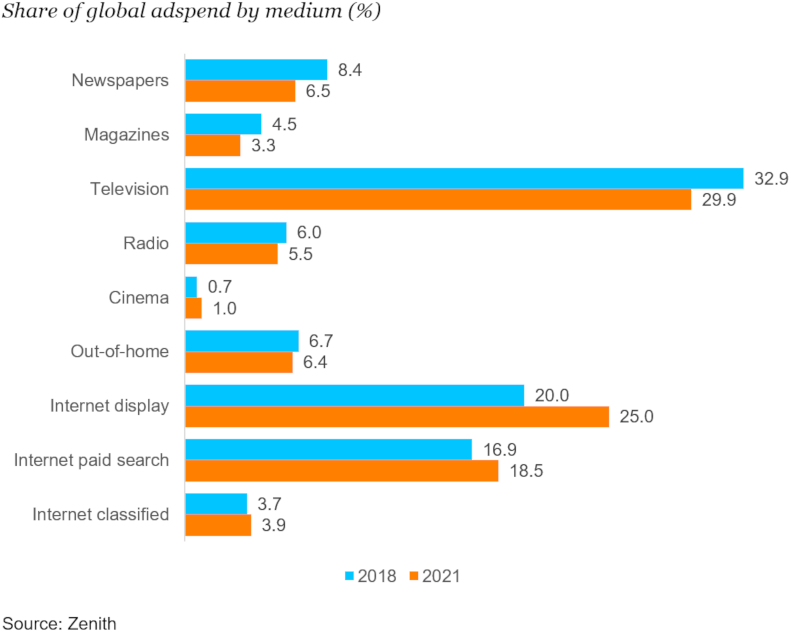 Online Video & TV More Important Than Ever
Advertisers commonly use online video together with traditional television, combining television's broad reach and immersive experience with online video's ability to target and optimize frequency. Taken together, these two media are becoming more important to advertisers' brand-building campaigns. Their combined share of ad spend in 'display' media (i.e. all media except paid search and classified advertising) has risen from 46.2 percent in 2012 to 48.4 percent this year.
By 2021 we expect television and video to have a combined 48.8 percent share of global 'display' –– a higher share than television ever achieved on its own. Taken together, television and online video are working harder for advertisers than ever before.
Global Ecommerce Advertising Accelerates
Ecommerce advertising –– advertising that sits alongside and within search results and product listings on ecommerce sites –– is well established in China, but is only just starting to get going globally. Zenith believes it has the potential to transform the way brands convert customers online and add about USD 100 billion of new money into the global advertising market.
Ecommerce advertising has risen from 0.8 percent of all ad spend in China in 2009 to an estimated 18.2 percent this year, driven by investment by companies like Alibaba in turning ecommerce into advertising revenue. Until recently, ecommerce platforms outside China have largely focused on direct sales to consumers at the expense of advertising, but that is now changing.
Amazon generated nearly USD 5 billion in advertising revenue in 2017 as a whole, and in Q3 2018 its ad revenues grew by 122 percent year on year. Other shopping platforms are following suit by investing in their own advertising activities.
"Ecommerce advertising is poised to transform the advertising market in much the same way that paid search did in the last decade. It could bring USD 100 billion in new money into the market over the next 10 years," said Jonathan Barnard, Zenith's Head of Forecasting and Director of Global Intelligence.
"Brands are transforming their businesses to take advantages of the new digital opportunities available to them. Better segmentation and targeting, personalized creative and direct transactional relationship with consumers are combining to drive brand growth," said Vittorio Bonori, Zenith's Global Brand President.
The MENA markets included in study are Bahrain, Egypt, Iraq, Jordan, Kuwait, Oman, Qatar, Saudi Arabia, Syria, UAE