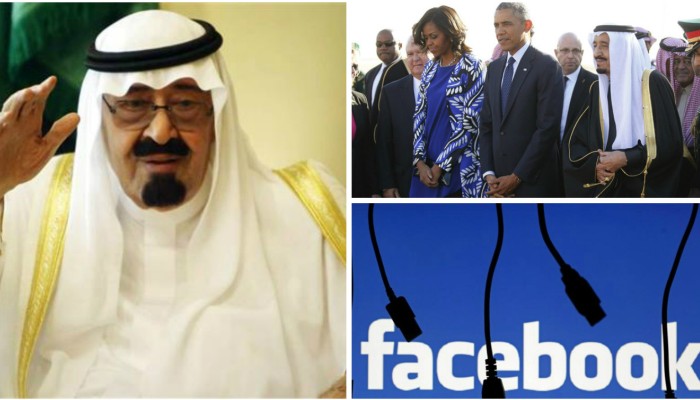 It may feel like only yesterday that we were discussing New Year celebrations at Burj Khalifa but the first month of 2015 is already over. For the region, the year so far has been marked with its ups and down – some of the biggest ones coming in the last week. On the one hand, one country lost its beloved leader, royal shake ups followed as the new leader took the reigns along with an unplanned visit of another powerful country leader to KSA. And on another, comparatively lesser scale, Facebook went down and Twitter got freaky…
One of the biggest setbacks was witnessed by the Kingdom of Saudi Arabia, which lost its ruler and leader. Saudi King Abdullah, who had led the country from 2005 to 2015, died at the age of 90. His sad demise was felt not just across the country but worldwide as was evident on social media. While followers and Saudi citizens took to Twitter to express how much their leader will be missed, newsrooms across the globe like Fox News, Wall Street Journal and CNN reported it, making it the most trended topic.
US President Barack Obama visited Saudi Arabia to offer his condolences and meet the new King Salman Bin Abdul Aziz. The two leaders discussed economic conflicts and the crisis in Yemen and Syria.
While the country mourned the death of their leader, it also opened its arms to welcome the new King. Immediately after King Salman took the reign, his popularity grew on social media sites with his Twitter fan following reaching 1.71 million until Wednesday. His current followers include Saudi citizens, scholars and world leaders. King Salman changed his Twitter name from @HRHPSalman to @King Salman, and within a week his handle received more than 130,000 mentions.
And what took Twitter by surprise or rather made it to go all freaky was the shutdown of Facebook for a couple of hours on Tuesday. Tweets with the hashtag #facebookdown picked up rapidly on Twitter. While Facebook stated that it will be up and running in an hour, users made an eternity of it, reiterating the popularity of the medium.
People got berserk, emotional and even went a little funny on expressing their outrage with tweets like – 'The moment when you realize our life revolves around Facebook', 'Facebook is down. Start living in the real World', Facebookdown yesterday was frightening. I saw strange people sitting at the dinner table. Turns out it's my family. They're kinda nice,' and 'Ah, #facebookdown explains why there were so many more people outside today'.