Zenith has updated its advertising forecast for 2016 and 2017, as the year comes to an end and the industry gears up for a New Year. Globally, Zenith predicts global ad expenditure will grow 4.4 percent in both 2016 and 2017, reaching USD 566 billion by the end of 2017.
The Middle East & North Africa (MENA) region will have to continue to brave a slow economy. Zenith has further downgraded the forecast for the region that it had done earlier in the year.
Citing the drop in oil prices in 2014 once again, and the effect this has had on the economies in MENA, Zenith reiterates that advertisers have cut back their budgets in anticipation of lower consumer demand. Political turmoil and conflict have further shaken advertisers' confidence in the region. Zenith forecast an 11.8 percent drop in ad spend in MENA this year, followed by further declines of 7.3 percent in 2017, 4.2 percent in 2018 and 3 percent in 2019, averaging out at a 4.9 percent annual decline to 2019.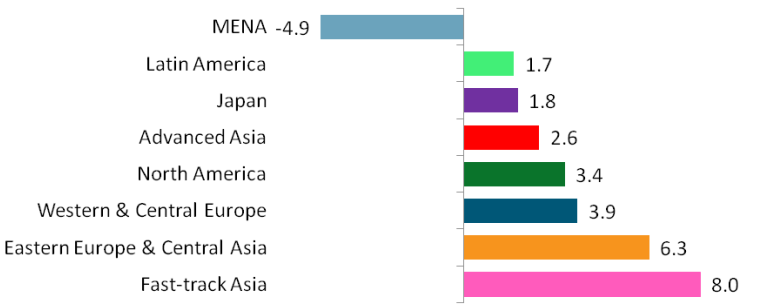 Zenith also forecasted that social media platforms have benefited from the rapid adoption of mobile technology, using it to embed themselves into their users' daily lives. For many users, social media is the focal point of their social lives as well as their main source of news. Social media ads blend seamlessly into the news feed, and are much more effective than interruptive banner formats, especially on mobile devices. In mature markets, social media spends is catching up with newspapers. Also, online video advertising is growing almost as quickly as social media, at 18 percent a year, and by 2019 it will total USD 35.4 billion across the world.
"Social media and online video are driving continued growth in global ad spend, despite political threats to the economy. Just four markets in Asia will provide more than a third of global ad growth to 2019, counterbalancing recession in Latin America and the Middle East," said Jonathan Barnard, Head of Forecasting at Zenith.